Anime as we all know is a popular medium of entertainment in Japan. The anime and manga industry is huge and everyday there are new shows that are popping up.
The popularity of anime and manga has seeped out of the Land of the Rising Sun and spread across the entire globe with thousands of people swooning over them. These Japanese animated content have garnered the attention of thousands of people and with every passing day more and more people are getting sucked into their world. 
Given the popularity of anime, a lot of other countries have been majorly influenced by them. America especially has been heavily inspired to create shows that follows after the Japanese style of animation. There are various American animated shows and cartoons that can be considered quite similar to Japanese anime.
However, there is still a burning question in people's minds: can these shows even be considered anime. Well, when it comes to the animation style, then perhaps not given that anime follows a very specific type of sketching and animation. However, the literal translation of the word "anime" is "animation". So, in that case, American animated shows may be referred to as American anime. 
In this article, I will be presenting to you some great American anime shows that you can check out if you are into anime. Some of these anime have been directly influenced by the original thing and some of them have been made in collaboration with Japan. So get ready to know about some of the most popular American anime to ever exist!
American Anime that are just as good as Japanese Anime
Ultimate Spider-Man
Release Date: April 1, 2012
Main Characters' Name: Peter Parker
Animation Company: Marvel Animation
Creator's Name: Stan Lee and Steve Ditko
Plot: If you are a fan of this beloved Marvel series, you are probably aware of the plot. And anyway, after the release of the blockbuster hit Spiderman: No Way Home, who doesn't? This #1 anime in the US, narrates the story of Peter Parker, who has been Spider-Man for one year after being bitten by a genetically mutated spider.
Although he has been saving innumerable lives and fighting crime, he is still in the process of learning how to be a superhero. Nick Fury of S.H.I.E.L.D. gives Peter the chance to train to be a real superhero. However, the teenager first needs to learn how to work with a team of four other young superheroes like himself – Nova, White Tiger, Power Man, and Iron Fist.
Review: Spanning across 4 seasons, Ultimate Spider-Man has to be one of my favorite animated shows by Marvel. It is definitely one of the top-rated western-style anime that has stolen the hearts of people all across the globe. This is one of the best shows when it comes to characters, plot lines, and animation quality.
Rating: 9/10
Teen Titans
Release Date: July 19, 2003
Main Characters' Name: Robin, Starfire, Cyborg, Raven, and Beast Boy
Animation Company: DC Comics & Warner Bros. Animation
Creator's Name: Glen Murakami & Sam Register
Plot: Teen Titans is probably one of the most popular non-Japanese anime in America. I'm pretty sure this cartoon holds a lot of sentimental value for the Gen-Z. A lot of us have been fans of this show during our childhoods.
The story is based on the adventures of a group of young superheroes – the intelligent leader Robin (Scott Menville), the quirky alien-princess Starfire (Hynden Walch), a strong and technologically capable half-human/half-robot Cyborg (Khary Payton), the cold and observant goth-girl from Azarath Raven (Tara Strong) and Beast Boy (Greg Cipes), the class clown shape-shifting human cum animal. They are based in the Titans Tower and fight enemies while dealing with their own problems with adolescence, friendships, and weaknesses at the same time.
Review: Teen Titans was definitely one of my all-time favorites in childhood. It holds so much nostalgia for me! I believe this is definitely one of the top 10 American anime series out there and everyone should at least check it out once despite their age.
Rating: 9/10
Thundercats
Release Date: 1985
Main Characters' Name: Bengali, Cheetara, Claudus, Jagara, and others
Animation Company: Warner Bros.
Creator's Name: Tobin Wolf
Plot: Thundercats is an old American anime series that was animated in Japan and produced, written, and voiced in the US. Therefore, I'd say it lives up to its name of "western anime". The plot follows the adventures of cat-line humanoid alien superheroes who hail from the planet called Third Earth.
The story begins with the planet Thundera coming to its demise, forcing the ThunderCats to flee their homeland. This cartoon show has some of the most famous American anime characters like Bengali, Cheetara, Claudus, Jagara, Panthro, Lion-O, and others.
Review: ThunderCats is a show a lot of us might've watched during our childhoods. It is a pretty cool superhero anime/cartoon that focuses on cat-like characters originating from various species of cats like lions, jaguars, panthers, etc. I loved it as a kid and would definitely watch it again!
Rating: 8/10
Avatar: The Last Airbender
Release Date: February 21, 2005
Main Characters' Name: Aang, Katara & Sokka
Animation Company: JM Animation
Creator's Name: Michael Dante DiMartino & Bryan Konietzko
Plot: Probably the most popular new American anime, Avatar: The Last Airbender is a fan favorite. It is definitely one of the shows that have garnered a large audience, especially during recent times. This story is set in a world where human civilization resides across four nations, named after the four elements: the Water Tribe, the Earth Kingdom, the Fire Nation, and the Air Nomads.
In each nation, there exist certain people with special abilities known as "benders" who can manipulate the core element of their particular nation. The Avatar is the only person who can control all four elements.
The story features the main protagonist, Aang, a young Avatar who fled his homeland not willing to take the responsibilities of being the Avatar and was forced to take shelter in the ocean by a storm. The main story picks up after several hundred years after Katara and Sokka from the Southern Water Tribe find Aang from the ocean. 
Review: This is definitely one of my favorite American anime shows that I enjoyed thoroughly when I watched it. I think all anime and non-anime fans should check out this gem of a series at least once. Avatar: The Last Airbender is so similar to original Japanese anime that it constantly gets mistaken for being one.
Rating: 10/10
RWBY
Release Date: July 18, 2013
Main Characters' Name: Ruby Rose, Weiss Schnee, Blake Belladonna & Yang Xiao Long
Animation Company: Rooster Teeth
Creator's Name: Monty Oum
Plot: This Japanese anime-influenced American animated series is probably the closest western anime to the real thing. The series has been released both on Crunchyroll and Netflix and there is also a Japanese dubbed version available in the country.
The story is set in the world of Remnant, made up of four kingdoms that are terrorized by evil creatures known as the "Creatures of Grimm". The series focuses on four young girls who enrolled in the Beacon Academy in the kingdom of Vale.
Together they form team RWBY (pronounced "Ruby") who engage in investigating White Fang, a terrorist group, and their connection to Cinder Fall, an evil witch. It is up to team RWBY to stop her from destroying Beacon and spread death and destruction across Remnant.
Review: This is definitely one of the most anime-like American TV shows to ever exist. So much so that even the Japanese media broadcasted this show in their home country. I really enjoyed this show a lot, however, I would say that it is mostly meant for older viewers as it contains a few mature themes that might be too much for younger viewers.
Rating: 7/10
Samurai Jack
Release Date: August 10, 2001
Main Characters' Name: Jack
Animation Company: Cartoon Network Studios & Williams Street (S5)
Creator's Name: Genndy Tartakovsky
Plot:  This American anime series is based on a Japanese character, an unnamed prince from feudal Japan. His father was given a magical katana from three gods which he could use to take down and capture a shapeshifting demon named Aku.
However, eight years later, Aku escaped and took over the landholding the king hostage. However, the unnamed price was sent away by his mother to travel the world and train as a samurai so he could come back and use the magic sword to defeat Aku and free his father.
However, during the battle, Aku opened a time portal and sent him away to the distant future. He ends up in a futuristic dystopian Earth ruled by Aku and receives the name "Jack" from its citizens.  
Review: I remember watching this show as a kid every night and must I say that I was enthralled by it. Back then it was aired on Cartoon Network's official TV channel, however, these days you'll find its seasons easily on the internet. It is a pretty cool series and if you want to take a trip down memory lane, I'll say you should definitely check it out.
Rating: 10/10
Castlevania
Release Date: July 7, 2017
Main Characters' Name: Count Vlad Dracula Tepes, Trevor Bellmont, and others
Animation Company: Powerhouse Animation, Mua Film & Tiger Animation
Creator's Name: Warren Ellis
Plot: Castlevania is an American anime on Netflix that is based on the Japanese video game series of the same name. This vampire anime narrates the story of Count Vlad Dracula Tepes declaring death and destruction upon the people of Wallachia after his wife is falsely accused of practicing witchcraft.
In order to prevent this, the rebellious monster hunter Trevor Belmont enters the scene and prepares to fight against the Count. He is aided by Sypha Belnades, a magician, and Alucard, Dracula's dhampir son. 
Review: Castlevania is an amazing American cartoon series that takes a very authentic anime-like approach. The show's creators have definitely done their research on Japanese anime well and have also included workers from the Japanese anime industry in their team. Overall it's a well-written show.
Rating: 8/10
Arcane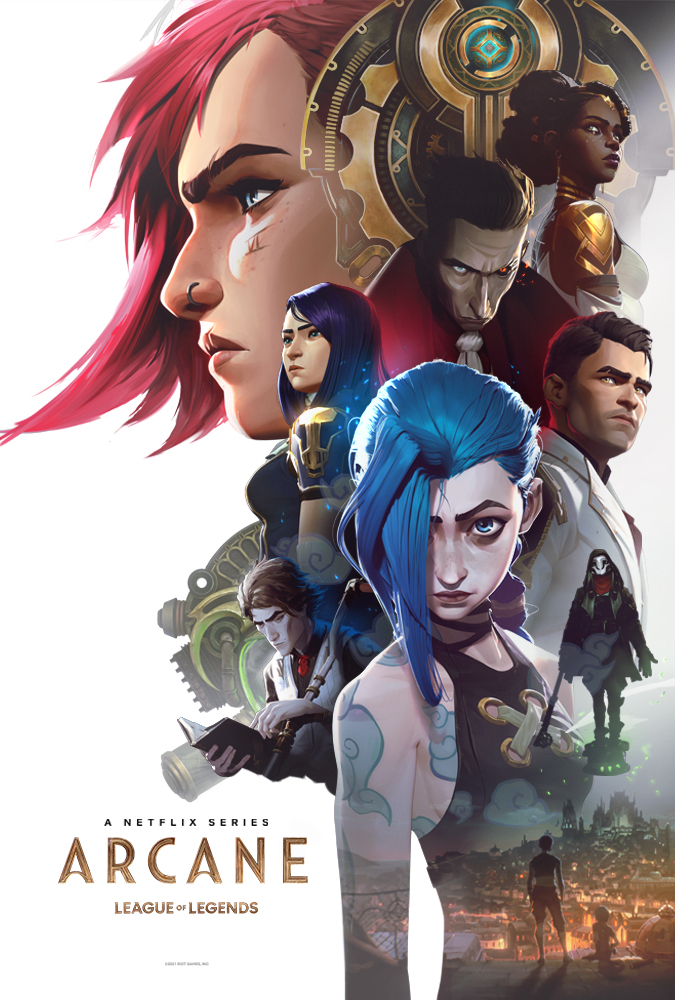 Release Date: November 6, 2021
Main Characters' Name: Jinx, Vi and others
Animation Company: Netflix
Creator's Name: Alex Yee, Christian Linke
Plot: Amidst the escalating tension between the rich of the utopian city of Piltover and its poor who are oppressed by the rule of Zaun, two sisters, Vi and Jinx, find themselves on opposing sides of a conflict that is brewing over the clashing convictions and arcane technologies.
Review: Arcane has been received quite well with both fans and critics for its overall look and sense of the animation. It is currently sitting at 100% Rotten Tomatoes score since its release. 
Arcane has a really wonderful art style and the overall animation of the series is also quite unique compared to some other american animes.
It is currently streaming on Netflix and you can check it out from there!
Rating: 8/10
Ben 10
Release Date: December 27, 2005
Main Characters' Name: Ben, Gwen, Grandpa Max, and others
Animation Company: Cartoon Network
Creator's Name: Man of Action
Plot: Summer has officially arrived and Grandpa Max has offered to take his both grandson and granddaughter on a camping trip. Upon the first day of the camping trip, Ben finds an asteroid crash into the forest they are camping.
After examining the asteroid closely Ben finds out that it is not an asteroid but actually an alien watch. The watch, Omnitrix, sticks to Ben's hand and it has more than 10 different types of aliens.
What follows is an adventure of a lifetime for Ben, Gwen, and Grandpa Max as they deal with threats from all around the world who are on the hunt for the Omnitrix. 
Review: Ben 10 has to be considered one of the best American anime series you can watch to this date. It is super nostalgic and a big hit when it was first released in 2005. 
The alien designs and their powers are all very unique and the overall world of Ben 10 just kept getting better and better as each season premiered.
The episodes varied from action to psychological horror, and many different genres very smoothly and easily. Still to this day you can watch the original episodes and be amazed by them!
Ben 10 also continued after its original run finished, but the sequels to the series never truly lived up to the hype and the myth of Ben 10.
Rating: 9/10
Final Thoughts (Which is the best American Anime of all time?)
Anime being a Japan-exclusive thing raises the question – can there be American anime? Well, I guess this list of shows pretty much attests to the fact that yes there can be. Although these series and shows may not be exactly like anime or follow their style, they still pretty much have made their place in people's hearts just like anime.
Do you know of any other American anime shows and movies? Let us know in the comments!