We all know and love Canva for the various features that it gives us but its paid plans can be very expensive for some artists and maybe looking for some Canva Alternatives and we have done just that for you.
Below listed are 6 free Canva Alternatives that you can use right, although keep in my mind that like Canva, these below names apps also have a paid plan but they offer so much in their free plan that you won't require to spend a penny from your wallet on these applications.
What are the best Canva Alternatives?
| | | | | |
| --- | --- | --- | --- | --- |
| Name | Best For | Price | Our Rating | Website |
| Visme | Business Presentaitons | [$15 – $29] | 4/5 | https://visme.co/ |
| Easil | Easy downloading | [$7.50 – $59] | 4/5 | https://about.easil.com/ |
| Snappa | Youtubers and Vloggers | [$15 – $30] | 3.5/5 | https://snappa.com/ |
| Design Wizard | Beginners | [$9.99 – $49.99] | 3/5 | https://designwizard.com/ |
| Crello | Cheap plan | [$9.99] | 3.5/5 | https://crello.com/ |
| DigiKam | someone looking for free editin tool | Free | 4/5 | https://www.digikam.org/ |
1. Visme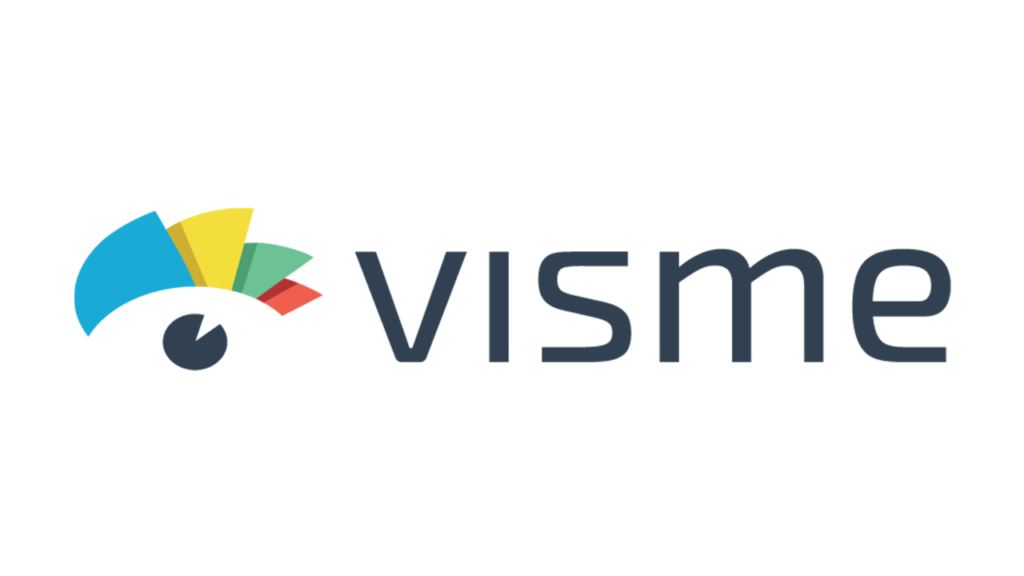 With over 10.1 million users and over 98% customer Satisfaction, Visme is a great Canva alternative for you and your social media posts. Visme features tons of graphic editing tools for videos, presentations, infographics, and more.
Visme can also be used on your smartphones by simply downloading their app from both Play Store and App Store. 
Price of Visme
Although you can start right away with Visme for free they do have a paid subscription plan to build upon their amazing catalog of features
Personal Plan: $15/month
Business Plan: $29/month
Enterprise Plan: Contact Sales
Features of Visme *free version*
100MB of storage
Numerous templates and designs
Download in JPEG
Accessible for Public Projects
Pro and Cons of Visme
| | |
| --- | --- |
| Pros | Cons |
| ✅Cheap subscription plans | ❌Download and print quality differs |
| ✅Website graphics | |
| ✅Video editing | |
| ✅1000+ layouts and themes | |
Review on Visme
Visme is a great editing website like Canva, although it has a paid plan but the free plan does offer a lot and can save files in JPEG which can be converted to PDF's for free on any site on the net and its paid plans are also very pocket-friendly.
Rating on Visme
Visme gets a rating of 4/5 stars
2. Easil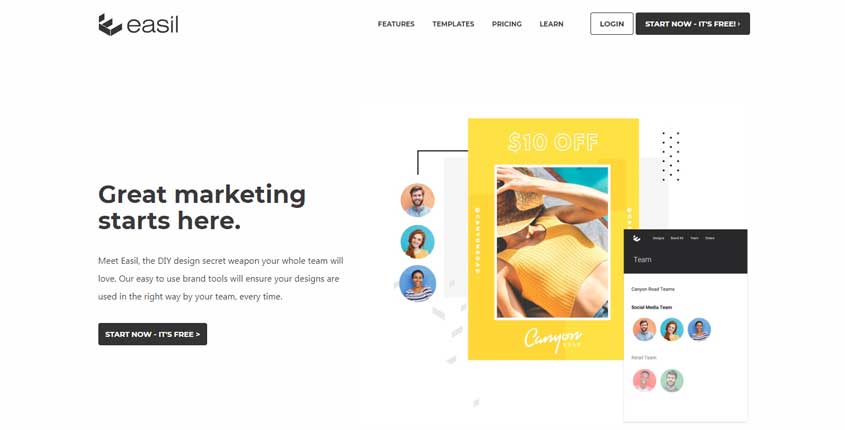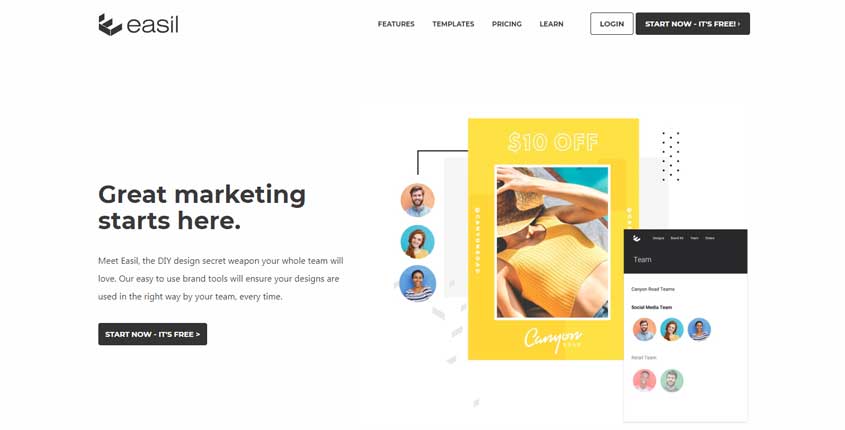 Up next on our list is Easil, Easil is also a great canva alternative available to use for free. It offers a lot of templates that can be very useful for social media posts as they are special categories for each type of social media banner for different social media apps.
Easil also offers a 30-day free trial after which you will have to pay a minimum amount to continue using the app.
Price of Easil
Easil Plus Plan: $7.50/month/per user
Easil Edge Plan: $59/month/ per user
Features of Easil
2500+ templates
Free Stock Images
Drag and drop feature
Various layers and groups
Pro and Cons of Easil
| | |
| --- | --- |
| Pros | Cons |
| ✅Over 1 Million free stock photos | ❌GIF's and Video editor on paid plans |
| ✅Cheap subscription plans | |
| ✅Many templates | |
Review on Easil
Easil is targeted for social media marketers and if that's you then it is a great Canva substitute for you as it does a lot for free and paid plans.
Rating on Easil
Easil gets a rating of 4/5 stars
3. Snappa
Snappa is for YouTubers and vloggers who are looking for Canva alternatives, it has some great text designs and templates that are very easily uploaded and used on its platform. It has a very simple UI so you wouldn't get confused while using the app.
Snappa also offers over 6000+ templates to you so you will never run out of ideas for your next thumbnail.
Price of Snappa
Snappa offers a lot in its free plan and has very cheap subscription plans as well
Pro Plan: $15/monthly
Team Plan: $30/monthly
Features of Snappa
Remove image background instantly
Resizing your graphics instantly
Schedule & Send graphics
Great texts fonts
Pro and Cons of Snappa
| | |
| --- | --- |
| Pros | Cons |
| ✅Cheap plans | ❌No videos and GIF editor |
| ✅Numerous templates | ❌Not for presentations |
| ✅Easy to use | |
Review on Snappa
Snappa is also another photo editing site like Canva that can do a lot for free, it has a great variety of templates and over 5 Million free HD stock photos that you can use for your thumbnails and social media banners.
Rating on Snappa
Snappa gets a rating of 3.5/5 stars
4. Design Wizard
Design Wizard is also an amazing Canva alternative you can try out if you are just starting in the industry as a graphic designer. It offers numerous templates to be designed for free and also offers video editing as well.
It has a static image editor that is industry-standard so you'll be good to go for your work when you use Design Wizard.
Price of Design Wizard
Pro Plan: $9.99/month
Business Plan: $49.99/month
Features of Design Wizard
Numerous thumbnails
Industry-standard thumbnails
Easy to use
Pro and Cons of Design Wizard
| | |
| --- | --- |
| Pros | Cons |
| ✅Easy to use | ❌Pay as you go for downloads |
| | ❌Watermarks on free downloads |
| | ❌All good features on the paid plan |
| | |
Review on Design Wizard
Design Wizard is a good app but isn't a canva replacement for free, if you want to take full advantage of this app then you must pay for its subscription plans which can be a bit of a bummer for some people.
Rating on Design Wizard
Design Wizard gets a rating of 3/5 stars
5. Crello
Crello is an amazing Canva alternative, in fact it is for users who uses Canva a lot because Crello also shares very similar website design like Canva. Crello offers so many posts and templates of different sizes that you can go berserk on their website.
It has a paid plan as well but you can get a lot in their limited free plan.
Price of Crello
Pro Plan: $9.99/month
Features of Crello
Numerous templates to offer
Full HD video clips and image
200 Million stock photos
Pro and Cons of Crello
| | |
| --- | --- |
| Pros | Cons |
| ✅Free HD videos | ❌Limited 5 downloads in a month in the free plan |
| ✅Easy to use | |
| ✅Thumbnails and banners designs | |
Review on Crello
Crello is actually a Canva replacement with its cheap subscription plan, easy-to-use UI, useful different sizes for posts, and more. It's just that you can have limited free use on their site but then again its paid plan is also very budget-friendly.
Rating on Crello
Crello gets a rating of 3.5/5 stars 
6. DigiKam
DigiKam is also a Canva alternative that you can try out if you are looking for a free and an open-sourced image storing and managing software.
DigiKam is easily able to manage 100,000 different types of images and to process RAW files, as well. It is available to use on multiple different devices, such as Windows, macOS, Linux, etc. 
Price of DigiKam
DigiKam is free to use and download as it is an open-source software.
Features of DigiKam
Great RAW images processes
Available to use offline
Great list of tools
Pro and Cons of DigiKam
| | |
| --- | --- |
| Pros | Cons |
| ✅Processes RAW images easily | ❌UI can be a little more user friendly |
| ✅Free of cost | ❌Not suitable for beginners |
Review on DigiKam
DigiKam works as a great Canva alternative as it allows users to store and manage their images, which is also something that users are able to do on Canva, as well.
Along with this, you are also able to edit and process various different image files, and DigiKam is actually used by a lot of professionals for their image processing, as well.
It does not have the simplest of UI to understand, however, once you get past that, it is a great app to use.
Rating on DigiKam
I will give DigiKam a rating of 4/5 stars.
Final note
Canva is a great application but it isn't the only app available and these above names applications allow you a lot for free you just have to look for it.