So you want to access one of the most popular races in the world for free. I can assure you that it must not have been an easy search for you because it was not an easy search for me as well to find out about them.
But, if you take a deep dive into the unknown that is, the internet, you will find some gold websites that deliver on this promise.
There are not a whole lot of websites that claim to be free F1 streaming sites, but you'll find some.
Now, just know that some of them in this list are totally free of cost and run on ads, and some of these websites have a free trial through which you could access the races.
I have noted all of them down below so you can figure out which one you prefer to watch your races on.
If you are looking for sports streaming websites we have curated a list of free websites to stream sports.
The best free F1 streaming sites
F1 is one of the most popular racing event in the world with viewers from all over the world. There are plenty of free F1 streaming platforms.
We have listed websites to stream F1 for free below so you don't miss out on the race.
StreamEast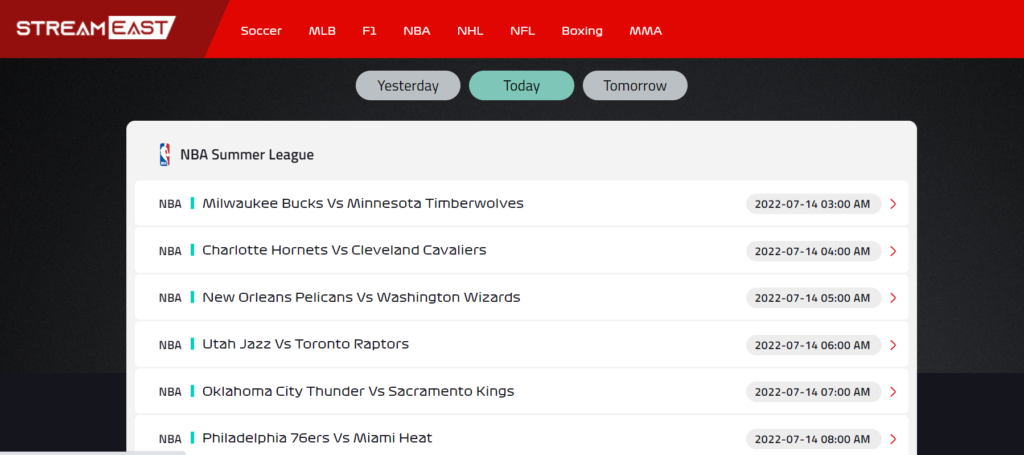 First up on the list is a fairly new sports streaming site that's not just one of the F1 streaming sites but is actually a full-on multi-sports streaming site.
StreamEast gives you access to many of the sports available on planet Earth, such as NFL, NBA, UFC and many more. It's got a simplistic-looking UI and design that would surely find your eyes pleasing.
The site also has a discord server to their name, so they do let you know whenever their next update is coming through.
You get a schedule of things that are streaming live at the moment for you to watch, and it also shows you the timings of the races based on the part of the world that you are staying in.
What are the good things about StreamEast?
I feel I have talked about many of the good things in its introduction itself. So I'll try to convince you more about why this could be a great streaming site for you.
The audio and video quality of StreamEast is actually very nice because of the bitrate that it provides. It is a fairly light website, meaning that the website loads up pretty quickly on any browser and loads up the races pretty quickly as well.
The website also has an easy-to-navigate UI, which is a major plus for these sites because so many times, people get confused as to where they have to click on to watch their games.
What are the bad things about StreamEast?
Nothing can be perfect, and neither is StreamEast since it is a relatively new website and has some fan-following. A lot of third-party sites have tried to copy their name and put it on their site.
This leads the common users into the wrong set of websites, and that could affect their computers and laptops as well.
StreamEast currently has only three proper working sites, and they are 'StreamEast.io', 'StreamEast.live' and 'StreamEast.xyz'.
If you click on any other link other than these three, just know you are on the wrong site. Apart from that also asks you to register yourself for some of their premium content, and I am not very comfortable with that.
Why did we choose StreamEast for F1 streaming sites?
Because frankly speaking, there aren't many sites that do this for free. F1 has a very strict rule of conduct when it comes to streaming their sites, and I particularly don't know how they are accessing it for free.
I have tried to search through some other sports streaming sites that show live F1 matches online, and none could do so, except for StreamEast.
It's got a pretty cool-looking website, and among it, it also has a twitch chat feature that lets users chat in between the games as well. It's one of the fewer websites that does this, and it does this with style.
Our review and rating on StreamEast
As I have mentioned countlessly now, and I will rephrase it again, this is a one-of-a-kind site. That is saying something because they are relatively new in the market of sports streaming.
You also get the added security that the website is named "secured" when you search it up on the Google Chrome browser. That is saying something because some websites of these kinds can be pretty dodgy.
I mean, I find this website pretty useful, and I have just recently come across it, so that's saying something. Try it out for yourself and see how you like it. I give StreamEast a rating of 3.5/5 stars.
Servus TV
Servus TV is an Austrian TV site that you can access from your laptop to stream your F1 races. It is owned by RedBull Media. The site is fully in German, but you can turn on the page translator on Google to understand what the site is about.
Through Servus TV, you would be able to access the F1 games and stream them via your laptop, phone, tablet, tv, etc. Although, you would be required to use a VPN if you are not staying in the EU.
This is because the site is only accessible in EU countries, and if you try to access it without a VPN, it automatically prompts you that the site is not available in your country.
What are the good things about Servus TV?
Servus TV, since it is an actual TV station so you can get access to all sorts of TV on their site. They have news, sports, podcasts and many more topics.
But I think they are mostly European content, so if you are into European content that also lets you watch F1 races, then look no further mein frund (german for my friend).
Other than that, since the media is owned by RedBull, it shows that the site is legit and not some fake site that lures you in for the pop-up ads and malware. You can safely search on their site and enjoy the content while you are at it.
What are the bad things about Servus TV?
Since the site can be accessed for free only in EU countries, that creates somewhat of a hassle for us, the non-EU countries, to stream the races.
A VPN is obviously recommended for you to use so that you can stream your content from anywhere, anytime. But the thing with VPNs is that they can be pretty expensive.
You can also just use Tor Browser, but the servers of that browser are slow, so it's a bargain if you ask me. You can watch the races for free but with a slow server, or you can pay for a VPN and then enjoy the races in full quality.
Why did we choose Servus TV for F1 streaming sites?
A couple of reasons why I chose Servus TV. First and foremost, it lets you watch the F1 races that you desire to see for free! That's the second point as well; the site is free to access.
So you can just go right in and watch the matches as it unfolds. Thirdly, the site is secured because it is owned by RedBull media, so you can forget worrying about installing viruses and malware.
And lastly, it also promotes the usage of VPNs because, in this day and age of data security and data policies, we should be using them more than ever.
Our review and rating on Servus TV
Servus TV feels like a really smart and reliable way to watch your F1 streams. It is safe, easy to use and overall, a really good website to stream the content.
Plus, it also features a whole lot of European content that you may have never known about, so you can actually find something more interesting than F1 (which I doubt because F1 is ridiculously interesting) on their site.
Overall it is a really good website that is more than any formula 1 streaming sites available on the net right now, and for those reasons, I would like to rate Servus TV 3.5/5 stars.
F1fullraces.com
F1 full races.com is one of the only F1 live streaming websites on the internet that I could find that is designated just for F1 racing and is a free website to get access to.
The website alone is pretty good-looking with a straightforward and simple UI and design. As you enter the website, it tells you straight away that it is run on ads and donations alone.
So it's a fair warning from their side that you can expect a whole lot of advertisements on their site while you are on it. But other than those things, the website fully commits to delivering to you the races that you want to stream.
What are the good things about F1 full races.com?
First and foremost, it is a site made and dedicated solely to F1 streaming. It enables you to watch live F1 matches online. Secondly, the website is pretty light in that it quickly loads up on your desktop browser.
The player that is also enabled on the site has some pretty neat features enabled in it, such as aspect ratio, timer speed and resolution selection.
Those are some of the options that you get in a proper streaming platform, and even some of them don't have that feature. Along with all this, you also have an option to download the races and watch them later as per your liking.
What are the bad things about F1 Full races .com?
The main negative about this site that comes to my mind is that there are a lot, and I mean A LOT of pop-up ads on it. Which, to be honest, is fair enough because sites like these are difficult to run, and they cost money.
Money that comes to them through these ads alone and donations alone. It's a comprise that you must know before heading out in the space asking for free streaming. Not evrything comes free in this world.
And after constantly closing the ads, I was able to watch the race that it was streaming. It took a while because sometimes the video 'play' button wasn't working all that well, and it used to redirect me to another site.
But after a few attempts, I was able to watch the race.
Why did we choose F1 Full races .com for F1 streaming sites?
Well, I mean, first of all, it has the name F1 on it, and it produces the type of content you must be looking for when you search for F1 streaming sites.
But, majorly the site runs fully on showcasing you the live F1 races for free that no other site really does.
It is a fairly simple and straightforward website that lets its users welcome with a bunch of pop-up ads, after which it allows them to watch the game in peace.
That's the price I think we can accept if we decide to not pay for the subscriptions.
Our review and rating of F1fullraces.com
F1 full races. com may have a long name but it is pretty easy to search on Chrome. You just simply have to type it at the address box it will redirect you to the website (That would also help you in not using some other random website).
The site claims to be "safe" to be used but I'll let you be the guest for that discussion. But, overall it's a pretty simple website that claims what it says it'll do and does it rather nicely.
You can bet there are few websites like these and for those reasons alone, I'll give F1 full races. com 4/5 stars.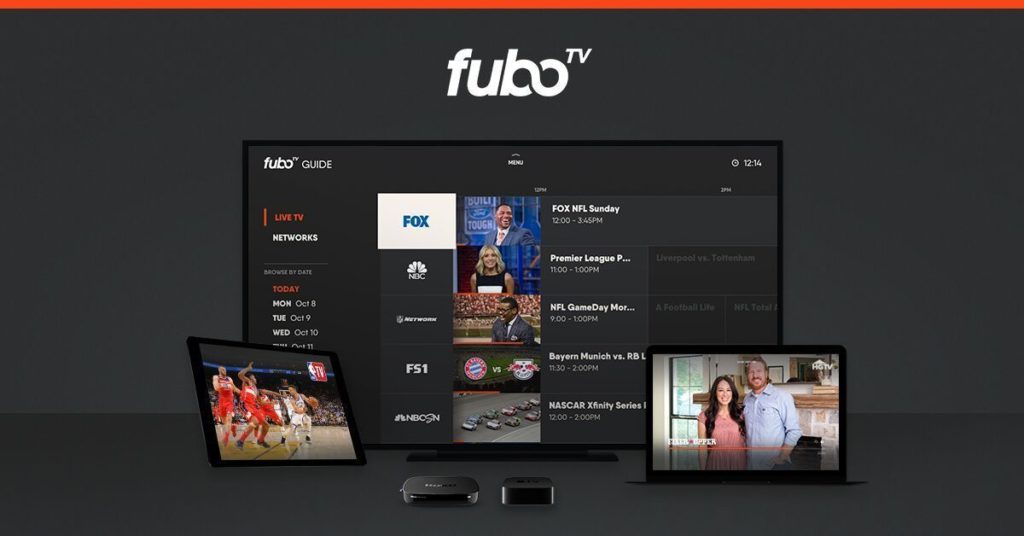 Fubo TV has a funny name for itself but don't judge by its name. Fubo Tv was and is a sports-leading premium subscription service. They offer you a bunch of sports, including F1, for a pretty substantial price point.
Now, I know, you must be thinking then how is it a "free F1 streaming site"? Because it does offer a free trial for a week. Now, imagine how many races can you watch for free in those 7 days?
Plus, if you like the service then you just might subscribe to it and won't spend time searching for sites that will stream the races with a ton of pop-up ads and the risk of infecting your device.
What are the good things about Fubo TV?
The good about Fubo TV is sort of endless when you compare it to other streaming sites that do it for free. You not only have access to your F1 race but you also get to watch all sorts of sports, even the likes of Table Tennis.
It is compatible with all the devices you could be owning right now, whether it may be your TV, your mobile or even your laptop. It has an app for all and you can easily watch the content from anywhere.
You can also just save the races with Cloud DVR backup and just watch them at your convenience.
What are the bad things about Fubo TV?
Obviously, the one major downside of all this is its pricing. Fubo TV costs about $60/month for the family plan and $84/month for the Ultra plan. That is not cheap money. That is expensive and I agree with that.
That would be the major negative or the bad thing about Fubo TV, it does have all the features and gizmos that a sports enthusiast would like and that happens to also include a heavy price tag with it.
The service also requires a VPN if you are trying to access it from a country that is not the United States, Canada or Spain. So that's even more money shelling out from your wallet.
Why did we choose Fubo TV for F1 streaming sites?
I am just trying to lay out all the possible solutions for you to watch the races that you want. Some of you might not know about something like Fubo and maybe they don't mind shelling out $60 or $80/ month.
But for what it's worth, you are not paying that money for anything. The service they provide is something that you expect if you shell out this much money on a streaming service.
Plus, you don't have to buy their subscription. You can just use the free trial to its fullest and then just cancel it out before they start deducting money from your bank account.
Our review and rating on Fubo TV
We have actually reviewed Fubo TV a lot many times on GeekyMint, so we know a lot about it. It's a streaming site that has its positives and its negatives. You can always opt for its alternatives.
But Fubo TV isn't all that bad. It's got the services and more so than that it has got some really good features that would just make your viewing experience a lot better than you would have guessed.
It's a great streaming app for sports and F1 enthusiasts and I would still recommend you give it a try once, even if it is just the free trial. I would rate Fubo TV 4/5 stars.
The best Paid F1 streaming sites
If you don't want ads or any kind of hassle while watching races then you need to opt for a paid F1 streaming service.
Disney+Hotstar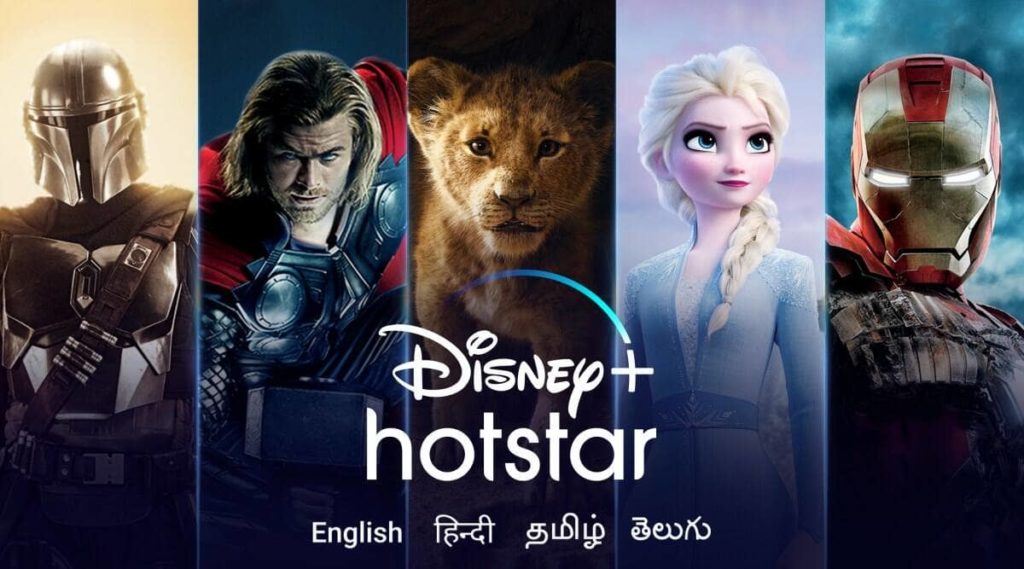 Disney+Hotsar, if you are not an Indian citizen, chances are that you might not have heard about it. You would have heard about Disney+ for sure but not this combination.
Long story short, when Disney acquired Fox in May 2019 it also acquired an Indian streaming service called Hotstar.
So, instead of just launching a new service, Disney just attached itself to Hotstar and launched itself as Disney+Hotstar in India. But why am I telling you all this? It's because they stream F1 races as well!
Disney+Hotstar just might be the streaming service you would be looking for to stream your F1 races.
What are the good things about Disney+Hotstar?
Plenty. Let me just stick to the F1 racing. Disney+Hotstar is obviously a paid streaming service, but since it's an Indian streaming service the prices are very low compared to any service you could ask for.
Disney+Hotstar costs about $18/year! A year! Not a month, a year! That's about $1.5/month. Now, you would have to access it via a VPN so that's the additional cost of the VPN but still, it is very cheap.
And it's just not for F1 streaming. You could watch literally a plethora of content on it and that includes all the Disney+ originals, the Fox Studio films, Hotstar originals and so so so much more, for the price of $18/year!
What are the bad things about Disney+Hotstar?
I mean it depends on your liking. If you are a major sports person, then this would give you some sports, including F1 but other than that it is more of an entertainment streaming site.
It mostly has Tv shows, movies and web series, so if that's not your cup of cake or you already have that sorted out for you then maybe you would not find this to be an ideal streaming site.
Why did we choose Disney+Hotstar for F1 streaming sites?
Because it streams the F1 racing in 4K HDR quality and it is relatively cheap compared to all the other paid services that you might be subscribed to. It is also ad-free so you don't have to worry about any of it.
You can also pretty much watch the game from any medium you want to see.
Our review and rating on Disney+Hotstar
F1 racing is just one of the many things Disney+Hotstar streams. I think, it has started streaming it since this year only but their services are great.
You also get a whole lot of content that you may have not seen before and would like to see them as well. It's a pretty sweet little package, one which just happens to stream F1 as well.
I would rate Disney+Hotstar 4.5/5 stars.
Our recommendation on the best F1 streaming sites from this list?
The thing about me, that you should is that I already use one of these services, so I can at least assure you on that service that it is great and I would personally recommend it.
And that service is Disney+Hotstar. I would really recommend you choose it and below I have mentioned my reasons for choosing it.
Why did we choose None of them as the best F1 streaming sites?
First of all, I am an Indian, so this service is pretty much one of the top 3 streaming services in India. Secondly, I think if you convert their fee into USD, the number turns out to be pretty cheap and accessible.
Which is part of the reason why a lot of people are opting for searching about free F1 racing services or streaming services. Plus, it's a pretty well-handled service with a lot of servers.
So, that would translate to a better viewing experience for a lot of people. Those are the reasons why I felt this is a great service that maybe you can try out.
But, what did you think about these services and sites, do you know a better site that is totally free to watch and has a great viewing experience, do let us know in the comments down below!