PUBG Mobile is an all-time top battle royale game for mobile gaming. And while a special version of the game being developed especially for the Indian market, let's take a look at the best Games like PUBG Mobile to keep your gaming skills intact.
Best Battle Royale Games Like PUBG Mobile (Updated November 2023)
To curate this list of the 11 best games like PUBG Mobile for  Android and iOS I mainly focussed on the survival gameplay feature which made PUBG so popular. then I looked at user reviews, number of downloads and how compatible is each game with budget-friendly to high-tier devices. Click on the name of your favorite games like PUBG for a quick summary about it.
PUBG Mobile Alternatives on Android and iOS
Call of Duty: Mobile
When Call of Duty: Mobile launched back in 2019 there was no doubt about it being a direct competitor to PUBG Mobile. The battle royale game launched for iOS and Android, a move which helped it capture a staggering 100m downloads in just its first year. With a ban imposed on PUBG, Indian gamers already have a perfect alternative in the form of Call of Duty: Mobile.
Call of Duty: Mobile offers you the same experience of PUBG with options like a 5v5 deathmatch, 100-player battle royale mode, multiplayer modes like CoD Black Ops. The game also has numerous weapon options, new characters with unique abilities, rewards, and several modes.
CoD:Mobile is published by the US studio, Activision so you can expect to play this shooting game for as long as you please.
Call of Duty requires approximately 2GB of storage and runs effortlessly on any decent android device which should attract all Indian PUBG Mobile gamers. To sum it up, I would say that Call of Duty: Mobile is the best PUBG alternative on the internet.
Pros
100-player battle royale
You can chose other multiplayer as well
Runs smoothly on both budget and top end Android and iOS devices.
2GB of storage space required
Cons
Download: Android, iOS (Free, offers in-app purchases)
Fortnite
The next option has the potential to become an all-time competitor to PUBG mobile in the action mobile gaming sector. Despite its drawback of being taken down from Apple's app store Fortnite has the perfect opportunity to gain millions of users since PUBG is banned in India. Roughly 75% of Indian smartphone users have Android devices out of which nearly 50% are looking for PUBG alternatives.
It is worth noting that Fortnite is not available on iOS or Android however you can download the game using our guide on how to install Fortnite apk on iOS, Android, and PC.
The only drawback I see in Fortnite is that it takes up more than 8GB of storage space which is a pretty big ask for a mobile game
To play Fortnite your Android device will need a minimum of 4GB RAM, Android 8 or higher, GPU with MaliG71/Adreno 530 or higher, and not to mention a mid to high-tier processor. To sum it up if you have a device with a 6-series processor or a Snapdragon 8-series Fortnite will run just like PUBG on your phone.
Speaking in terms of gameplay, there is no doubt that Fortnite is better than PUBG as it offers 4 distinct modes: Party Royale, 100-player battle royale, Creative, and Save the World. While Save the World is a co-op tower defense survival game, Party Royal is similar to PUBG's Cheer Park where you create your own island.
Pros
High-quality graphics
Various gaming modes
Gameplay experience like PS or Xbox console
100-player battle royale
Cons
Takes up nearly 8GB storage space
Not compatible with budget friendly devices
Download: Android, Samsung Galaxy Store (Free, offers in-app purchases)
Garena Free Fire: 3volution
Free Fire- Battlegrounds is a good introduction if you are a novice who's starting out into a high-capacity fight space. It is a quick 10minute game that will refresh your mind while also help you practice your mobile gaming skills on the go.
The controls are displayed on the screen and easy to navigate. Each game is 10 minutes long where you have to use your shooting skills to survive against 49 other users.
Garena Free Fire: 3volution is a simple and effective battle royale mode game where your character is dropped on a remote island, your goal is to find medkits, weapons and stay inside the safe zone till the time is up to win the battle.
just like PUBG the game has voice chat with the option to form 4-man squads and devise strategies. The gameplay does not lag as the graphics are supported by minimum system requirements.
Pros
49-player battle royale
In-game voice chat
Decent graphics
Loot and shoot
Cons
Limited variety of Weapons
Anti-cheating system not working
Download: Android, iOS (Free, in-app purchases start at $0.99)
Hopeless Land: Fight for Survival
Hopeless Land: Fight for Survival as the name suggests is a survival theme game that has received mass appreciation from the mobile gaming community. The game is simple you have to use your weapons, skills, and rewards to be the last name standing against 121 players.
What makes Hopeless Land a good alternative to PUBG is it's Asian aesthetic and range of unique in-game elements. The game is more demanding than a simple shooting game you have to forge alliances and make strategies similar to how you play PUBG.
To reach the battleground to win the deathmatch you will have to stay inside the safe zone which is challenging as you are followed by the hazard zone. The game can work well on any decent Android or iOS devices. With nearly 51M downloads on just the Play Store alone, Hopeless Land is proving to be a good replacement for PUBG Mobile.
Pros
121-players battle royale
Helicopter flying element
Strategic game like PUBG
Asian game aesthetic
Cons
Anti-cheating system does not work
Download: Android, iOS (Free, offers in-app purchases)
Battlelands Royale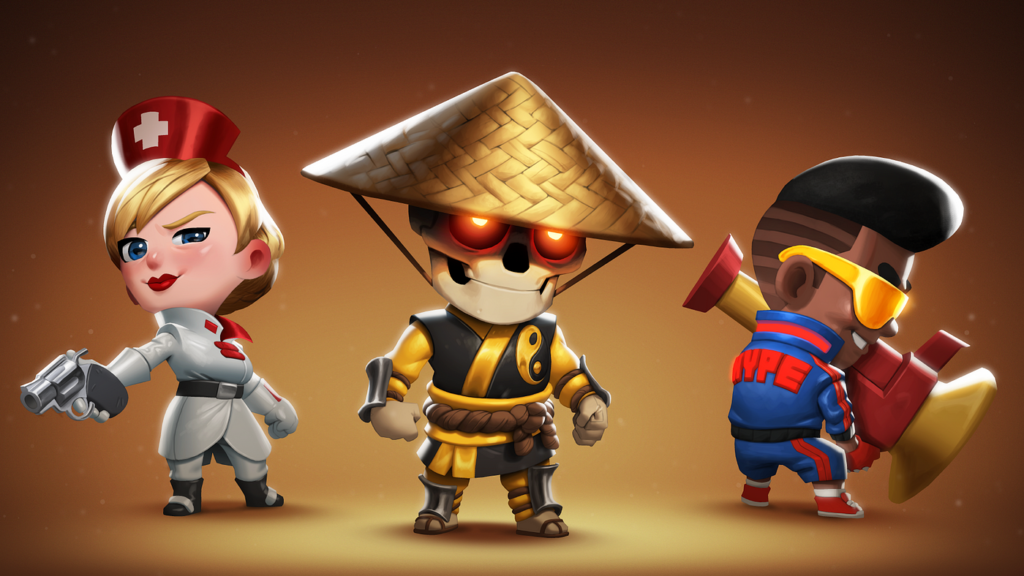 Battlelands Royale is a battle royale game similar to PUBG Mobile that comes with a major plot twist. While the main theme of a 32-player battle royale game with non-stop carnage is the same as PUBG, Battlelands Royale comes with a cartoonish gameplay environment instead of a violent one.
Battlelands Royale is a quick no-nonsense shooting game where you do not have to waste time waiting in lobbies to start the game. With Just tap a tap of the play button you can get a parachute then go on your quest to shoot, loot, and survive. Compared to most battle royale games this game gets completed in roughly 3 to 5 minutes.
Initially, you will have to play the game more than a couple of times to figure out all hideouts and positions as the map is quite widespread and huge. You will need to protect your arena from all sides in either solo or duo mode. To sum it up, if you are looking for a fun themed alternative to PUBG Mobile then you cannot miss out on Battlelands Royale.
Pros
Fun and non violent battle royal
Quickk Deathmatch
Support for solo and duo mode
Impressive detailed map
Cons
Best suited for amateur gamers
Download: Android, iOS (Free, offers in-app purchases)
ScarFall : The Royale Combat
ScarFall: The Royale Combat is the only battle royale game developed by an Indian studio that makes it on our list of the best PUBG alternatives. A recent article published by YourStory said, "ScarFall emerged as one of the top Made-in-India apps in the gaming category in the recent AatmaNirbhar Bharat App Innovation Challenge launched by Prime Minister Narendra Modi."
ScarFall has both online and offline multiplayer gaming modes. To win the game you get 3 lives so make the most of it in your quest to survive in the shrinking safe zone.
ScarFall features two modes first-person and third-person shooter mode with the options to play solo or in a 4v4 squad mode. ScarFall is similar to PUBG Mobile in terms of gameplay and feels and with a staggering 1M downloads on Play Store, it is certainly a major game in the battle royale niche.
Pros
Graphics is fairly impressive
Support for TPS and FPS
Both online and offline multiplayer mode
Thousands of new players joining daily
Cons
The game takes a few minutes to connect to players
Availability of few bugs
Download: Android, iOS (Free, offers in-app purchases)
Pixel's Unknown Battle Grounds
For all you Minecraft fans this next battle royale game is the perfect pixel-style retro visuals style game that you can play on your mobile. Pixel's Unknown Battle Grounds is based in a block city where you need have to use battle strategies to come on top of your enemies. It is a deathmatch game where your block-figure can use multiple weapons like SMS, multiple barrels, AK47, or Pixel Gun to take down other online players.
You may experience certain glitches while playing the game as it is still not yet fully developed. While testing the game or rather playing 3D block city I experienced some lagging when I was aiming for a shoot or went to enter/ exit houses but other than all other functions were up to PUBG standards.
The game also has an auto-shoot mode to take down multiple enemies at once. The goal behind this is faster gameplay and improved game mechanics.
Pros
Good Weapon Collection
Auto-shoot mode for faster gameplay
3D Block-city
Pixel-style retro visuals
Cons
The Game Lags Occasionally
Certain Bugs with every update
Download: Android, iOS (Free, in-app purchases start at $0.99)
Black Survival
Black Survival is carving out a reputation of its own when you search for hyped-up PUBG-style games. In terms of Battleground, Black Survival is an anime theme fast-paced action title, where you begin the game as an anime character who is dropped on a certain area out of 22 areas like beach, hospital, or forest of a certain island. The game has a time limit of approximately 20 minutes in which you are challenged to take charge and fight to progress to another location on the battlefield.
You have to be quite nimble on your feed as the game has very demanding gameplay just like PUBG. Black Survival allows its players to craft over 600 types of weapons, foods, or tools for which you will have to memorize each recipe.
Gamers can select which weapons and special abilities suit them the best and select their character accordingly. To sum it up this is certainly a must-try anime-based action-packed adventure to enjoy on your phone.
Pros
Anime-based battle royale
Exciting arsenal of weapons
Eye-catching Island
10-player deathmatch
Cons
It does not have many active players
Download: Android, iOS (Free, in-app purchases start at $0.99)
Also Read: Top 10 Video Games Based on Anime
Danger Close
Danger Close has been on the scene for quite a while but the battle royale just recently came into the limelight after making major updates. The game is an intense online multiplayer one just like PUBG.
To compete with the top games in its niche Danger Close added a new map that is much bigger while also adding new mechanics like looting, revamped inventory system, and recoil. The new map gives players the option of playing in eight different places like a pirate-infested island or alien planets.
PUBG dominates Danger Close in terms of graphics and game environment, however, the latter allows gamers to join online FPS deathmatch and play anytime. To sum it up, Danger Close is a good alternative to PUBG if you wish to plat a quick online deathmatch with tuff competitors.
Pros
Online multiplayer deathmatch
8 unique locations from earth to space
Updated map is bigger
Lite app with small Download size
Cons
Download: Android, iOS (Free, offers in-app purchases)
Don't Miss: 8 of the best games like Stardew Valley
Zooba
Zooba is one of the most hilarious battle royale games on the internet. All characters are based on animals in this survival adventure game that can host a 20-player deathmatch.
If you love playing shooting games but aren't exactly a fan of the gore, blood-filled graphics Zooba is a good alternative for you. The game is fast-paced and will give you the thrills and essence of a battleground war. But in terms of intensity, it is no match to PUBG. 
Zooba impressed me with its premium graphics quality. Its physics-based action and challenging gaming control further show the impressive job done by its developers. The game also gives you the opportunity to become the Zoo's adventure superstar by using the in-game rewards to customize your character.
Pros
Impressive graphics quality
Online-Multiplayer
20-player deathmatch
Character customization
Cons
Lacks intensity in battleground like PUBG
Download: Android, iOS (Free, offers in-app purchases)
New State Mobile
If you are looking for an exact alternative to PUBG Mobile, then New State Mobile can be the exact answer that you are looking for.
When PUBG Mobile got banned in India, Krafton came back and developed New State Mobile which is set in the futuristic world of PUBG Mobile. 
The basic story of New State Mobile is that people compete in it to get past the harsh reality of the world, and the winners of the tournament is set lose of this world.
If you are familiar with the PUBG Mobile interface, then you would feel quite at home with New State Mobile as it also features a similar setup, but with some tweaks and some new gadgets.
The overall gameplay remains as dynamic and engaging as ever, while introducing some engaging little futuristic drones and vehicles that make it feel like its own game rather than just a rip off of PUBG.
If you are looking for something that feels like home, but still has its own taste to it, then you should definitely try out New State Mobile.
Pros
Similar graphics to PUBG
Futuristic guns and vehicles
Beautiful scenery
Cons
Takes a lot of battery power of the devices
Not easy to use on old devices
Frequently Asked Questions
Q. Which Game is Just Like PUBG?
Call of Duty: Mobile and Fortnite are the best games just like PUBG if we look at gameplay and theme. These games offer you multiple gaming modes like the popular 100-player deathmatch.
Q. Is PUBG Banned in China?
As per various reports, PUBG has been banned in China as the Chinese government does not authorize the in-app purchase feature of the game. Recent reports state that Tencent has replaced PUBG with Game of Peace in China.
Q. Which Country Plays PUBG the Most?
India ranks 1st for PUBG Mobile users. However, China ranks on top if we combine both PC and mobile users.
Q. Which Country's Game is PUBG?
Published and developed by Tencent Games, PUBG is known as a Chinese game. However, originally the game was developed by Bluehole that is a South Korean video game company. Tencent Games went on to secure the rights of PUBG from Bluehole in 2017 with a 10% stake in the company.
Best Games Like PUBG Mobile After its Ban
We hope this list helped you find the best games like PUBG Mobile. With a load of buzz being created over the battle royale genre, you can try out these PUBG alternatives that have similar gameplay with a refreshing change and new maps. Let us know in the comment section which are your favorite battle royale games and how can we improve this list.