Being a hardcore manga fanatic, I am always in search of new manga to read. In my leisure time, or when I am stupendously bored out of my mind, I will head over to a manga reader app or a manga reading site, select a manga according to what I'm in the mood for at that moment, and keep scrolling through the pages.
All these being said, I should also mention that I have a terrible attention span and extremely low patience (a big vice, I know). Therefore, I might not always be in the mood for a long manga that will take me ages to finish. But thankfully there are several intriguing short manga available these days, for people like me (thanks a ton, mangakas!) 
Short manga or small manga or little manga or whatever you call them, are manga with not more than 6 volumes. These usually tell a single story with not too many characters or backstories, unlike long manga which usually has several plotlines and many different characters with individual stories.
Short manga is enthralling, engaging, and easy to read. And if you are someone with a very short attention span like me, these quick read manga are perfect for you!
If you are new to the world of manga, you can check out our article on how to read manga and also find sites to download manga here.
So without further ado, buckle up and get ready for some short manga recommendations! In this article, I will be listing some of the best short manga that you can check out to make the inner geek happy.
List of short manga to read that will blow you off your feet
Mujirushi by Naoki Urasawa
This quick read manga consists of only a single volume. Penned by mystery specialist Naoki Urasawa (mangaka of Monster, 20th Century Boys), Mujirushi narrates the story of Kamoda who goes bankrupt after evading his taxes to make money to take his family for a dream cruise. He also ends up losing his wife on the cruise who runs off with a wealthier man.
In a twist and turn of events, Mujirushi humorously narrates its story while keeping a touch of mystery intact. This is quite an engrossing short manga that you can read if you are tight on time.
Haruka na Machi e (A Distant Neighbourhood) by Jiro Taniguchi
This slice-of-life short manga narrates the story of 48-year-old Hiroshi Nakahara who is an exhausted salaryman tired of his life as it is. One day, he has a little too much to drink and ends up boarding the wrong train.
However, it turns out that he did not board the wrong train but time brought a drastic change in his hometown. While there, he visited his mother's grave, and before he knew it, he was back in the body of his 14-year-old self.
He does not know how to reverse this and relives his entire life once again but this time, with the experienced mind of a 48-year-old. He also tries to locate his estranged father and find closure to some open endings.
Haruka na Machi e is a short manga consisting of only 2 volumes. The overall tone of the story is nostalgic that is sure to induce some unrecognizable emotions in you. Through Hiroshi's character, you can live the life of a teenager in a quaint Japanese town, crying and laughing with him at the same time.
Another by Yukito Ayatsuji
Horror fans rejoice! This psychological horror by Yukito Ayatsuji is sure to raise a few goosebumps. Another tells the story of Misaki, a popular student who died halfway through the school year.
However, Misaki's teachers and classmates kept pretending that they were still alive which led to a strange apparition in the graduation phone.
A decade later, Koichi Sakakibara transfers to the same class as Misaki and befriends an introverted girl named Mei Misaki whom the other students ignore. Soon after, strange occurrences begin to happen with the students dying one after the other. Koichi and Misaki set out to unravel the root of this.
Another tells its story in an array of unexpected twists and turns. This quick read manga consists of one volume that will surely keep you hooked to the story. If you are looking for a good one-shot horror manga, Another is perfect for you.
Akira by Katsuhiro Otomo
This is a cyberpunk short manga consisting of 6 volumes. The story is set in a post-apocalyptic Tokyo known as "Neo-Tokyo" after the city got ravaged by a mysterious explosion that occurred decades prior.
The story centers around Kaneda, a teenage biker gang leader, revolutionary militant Kei, an esper trio, and military leader Colonel Shikishima, who is hellbent on preventing Tetsuo (Kaneda's mentally unstable childhood friend) from using his destructive powers to destroy the city once again and awaken an enigmatic entity named "Akira". 
If you are someone who is into political thrillers, sci-fi, and dystopian fiction, Akira is worth the read. The gripping story will keep you hooked on it and you won't be able to put it down till you've finished it.
Azumanga Daioh by Kiyohiko Azuma
This funny short manga is perfect for a light reading especially if you are into comedy. The manga chronicles the daily life of six high school girls in a nameless Japanese high school, and their two teachers.
The characters include Chiyo Mihama who is a child prodigy and therefore struggles to relate to girls older than her, Sakaki, a reserved student who is obsessed with cute animals, Ayumu "Osaka" Kasuga who is an airhead with a distorted perception of the world, Koyomi "Yomi" Mizuhara who is frustrated by her annoying best friend, Tomo Takino a bubbly yet senseless student, Kagura who is sports rivals with Sakaki. And teachers Yukari Tanizaki and her friend Minamoo "Nyamo" Kurosawa who is the physical education teacher.
This light-hearted humourous short manga is sure to make you laugh in every step as you follow these high school girls through their everyday life and shenanigans. If you are looking for a laugh, Azumanga Daioh is the perfect short manga for you.
Helter Skelter by Kyoko Okazaki
Another horror short manga, Helter Skelter narrates the story of Liliko, a supermodel who has undergone plastic surgery to gain the perfect body as a quest to staying at the top of the fashion world.
However, soon her body starts to break down and a Liliko grows more frustrated and unstable. This is made worse when she meets Kozue a naturally beautiful and friendly upcoming model. Out of jealousy, Liliko plans to sabotage Kozue.
Helter Skelter by Kyoko Okazaki is a great one-shot horror short manga that brings to light the temporary nature of plastic surgery and the terrible toll the glamour world has on the mental health of models who strive to attain perfection in every aspect, going so far as to change their entire body., at the cost of their health and sanity.
This is an amazing one-volume psychological horror manga that will be appreciated by every horror enthusiast.
Downfall by Inio Asano
Downfall by Eisner-nominated mangaka Inio Asano brings to light the darker side of the manga industry. The story narrates the life of a manga author or mangaka whose only aim in life is to sell as many copies of his manga as possible.
In an attempt to reach his goal, he has to sacrifice everything, his marriage, his love for manga, his mental and physical health. All that matters is writing the next hit manga series that will surpass the last one. But at what cost?
Inio Asano is known for bringing out philosophical hues in his works and Downfall is no exception. This one-volume short manga will give you an insight into the dark and depressing side of the seemingly glamorous manga industry and the terrible plight of manga authors.
If you are looking for a short yet worthwhile read, Downfall is the perfect manga for you.
Giganto Maxia by Kentaro Miura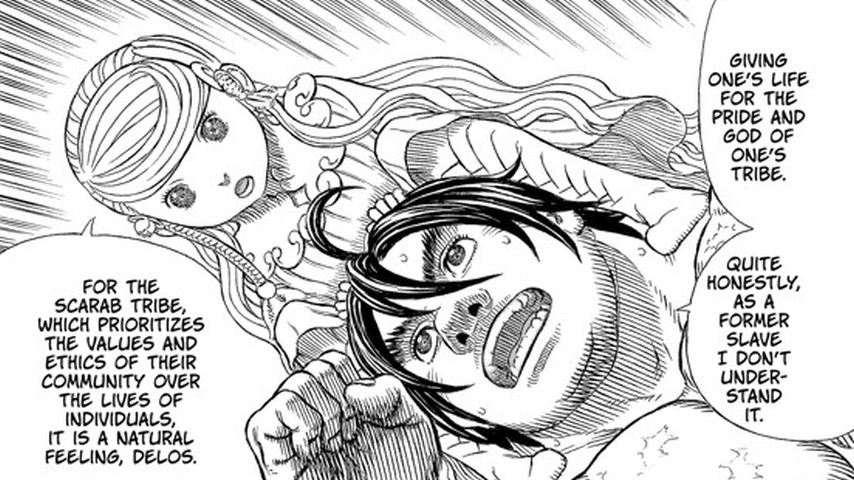 Set in a dystopian future quite like a setting in Dune where you have giant, fire-breathing squids hovering over the skies, along with some colossal titans that run rampage through the land, and some part of a humane race has evolved into anamorphic beings.
We will find two people who go by the name of Dallos and Prome, roaming the desert looking for in the search of the remnants of the legendary Gaia. It is believed that this legendary titan had the powers that could easily alter the face of the earth itself.
Kentaro Miura, the author of this manga, has a great sense of conveying a world that feels lived-in and creating an ever-evolving world.
Just like his other manga, Berserk, Giganto Maxia is also full of weird creatures with different sets of powers, warriors who have their own swords and spears, and, sly innuendos.
Giganto Maxia is a manga that incorporates many different types of genres and inspirations.
It's up to you to to decide, whether you are in for this ride or not. You can expect a heavy martial arts style that is set in the medieval yet futuristic fantasy setting.
Tropic of The Sea by Satoshi Kon
Tropic of the Sea is also a really good short manga that you can read. It tells the story that is set
In the little island town of Amide.
There's a legend that floats across the world of the Tropic of The Sea that once upon a time, a mermaid gave the people of Amide a bountiful sea with many different treasures of life, and in exchange of Sea, the people of Amide had to take care of the Mermaid's egg for 60 years!
After a fruitful 60 years, the time is up to take care of the Mermaid's egg.
Now, Yoshitaka finds himself shouldering the responsibility of fulfilling his promise to return the pearl-like egg to the sea and deliver it back to the Mermaid.
While performing this task, he also has to overcome a powerful man who tries to seize the pearl-like egg from the sea to unravel the mystery of the mermaids and makes a profit from it.
Over in Tropic of the Sea, you will find a number of themes that are still relevant to this day.
From the conflict between environmental preservation vs socio-economic development, the eternal concepts of faith and logic clashing with each other, and even a coming-of-age story, just to name a few.
All of it is wrapped inside a fast-paced thriller that is drawn with gorgeous art pieces, with characters that feel like three-dimensional characters with their own set of motives and beliefs all while compiled in beautiful cinematic pieces.
The Tropic of the Sea is a wonderful read that will have you wanting for more. This is one of the best mangas that is written by Satoshi Ken!
Also read: Manga reading sites
Also read: Best manga of all time
Also read: Manga reader apps
Also read: Best one-volume manga
Final words
There are several other short manga that are available for you to read other than the ones I have mentioned in my listicle. You can find such manga in any genre, be it comedy, horror, slice-of-life, sci-fi, or whatever.
However, all you have to do is search for them a little bit since these are not as many as long manga. But I can assure you that once you do find them, they will be worth it. You can also install manga downloader software on your computer or smartphone in case you're thinking about downloading these manga to read them later on.
You will find these manga on any manga reading site or app where you can read English-translated versions for free. Or if you can read Japanese, countless sites offer original Japanese scans as well. 
Short manga novels are the best option for a quick read and they are just as thrilling and fun as longer manga. I hope this listicle helps you to find what you're looking for and makes you seek out more. Till then, happy reading!