Modern Warfare crashed on PC, this is an issue which currently every Call of Duty: Modern Warfare player is experiencing on their PC. There is nothing more annoying for a PC gamer than to die in combat due to Dev error code like Fatal Error: Dev Error 6178 or no error codes at all. 
There are cases reported where Call of Duty: Modern Warfare has crashed even in single-player mode. If the Modern Warfare game continues crashing on your PC multiple times then try out these few steps to get rid of the error. 
Reason for Modern Warfare crash occurring on PC
First and foremost, crashes on the game Modern Warfare can occur due to hardware requirements, so you will have to check if your PC is compatible and satisfies the minimum or recommended requirements, Also check for further recommendations, for instance, if you have high graphics settings like Ray Tracing enabled.
It is very difficult to find the exact cause for CoD: MW crashing but these are the most likely causes for the error occurring.
In-Game Overlay
Outdated video drivers

or

audio drivers
Texture quality
G-Sync

or

V-Sync
Software conflicting
Corrupt game files
Below are different fixes you can try out to solve the crashing issue faced by Modern Warfare players. 
How to Fix Modern Warfare Crashing
The easiest way to avoid Modern Warfare from crashing is to troubleshoot, try it for 3-4 times but in case it does not work try out these other fixes.
Fix 1: Shut down all background Apps 
Use this shortcut Ctrl + Shift + Esc while in-game to Shut down all applications that are running in the background. Usually, if you have a background software like antivirus software enabled, it is very over-protective and is a likely cause for Modern Warfare crashing issues.
Fix 2: Update your device drivers
Gaming performance heavily relies upon a good Graphics card (GPU). So if your graphics driver is corrupted or outdated it will cause games like Call of Duty: Modern Warfare to crash.
Updating your graphics driver
Firstly, Download the latest graphics driver from the manufacturer's website:
After it is downloaded, open the driver file and click install.
Fix 3: Set texture quality to high or normal
PC gamers usually set their graphics settings to Low, this is a major cause for the Modern Warfare crashing issue. Modern Warfare requires high texture quality, especially if you get an error code Dev Error 6178. Setting your Texture Resolution to Normal or High has solved many Modern Warfare crashing issues, however, the texture resolution depends on your PC specs.
To set your graphics resolution to Normal or high
Step1) Open your Call of Duty: Modern Warfare and click Options > Game Settings > Graphics.
2) Locate the Details & Texture tab, set Texture Resolution to Normal or High.
Pro Tip: Only keep Texture Filter Anisotropic High and keep the rest on the lowest settings. Also turn off Sync Every Frame (V-Sync), which is best left off within games.
After changing the Graphic settings play Modern Warfare to see if the issue has subsided.
Fix 4: Scan and Repair your game
There may be some corrupted game files that can be causing your Modern Warfare to crash, you will have to scan your game files to see if there are any corrupt files and have to repair them if any.
If you are using Blizzard Battle.net, locate Modern Warfare and click Options > Scan and Repair.
For Steam users: Right-click Call of Duty: Modern Warfare from your game library and select Properties. Then click the Local Files tab and click Verify Integrity of Game Files.
Fix 5: Stop Overclocking
You may have heard that you can improve your gaming performance by Overclocking your CPU but this can result in an unstable gaming experience, which can be a likely cause for Modern Warfare crashing.
If your Call of Duty: Modern Warfare is crashing after you overclock your GPU, lower it back to the default settings and check if the crashing issue still persists. 
Fix 6: Disable NVIDIA V-Sync for Modern Warfare
Turn off the V-Sync in your game which is G-Sync/FreeSync because there is a possibility it is interfering with Modern Warfare, so switching it off will most likely make the game crashing issue go away. 
For those gamers who have in-game V-sync turned on, disable it in Modern Warfare graphics settings.
Here's how you turn off V-Sync in NVIDIA Control Panel:
1) Right-click your Desktop and click NVIDIA Control Panel.
2) On the left panel, go to 3D Settings > Manage 3D settings. Click on the Program Settings tab and add your Call of Duty: Modern Warfare.
Default Path: C:\Program Files (x86)\Call of Duty Modern Warfare\ModernWarfare.exe
3) Click on Off for Vertical sync. Then save the settings by clicking Apply.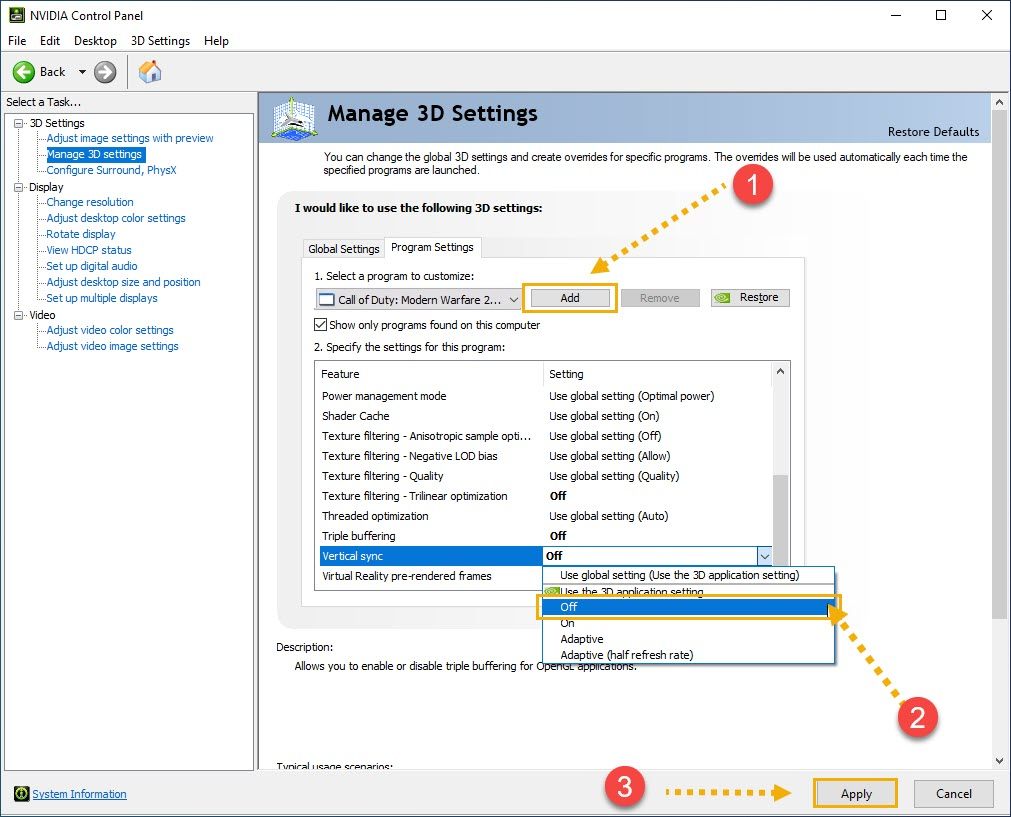 Relaunch Modern Warfare a couple of times to see if the crashing issue has been solved.
Fix 7: Disable Discord in-game overlay
Modern Warface can be forced to crash if programs have overlay features like Discord enabled, disable the In-Game Overlay to avoid such crashing issues.
1) Go to Discord and select the settings icon.
2) Hover over the Overlay tab on the left panel.
3) Click on Disable in-game overlay.
You also have the option of disabling In-game over for the only Call of Duty: Modern Warfare: Simply search for Games tab and select CoD: Modern Warfare.
Fix 8: Change Priority
I added this Fix after discussing with many gaming experts, they said if you Set Call of Duty: Modern Warfare to high priority it will possibly minimize the crashing. To change priority follow these steps
Step 1: Open Call of Duty: Modern Warfare then go to the task manager. 
Step 2: to open Task Manager press Ctrl + Shift + Esc, then find the Details tab.
Step 3: Find Call of Duty: Modern Warfare.exe and right-click it.
Step 4: Click on Priority > High.
Step 5: Select Change priority if requested for permission to make changes.
If the problem of Call of Duty: Modern Warfare crashing still persists, you will have to reinstall the game.
But before re-installing the shooting game make sure you clear the roaming and local files. 
Clear the roaming and local files with these steps
Step 1: Open Run Box by pressing Windows logo key + R then enter %appdata%. 
Step 2: Delete all related game files from Roaming.
Step 3: Clear game files in the Local file folder from the AppData folder.