Most of the Torrent users are familiar with the issue Torrent not downloading. So if you have encountered this issue or for new torrent users who will most like encounter this issue someday we have compiled a list of five quick and simple fixes to use when you face issues with Torrent downloading.
As a Torrent user, it can be very annoying to know that Torrent is not downloading after waiting for hours. Use these five fixes so you never have to face that problem again.
Method 1: Allow access to the torrent client in Windows Firewall or Antivirus Software
There is a possibility that torrent is not downloading because it is being blocked by the Antivirus Software or Windows Firewall. Configure the settings in Windows Firewall or antivirus software to give permission to the torrent clients to download. Here is how you can do so:
Step 1) Press and hold the Windows logo key and R simultaneously to open the Run box.
Step 2) Then open the Control Panel by entering the words 'control panel' in the box and click OK.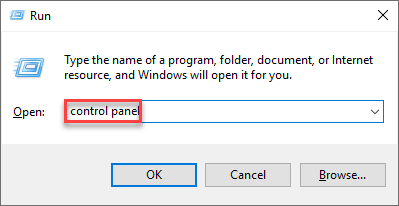 Step 3) Select View by Large icons and click Windows Defender Firewall.
Step 4) Then select Allow an app or feature through Windows Defender Firewall.
Step 5) Select Change settings and tick the boxes beside the torrent client-related items.
Step 6) Apply the changes by clicking OK.
Step 7) Download a file from the torrent client to see if the issue is solved.
The antivirus software which is installed in your computer usually takes control of the Windows Firewall. To allow the torrent client what you need to do is configure the settings in the antivirus software.
The steps to allow torrent clients in antivirus software are different for every antivirus company. For eg: You cannot follow the same steps of McAfee for Avast antivirus software. Contact your Antivirus software provider to guide you further if you face any difficulties.
Method 2: Ensure the network allows torrenting
There are network providers that restrict Torrent downloading, so chances are that you are not able to do Torrent downloading because you are being restricted by your network provider.
You need to contact your network provider and find out if they are restricting torrent downloads, if that is the case then you will have to use a good VPN to bypass the network restriction.
By downloading a good VPN it masks your IP address and lets you bypass geo-restrictions so that you can enjoying torrent downloading.
If you are confused about which is a good VPN, I would recommend you check out NordVPN.
NordVPN is a cheap and trustworthy VPN, you do not have to be a tech expert to figure out how to install and use NordVPN, it is a very simple procedure, visit the NordVPN website, choose a plan, follow the steps shown to complete the payment. Once the payment is successful you can install NordVPN on your PC.
The next thing what you need to do to mask your IP address is:
Step 1) Launch NordVPN.
Step 2) Then Connect to a server in a specific location, for example, The United Kingdom.
Step 3) Open your Torrent client and check if you are able to download torrents if the issue persists try the next method.
Method 3: Remove trackers that display connection issues
Your PC may run into the torrent not downloading issues if the trackers have connection issues. You can try to remove the trackers to see if it solves the problem.
Every Torrent client will have different steps as to how you can remove trackers. There are many Torrent clients so here we will provide you with detailed steps to remove trackers from the most commonly used torrent client, uTorrent. If you are using any other torrent client we recommend you get in touch with its support team, they will guide you on how to remove trackers.
Steps on how to remove trackers from uTorrent:
Step 1) Click on the torrent that is not downloading.
Step 2) Under the Trackers tab, right-click on the tracker in which you are facing connectivity issues (the tracker will display Timeout status), then click Remove Tracker.
Step 3) Repeat the same steps and remove all trackers which show connectivity issues.
Method 4: Try downloading torrent files from another torrent website
If you are not able to download a torrent file from your regular torrent client try downloading it from another torrent website. Sometimes a torrent file can get corrupted and thus you are not able to download it. Every torrent website has different files so you can find the file you are looking for in another torrent website. There are many torrent websites so you could get confused selecting which is the best one. Check this list of the best torrent websites to select an alternative to your usual torrent client.
Method 5: Switch to another torrent client
If you have exhausted all options and still are facing the torrent not downloading then it may be due to torrent client-specific issues. Use another torrent client like Vuze, Deluge, or uTorrent and see if Torrents are downloading from there. If it works you can permanently switch to a different Torrent website.