Why would someone look for an alternative to Whatsapp? There are many reasons and privacy is one of the major reasons why people are switching to other messaging platforms.
WhatsApp really surprised a lot of people in early 2021 where it released its new piracy policy where it stated what all data will it collect from you using WhatsApp and how it can affect their WhatsApp Business. A lot of users were really worried about it and for all the correct reasons.
WhatsApp's original owners have left WhatsApp after it was acquired by Facebook because they didn't agree with how Facebook was using WhatsApp and in 2021 that became more clear. Facebook is known for various lawsuits against it for Privacy breaches and for promoting hatred and false news on its platform.
WhatsApp on its latest privacy policy, they are aiming to gain even more data from you to target you more with such influencing posts that can really affect you.
But that's not why we are here, we are here to get you the best WhatsApp alternatives. So that you can enjoy talking to your friends and business with a secured sense of privacy available as a default on these apps like WhatsApp.
Also read: Snapchat alternatives that offer similar face and photo filter features
What are the Best Whatsapp Alternatives?
| | | | | |
| --- | --- | --- | --- | --- |
| Name | Best For | Price | Our Rating | Website |
| Signal | Privacy | Free | 4/5 | https://signal.org/ |
| Telegram | Social media hub | Free | 3.5/5 | https://telegram.org/ |
| Wire | Corporate chats | Paid[$7.65/month] | 3.5/5 | https://wire.com/ |
| Threema | Privacy  | Paid | 3/5 | https://threema.ch/en |
1. Signal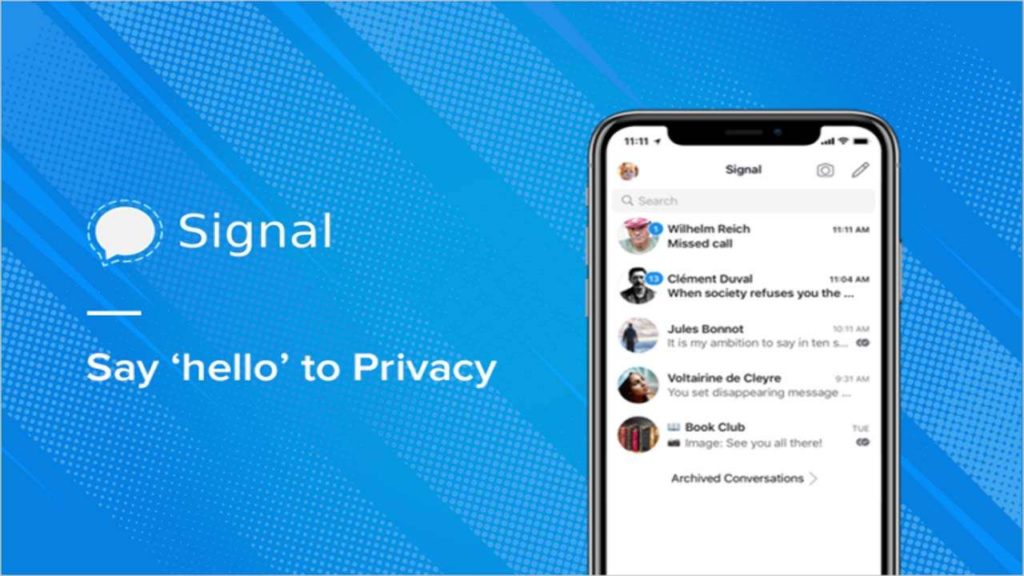 Talking about WhatsApp alternatives and not mentioning an app made by former CEO of WhatsApp, Brian Acton. Acton left Facebook and since then has motivated people to delete Facebook because of how they use your data.
And in doing so he also created a very secured application to communicate with your friends, Signal. Signal is the biggest WhatsApp Alternative available on the market.
Its main motto is to provide private messaging to you. Signal runs on grants and donations so it does not send your provide info to anyone, in fact, they can't even read your messages as your messages aren't stored on a server. It has end-to-end encryption that directly is delivered to the other user.
Signal also has some very familiar features you might find on WhatsApp like emojis, GIF's, stickers, sending larger files, and other data as well. It is the best and the most secured WhatsApp Alternative available right now.
Price of Signal
Signal is run on donations and grants so it is free to use and you can tip them how much you like for their service.
Features of Signal
Private messaging
Familiar skin
Available for Windows and Mac
Simple to use
Video and Audio calling
Pro and Cons of Signal
| | |
| --- | --- |
| Pros | Cons |
| ✅Video call and Audio call | ❌Can't save the change of color for emojis |
| ✅Simple to use | ❌GIF's are moderate |
| ✅Doesn't save all images in the gallery | ❌Can't call in other people who are not in the group for a group call |
| | ❌Messages sometimes don't get notified |
Review on Signal
Signal is not perfect by all means and that can be because of its smaller group of engineers working at Signal to make the app work. It has some issues and bugs that can get a bit annoying but given how secured it is and an actual platform that is trusted by whistleblowers and journalists for privacy, makes it is not only a great app to use for messaging but also one for secure messaging.
Rating on Signal
Signal gets a rating of 4/5 stars
2. Telegram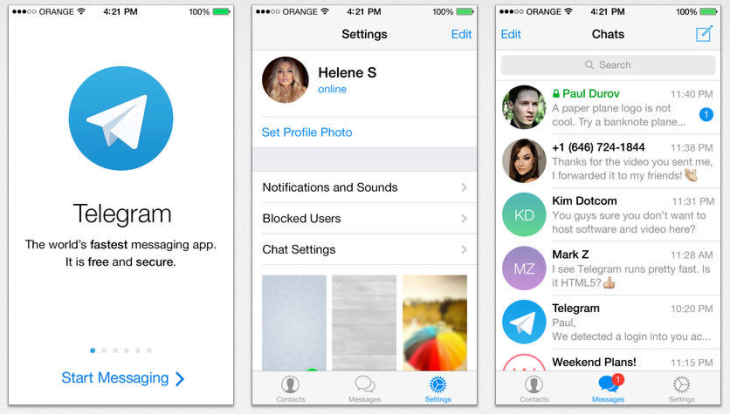 Telegram was also a name that popped a lot during the release of the new privacy policy of WhatsApp and also is a good option for WhatsApp Alternatives as it is also a secured platform.
Telegram also offers a bit more than chatting with your friends, it also acts as a hub to join any group or server made by someone else and chat over there with other people, so it does also act as a Twitter Alternative.
The great thing about Telegram is that you can export all of your chats from WhatsApp onto Telegram so there is no communication gap between switching from one app to the other, the reason why it could do this is because WhatsApp stores all its chat on a server which can be easily accessed and downloaded, another reason to tell you how not save WhatsApp really is.
Price of Telegram
Telegrams also is a funded project and that's how it makes money
Features of Telegram
Export your chat from WhatsApp
Join different servers and groups and talk to new people
Secured app
Transfer big files, including movies and tv shows
Pro and Cons of Telegram
| | |
| --- | --- |
| Pros | Cons |
| ✅Group video calls | ❌Some groups can be a bit toxic |
| ✅Secured application | ❌Basic settings can be a bit complicated to change |
| ✅Easy to use | |
Review on Telegram
Telegram is also a secured app to use but it is not as secure as Signal per se. That being said, it is still a great WhatsApp alternative as it allows you to join more people to talk to and lets you continue chatting with your friends and family members and not lose your WhatsApp data.
Rating on Telegram
Telegram gets a rating of 3.5/5 stars
3. Wire
Businesses require a lot of data transfer and these data's can be very important and have to be very secured because their leaks can be catastrophic for any company and that's where Wire comes in.
Wire is an app like WhatsApp Business that is mostly useful for cooperates and businesses as its very secure to use for them. Wire provides you with great benefits of instantly chatting with your clients and being able to share documents on the go.
Price of Wire
Wire has a free plan as well but that wouldn't suffice any big corporate company. Its paid plan are as follows.
Enterprise Plan: $7.65/month
Government Plan: Contact Sales dept.
Features of Wire
Zero Trust – Cloud
Messaging and Conferencing
Team Management
Unlimited number of users
Add-ons available
Integrations
Customer Support
Pro and Cons of Wire
| | |
| --- | --- |
| Pros | Cons |
| ✅Great for businesses and governments | ❌Not that useful for talking to friends and families |
| ✅Good secured plan | ❌Paid plan has all the features and benefits |
| ✅Easy to use | |
Review on Wire
Wire is a great app but it is not for everyone. It is mostly business-related, although it has a free plan but allows only 5 members to chat with, so not exactly a WhatsApp replacement but still a great WhatsApp Alternative.
Rating on Wire
Wire gets a rating of 3.5/5 stars 
4. Threema
Threema is a messaging platform that is developed by a Swedish company by the same name and it has been operating since 2012. Threema claims to be the most secure messaging platform available right now.
It is available for both, businesses and individuals and it is not funded on donations or any other benefactors. Threema's main source of income is through its users as it asks for a one-time payment.
Price of Threema
Threema is available for both, businesses and individuals. You are able to get a 30-day free trial on Threema Individual, after that, you have to pay a one-time fee of $3 Dollars.
It has three different plans for business models.
Essential Plan: $14.99/month
Professional Plan: $32.99/month
Advanced Plan: $21.99/month 
Features of Threema
Create polls
Automatically disable notifications outside of working hours
Silently agree or disagree with received messages
Hide confidential chats and password-protect them with a PIN
Dark and a light theme
Verify your contacts via the QR code
Add text formatting to messages
Create distribution lists
Quote text messages
Pro and Cons of Wire
| | |
| --- | --- |
| Pros | Cons |
| ✅Great for Chatting | ❌Expensive plans |
| ✅Good security measures | ❌Not popular |
| ✅Easy to use UI | |
Review on Threema
Threema is also a known that has been popping up by a lot of people, but its best use-case scenario is for businesses rather than normal everyday usage because there aren't many people who would like to pay anything, for that matter, for normal chatting.
Due to this, there aren't many people who use this application, and if there is no one to talk to, then what's the point of spending $3 Dollars, even though it's fairly cheap.
Rating on Threema
Threema gets a rating of 3.5/5 stars
Final note
Look, I can write a number of alternatives to Whatsapp and it still won't be enough. The reason being that we have been using WhatsApp for over a decade now, we have very much grown to it and have mastered all of its facilities and features.
And suddenly changing to a whole new interface and application and starting to chat from scratch can be a bit off-puting but the thing is that by using these sites we are not helping ourselves. People have the mindset that oh what if can they do if they take my data and they don't realize that these giant corporations like Facebook use your data against you.
They use it to manipulate you by showing you specific posts that can trigger you, that's how much they know about you. It is no longer just about advertising, Data collection has become the number 1 resource and has replaced oil.
Companies like Facebook share our data with big corporations and political leaders to benefit themselves, it is time we think about benefiting ourselves.