As kids, we used to spend our leisure time playing games, reading books, or comics. For some, out of all the comic books, mangas aka Japanese comic books stood out. With fascinating storylines, striking pictures, these comic books left an impact. Regardless of what type of comics you prefer, I have put together a list of manga apps for you that cater to a wide variety of tastes. This list will help you find working manga sources by answering all questions like where can I read manga for free, is there a manga reading app, where can I find a working manga reader app, etc.
List of the best manga apps for Android and iOS.
VIZ Manga 
Let's start off with Viz Manga right on top of the list which is by far one of the best apps for manga that I have come across. This free app gives you access to the most famous comics and manga including new chapters of all hit series like One Piece, My Hero Academia, Dragon Ball Super, they also have cult classics like Tokyo Ghoul, Vampire Knight, and a lot more. The app also adds new series regularly to always provide you with interesting comics to read.
One of the best features of this manga reader app is that you can create a vast library of your favorite mangas. A library that's personalized makes it easier for you to read mangas at your own pace.
Viz Manga also provides a download option for you to read mangas offline. You can also have free previews of paid volumes so you can decide if you want to absolutely purchase it.
Install: Can be installed on Android and iOS for free but consists of in-app purchases.
Crunchyroll Manga 
You won't get anything less than the latest manga directly from Japan with this official manga app. Crunchyroll Manga is an official manga app for Android and iOS thus it gives you easy access to all the trendy manga books as they are released in the newsstands in Japan itself. With Crunchyroll Manga, it's a piece of cake for you to keep up with all the hottest manga books like Attack on Titan, Fairy Tail, and Osage Brothers. Being a Manga fan myself Crunchyroll is my manga reader where I read all chapters of my favorite manga.
What makes this app even greater is that it has a neat interface that offers some easy tools to customize the Comixology content according to your reading preference. As a manga fan, this is definitely a must-have manga reader app.
Crunchyroll app has a free version where you can read a handful of manga, although if you are an avid manga reader who wants access to the entire series catalog and unlimited reading, you should get the premium membership.
Install: Crunchyroll can be installed on Android and iOS for free and has in-app purchases.
ComicRack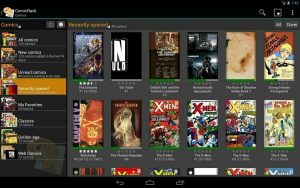 ComicRack is amongst the few feature-filled manga apps that give you access to a vast array of manga digests. The extensive choice of the reading tool also gives you an improved trading experience. A great feature provided by the app is the ability to fine-tune the colors according to your convenience and not harm your eyes. Just like manga readers would expect from a top manga reader app, ComicRack makes it easy for you to track your reading status like unread, completed, bookmarks.
Another great feature that places ComicRack amongst top manga readers is that it supports PDF, DJVU, CBT, CB7, CBZ, CBR, and WebComics when it is used altogether with the Windows version. You can also customize the app's appearance with cool live wallpapers provided. It has Twitter integrated too, which lets you share your insights and choices with fellow manga readers on Twitter.
When it comes to the pricing, ComicRack is slightly expensive at $8. However, if you take the amazing features into consideration, the manga app is worth it.
Install: can be installed on Android for $7.99. it is also available on the iPad (not iPhone).
Manga Rock Pro 
Manga Rock Pro will be your favorite manga app for the massive library with innumerable comics. Whether you have the taste to read comedies, fantasy comics, or even read horror comics, this manga app has got it for you. Additionally, the developer updates the app with new comics regularly for you to stay up to date.
It also gives you a customization option to filter the mangas to your taste. Another reason Manga Rock Pro is a great manga app is that it has a download option for you to access your favorite manga without an internet connection.
Install: Can be installed on iOS for free.
Manga Dogs
Manga Dogs has an extensive library with more than thousands of manga from 20 sources or more. It surely has a wide range of mangas to cater to everyone's reading tastes. The app also observes your reading habits and recommends similar manga to your preference. Manga dogs also provide a convenient setting that opens the game for many customizations to make your reading experience better. Additionally, it notifies you when your favorite manga have been updated to make sure you don't miss out on the latest stuff. Considering all the intuitive features, Manga Dogs surely is a top manga app for Android and iOS.
Install: can be installed on Android and iOS for free, has in-app purchases
Manga Monster 
When compared to the other options on the list of manga apps, Manga Monster may not be on the top but it does give you an adequate reading experience. Manga Monster has an enormous catalog of more than 24000 manga so the app does have a variety of options from which you can read for free. It has a neat and simple interface with easy to use tools and the app doesn't take long to get used to your usage. Being a light app, it functions quicker and smoother. Manga Monster gets updated regularly giving you the latest editions.
Install: can be installed on iOS for free
MangaToon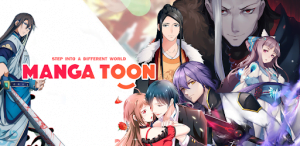 MangaToon has a massive library and a variety of genres like horror, comedy, romance, and action manga for you to read, it is not a free app but for its price range, it is a must-have app. Like most other manga apps, it updates the app with the latest webcomics on a daily basis. You can create a library of your own with your favorite comics and also download the comics you want to read even when offline.
MangaToon also allows you to write stories of your own which you can keep to yourself or share with fellow manga readers. It provides a platform for you to express yourself through comics. MangaToon also supports numerous languages like English, Spanish, Thai, Indonesian, Portuguese, and more making it flexible for its users.
Install: can be installed on Android and iOS for free, has in-app purchases
Manga Reader 
Manga Reader has a vast library with access to more than thousands of mangas from 30 sources or more making it the only platform you'll need to end your hunt for manga apps for Android and iOS. It provides filters to help you find your preferred manga in no time. Like a few other manga apps, you can download your favorite comics too, but Manga Reader stands out as you can simultaneously download up to 5 mangas for peaceful reading. The app also provides apt recommendations based on your reading choices. With these features offered, this app definitely is one of the best manga apps for Android and iOS.
Install: can be installed on Android and iOS for free, has in-app purchases.
Online Manga Reader 
Online Manga Reader provides all the basic features that you would look for in an app that is specifically made for manga. It has a bookmark feature, allows you to create a personalized library with your favorite comics and offline reading. It has a wide variety of comics like horror, comedy, romance, and a lot more that is updated frequently. But what makes this app slightly different from those in the manga apps for Android and iOS list is that you can listen to music while reading giving you a vivid experience.
Install: can be installed on Android for free
Manga Box 
Manga Box is amongst the few apps on this list that has one of the most extensive collections of comics from famous authors. The app keeps adding new content on a daily basis which means it has a wide variety of genres that will keep you engaged with your favorites. The app has light customization tools, a clean and simple interface, and tools that are easy to use. With the most simple features, Manga Box will give you an adequate experience when you are reading your favorite manga comic.
Install: can be installed on Android for free via Google Play, has in-app purchases.
Conclusion
There you have it, the list which manga fans have been waiting for, here you will find the perfect manga app for your device to keep yourself entertained with a variety of comics. Let us know of any other impressive manga apps that you've come across, I would love to update this list if I have missed out any, also let us know which are your top manga picks of all time. I intend to compile a list of the best manga of all time so it would help me out.
You may also like: How to watch popular anime for free