What is Mubi?
Mubi is a movie streaming site that allows you to watch some of the more independent and cult classic films on its platform. They are available now in over 200 countries and have a fair collection of movies on their platform.
Mubi specialises in streaming movies that are handpicked by its group of team members. The movies that are streamed on its platform are mostly independent films or what are commonly known as 'indie films.
Their target audience isn't regular everyday people who like to stream or watch Netflix or any other on-demand streaming service. They have designed their website for those who are genuinely passionate about films.
These films are something that most people who like to study films or what to pursue a career in filmmaking would most likely want to watch these films because they are just not like the regular content that you would be able to see.
If you are looking to stream Hollywood movies and tv shows for free we have got you covered with the best free movie streaming sites.
Reason to look for sites like Mubi
Reason 1 – Relatively Expensive Subscription Plan
Mubi is not a free streaming service. They cost you some money to use their services, approximately around $11/month, which is something, when you compare it to other streaming services, is a lot.
To put it in comparison, for the same price point or lesser, you can get a subscription to Disney Plus, Paramount Plus, Apple TV Plus, Hulu, Peacock TV and many more different streaming services on the internet right now.
$11/month is quite an expensive price point, which I also get why because Mubi knows that they won't have a tremendous fan following like other streaming services have, and it takes money to license a movie, regardless if it is an indie movie or a big budget film.
But still, in this time and age where inflation is at an all-time high and people are nearly confirming the fact that a recession is bound to come, I don't think many people would like to spend $11/month for a streaming service that only shows indie and art-house films.
Reason 2 – Not for Everybody
Speaking of spending $11/month for a streaming service that provides you with films and titles about which you have never heard of. It directly leads to my next point, that it is not for everybody to consume.
Not everyone wants to watch some serious or thought-provoking film. For many people, films are just a way to have a good time and be entertained, rather than being able to study the films and the meanings behind them.
That's why so many people opt out of watching a movie in theatres and wait for it to come on streaming because it's just convenient, rather than spending all that money on going to watch a movie that will eventually release on OTT after a couple of months.
This thought process is something that is very acceptable also because people want to have a good time when they watch something and want to escape reality, and I just don't think watching indie films will help them do that.
Reason 3 – It doesn't have proper services in terms of streaming.
If we talk about Mubi just as a streaming service and forget for one what all does it have to offer, then it also lacks a bit in that department. This hurts even more given the price tag that it carries along with it.
Mubi's streaming service is something that you can usually see on free streaming services. You can only watch all of its content in 1080p, which isn't bad.
But then again, in this day and age where most of the devices have a 4K display and you are paying around $84/year (if you take its annual subscription), then you at least expect to have some above-average qualities as well.
Mubi also doesn't support making different profiles for watching your content, as you get in other premium paid streaming services. That is also a missing feature that they could have very easily rectified.
Top 3 best Mubi alternatives
Fandor 
I read a review about Fandor that said, "Fandor is like Mubi but on steroids, which seems like an apt description of the streaming website because it does provide what Mubi has to offer on its platform, but better.
Fandor is also a streaming service dedicated to streaming and bringing you the best of the best in the world of indie cinema and arthouse movies. The streaming service also provides the option of submitting your films on its website.
This is a great initiative from their side for filmmakers who have spent all of their time, and most importantly, their own money, because let's be honest, 9/10 times when you are making an independent film, you are making it with your own money.
This provides the filmmakers with a great chance to showcase their talent but also lets them earn some money from their own content that they have made. There are also some other great things about Fandor.
What we liked about Fandor
Fandor offers, as mentioned above, the option of monetising their work on Fandor. The money that you are paying from your subscription fees, depending upon how many views the film gets, their filmmakers are treated the same way.
But those are not the only great features about Fandor. Fandor also is available on Roku TV as well. This is quite a beneficiary factor for people because usually, with such sites, they tend to focus less on the streaming service and more on the content.
With this addition, one can easily enjoy what all the website has to offer from the comfort of your big screen tv and other Roku devices as well. This adds convenience and attracts more people to sign up for the services.
What we didn't like about Fandor
There are some things that I am not a big fan of about Fandor. For starters, its price point; it's cheaper than Mubi but not very cheap when you compare both of them. Mubi's price was around $11/month, and Fandor has a subscription plan from $10/month.
Look, $10 is still cheap when you consider the general things that you can get in $10 Dollars. But the fact is that Mubi also has more movies to show and stream on its platform compared to Fandor.
So when you do the cost to effect ratio, then I think in that region, Mubi would take a bit of lead in that competition. Like I have said many times before in many different articles for this website. Not everything can be perfect, and neither is Fandor.
Why did we choose Fandor as Mubi alternative?
You clicked on this article wanting to know and learn about Mubi alternatives, and Fandor is a Mubi alternative that you will see on the internet, one of the better alternatives, to be precise. And I am not exaggerating this point.
Fandor, even though it has less collection but it, still has a great library of content available on its platform. You get access to movies from different countries, and you also get to see some known titles that you really won't get on Mubi.
Along with this, Fandor is also available to use on Roku, which is such a big plus point in the world of streaming, regardless of whether they are streaming movies that are commercial movies or independent, arthouse movies.
The amount of comfort and convenience point is a big selling point for any streaming service, and Fandor does provide that, which is why I decided to put it up on this list.
Review and rating of Fandor
Fandor is a website that not a lot of people know about when it comes to watching independent arthouse movies on the internet. They usually go to sites like Mubi to get their dose of filmmaking and film learning.
Fandor has been a website that has been going on for a while now, and even I have come to know about it thanks to the research for this article. Otherwise, for me also, it was always Mubi if someone used to ask me where can they watch some non-commercial movies.
This website also does support its filmmakers whose films it is currently streaming on its website by allowing them to monetise the films and give back a portion of the money collected from the subscription fees.
I just wished that their subscription fees were a little cheaper; otherwise, for me, it is a great website to stream movies. I would be rating Fandor 3.5/5 stars.
The Criterion Channel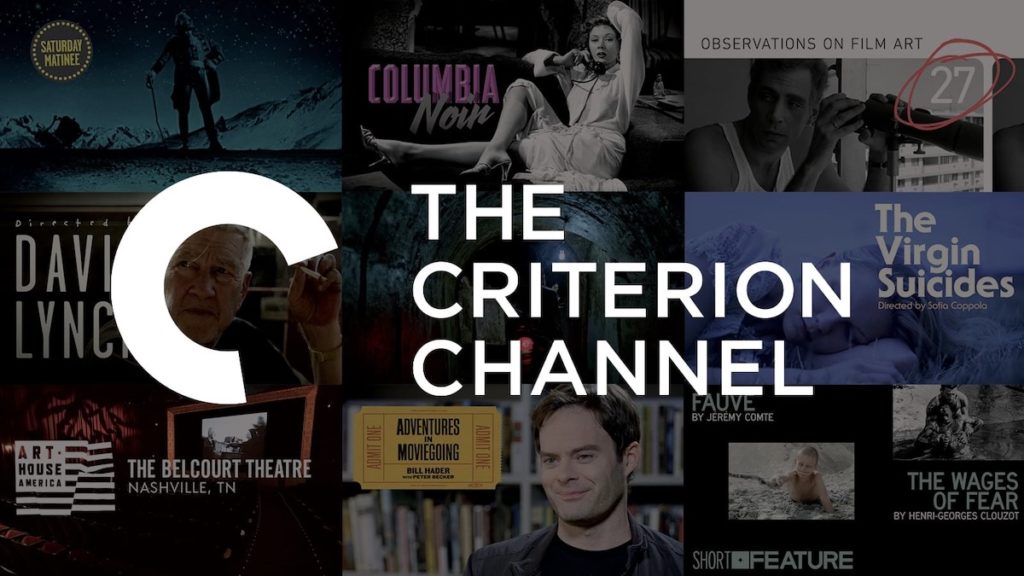 The Criterion Channel is another go-to place for all movie lovers and cinephiles. It is one of the more premium paid online streaming services available right now on the internet that lets it viewers watch independent films.
The Criterion Channel was launched thanks to the joint effort of many filmmakers from Hollywood. Film Struck, a streaming website, was launched in 2016 and one of its hosts was The Criterion Collection.
The Criterion Collection is a distribution company that focuses on restoring and collecting Hollywood's most contemporary and influential films over the decades. Their online streaming was done by Film Struck.
But due to some issues at Warner Media, they were told to be shut off, but due to a joint effort by filmmakers like Steven Spielberg, Martin Scorsese, Bill Hader, Edgar Wright, and many more, The Criterion Channel was made as a separate streaming channel.
And now, The Criterion Channel is considered one of the best streaming services available for cinephiles and movie lovers to learn from it and watch some great movies while you are on their site.
What we liked about The Criterion Channel
The Criterion Channel is a streaming site dedicated to film lovers, and that's no joke. They not only have films that have been very influential over the years and have created the cinema that is today.
But, they also provide you with some exclusive content, such as behind the scenes stuff about many films, deleted scenes, commentary from many directors, and some interviews by known filmmakers talking about their experiences.
It really does offer you with a lot of options. They also provide you with different clubs, where they club together a group of films, they can be clubbed based on many different reasons, and you can fully utilise it all.
Their streaming service is also really good and can be compared to sites like Netflix and Prime Video. Everything seems very professional and well built on the website.
What we didn't like about The Criterion Channel
The Criterion Channel is only available in the US and Canada. This is a big blow to the film community across the globe because they really have a great collection of films that many budding filmmakers across the would love to watch.
And films are such a medium that can be really appreciated regardless of where they are from and from which country they have been originated from.
Seeing that a website dedicated to collecting great films across and preserving them well from different countries should also have the ability to showcase those films to the whole world rather than just the US and Canada.
The subscription plan of The Criterion Channel is similar to what Mubi has to offer, which is $11/month, but its annual plan of $100/year is expensive to what Mubi's annual subscription plan is.
Why did we choose The Criterion Channel as a Mubi substitute?
Even though The Criterion Channel is slightly more expensive than Mubi but that's where most of its comparison ends. The Criterion Channel has over 1000 movies available on its platform, and they constantly update their library.
They also have added bonus content such as an exclusive behind the scenes look at some of the movies, some deleted scenes, special originals with interviews with many different filmmakers, and a whole lot more.
The Criterion Channel is also available to stream on multiple devices and has an app on all popular viewing platforms, so you can very easily watch their content from any of their devices.
Review and rating of The Criterion Channel
The Criterion Channel seems like a one-stop destination if you are a cinephile and likes to watch movies that have really altered how films are being made today. It seems like a site dedicated to people who love cinema.
They are doing a great job of providing a service where people can learn from these films, but by also preserving these films and having a place where they can store these films and protect physical media.
It is a streaming site that knows what the customer demands and is doing the maximum it can to give them a great experience while they are on its streaming site. I would be rating The Criterion Channel 4/5 stars!
Renting/Buying Independent Films
This is not exactly a Mubi alternative streaming site, but it is a genuine attempt where you can basically either rent or buy an independent film. Sites like Amazon Prime Video and Vudu offer you the service to either rent or buy a digital copy of the film.
This is extremely useful and helpful, and it works both ways. You get the film that you want to watch, and the people who make the film get the money. It's that simple.
Financing a film is difficult, and financing an independent film is even more. This is because there aren't that many people who are dying to see films that are not commercially made and have budgets of over $50 Million Dollars.
When you rent or buy a movie, you directly impact and support the independent film community because it shows faith in producers to fund such films that are different and are targeting niche groups of people.
What we liked about Renting/Buying Independent Films
As mentioned above, you are directly supporting the filmmakers and the producers when you basically directly purchase these films. A lot of times, people don't care about such films until and unless their word of mouth is way too good.
Even in that case, many people find a way to torrent these films, which is the worst-case scenario because the artists get $0 Dollars for their effort and people still get to watch and enjoy their products.
Plus, as a consumer, you also get the added convenience of watching these films from any device you would like to watch and not be bothered by watching them on a specific medium such as a laptop or a TV.
If you purchase a physical copy of such films, then you also get to watch some bonus content that they put out in them.
What we didn't like about Renting/Buying Independent Films
There aren't a lot of disadvantages when you rent or buy any independent film for that matter. Yeah, maybe; sometimes, if your luck is bad, then the film you purchased may have some issues here and there.
But as such, for the concept of renting and buying films, there aren't many disadvantages as you basically get what you paid for and that's a big plus point.
Why did we choose Renting/Buying Independent Films as Mubi alternatives?
As I had mentioned at the start of this article, not everybody likes to watch independent and arthouse films. Occasionally, if a film gets excellent word of mouth, like this year's 'Everything Everywhere All At Once'. 
That film is an independent film that has been lauded across by fans and critics alike; maybe if all word of mouth peaks someone's intrigue and they would like to watch this particular film, then why they should pay $10 – $11/month?
This article is not just for cinephiles but also for people who are genuinely interested in watching movies and would occasionally like to learn more about them as well, and renting a film or buying it would solve the purpose.
Review and rating of Renting/Buying Independent Films
I won't be rating this because I don't see what I would be rating. Usually, my rating system is out of 5 stars, but they are for a specific context; that context isn't something that you can get in this sub-article.
It is more of a way of telling you guys the different ways you can watch independent films if you feel like doing so, and renting and buying those films is a way to do it as well.
Our recommendations on the best Mubi alternatives?
Since I am someone who is into filmmaking and wants to pursue it as my career moving forward, it is sort of expected that I should know and use these sites because they are about movies and the best of them as well.
But frankly speaking, I am not a follower of any of these websites.
Don't get me wrong, I know and appreciate a great film when I see one, and I am one hundred per cent sure that if I start watching films on these sites, then I would love them as well.
But the thing is that I don't understand artsy films, their messages, they all go over my head. And trust me, I have tried to watch some artsy films as well.
My philosophy is that a great film is a great film regardless of whether it is commercial or very artsy. And I really like to watch great films because that's what I want to make as well.

So if I had to choose an option from the three, I think I would choose the option of renting movies.
Why did we choose Renting movies as the best Mubi alternatives?
Because like I said, I appreciate a great film when I see one. I won't lie, I find some of these films boring because they are boring, and some of the content on the more recognisable OTT services aren't that boring.
So, if I see an option where I find that it is an independent film and is being talked about a lot, I would like to see that film and learn from it. And to do, I would just straight up rent that film.
And it's not like sites like Netflix and Prime Video doesn't have award-winning films in their catalogues, so I tend to watch those films from these apps as well.
Anyway, this was, I think, the most subjective article I have written so far; what do you think? Are you a cinephile who likes to watch movies and understand movies for what they are?
Or do you like to watch movies just for the sake of it? Do let us know in the comments down below!