With one of the most popular anime of arguably all-time Dragon Ball Super going off-air, the legendary series has managed to attract a lot of attention towards anime from all across the globe.
One of the most popular anime amongst hardcore anime fans is One Piece, the series has been going on from 1996 and has a loyal fan base.
Steins: Gate, Naruto: Shippuden, Cowboy BeBoy, Yu-Gi-Oh, code Gease, One Punch man are amongst the other most sought after popular anime.
However, most of these popular anime are usually not streamed in many European, South American, and Asian countries. And even if they do stream they usually are in the Japanese language.
Coming to the rescue of all our readers, below we have provided a list of the best websites to watch anime for free.
9Anime.to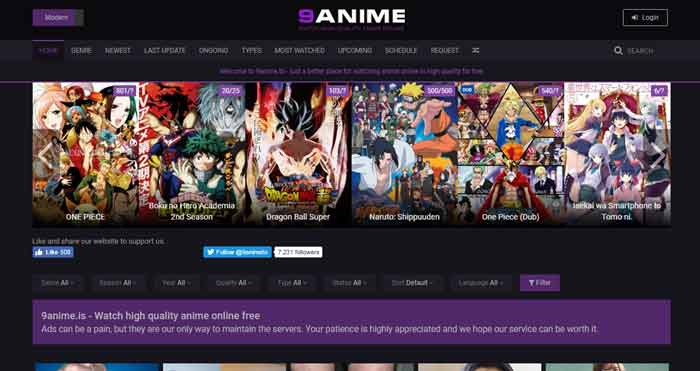 Hands down the most popular destination for all popular animes. If you search for any anime to watch for free, you are most likely to come across 9anime.to in the first go itself.
Once you visit the website you will undoubtedly be left awe-struct with the amount of anime this website has to offer. From arguably the most popular anime Dragon Ball Z Super to the longest-running anime of all time One Piece, 9anime.to has it all.
9Anime.to is updated regularly with all the latest episodes and also has an option of watching English subbed anime series for free which makes it one of the most popular websites for watching anime. It provides HD-quality anime with an option to download HD anime as well.
The only feature which bugs its users is that 9anime.to is filled with ads so expect a pop-up ad after almost every click.
KissAnime.ru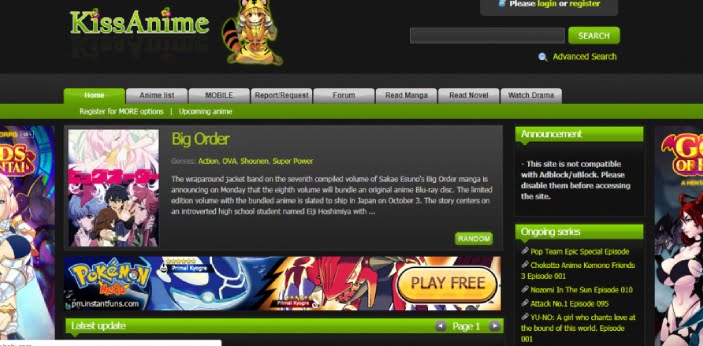 KissAnime.ru is most used in Asian countries China and Japan and is slowly making its mark as a popular platform for watching popular anime for free, unlike most of its counterparts in this list, KissAnime.ru does not boast of a huge list of old anime, however, it provides most of the latest popular anime with the best video quality.
If you are an avid manga reader and latest anime watcher KissAnime would be the right platform for you. But if you are looking for older animeseriesandenglishdubbed anime to watch, do not worry we have listed many more anime websites in this list.
You can easily watch popular My Hero Academia and OnePunch Man on KissAnime while it also gives you access to the latest manga series. To sum it, as an anime fan you certainly have to give kissanime a try.
GoGoAnime.io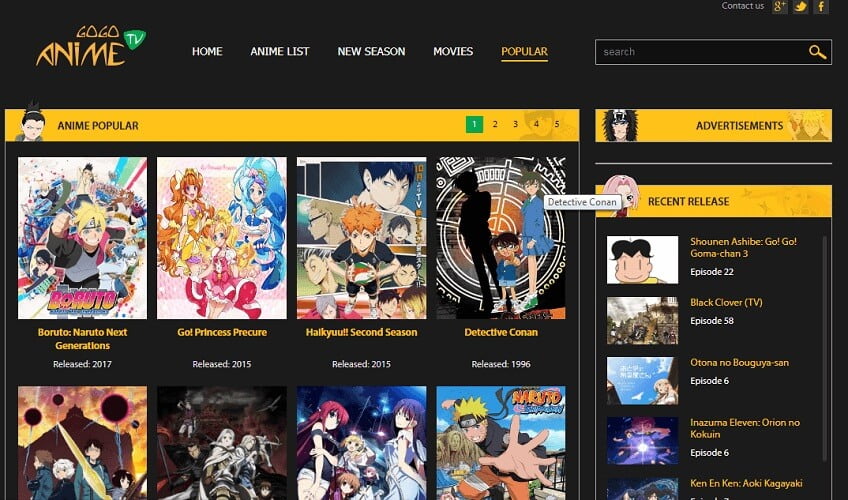 This website bears a lot of resemblance to 9anime.to, similar to 9anime, GoGoAnime also has an easy to use interface and a huge list of popular anime series to choose from, as it allows users to watch anime for free it makes most of its earnings from ads so expect many ads to be displayed.
A unique feature that sets it apart from the rest of the top websites where you can find a list of popular anime series and anime dubbed in almost all languages which makes it a frequently visited website in Europe.
You can have complete access and download the latest episodes of One Piece and My Hero Academia on Gogoanime. As a fellow anime lover I would highly recommend checking out this anime streaming site.
Animefreak.tv
Just like its name this free anime website promises to be a true treat for the true anime fan. It does not display many ads to you can browse through the list of anime in this website much more conveniently, another convenient feature is that animefreak.tv has an option of translating the entire website in the language of your preference.
A feature that would particularly appeal to manga readers as they get to read manga for free in the language of their preference. You can also read the description of the top trending series like hero academia, etc from the vast list of animes available on this website.
AnimeSeason.com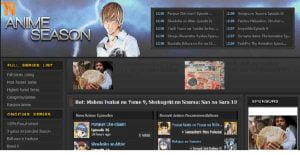 If you are looking for a website for watching popular anime for free which does not entangle a user in ads then animeseason.com is the manga and free anime streaming website that you are looking for. It does not have all of the popular anime nor does it feature dubbed anime content.
However, it is the only ad-free website in this compilation where you will find a list of the top manga and anime series like Attack on titan, death note, hero academia, top high school sword art online, and much more.
Chia-anime.tv
If you wish to binge-watch an older anime series or download any popular anime series for free with HD video quality the chia-anime.tv is the most suited option.
Unlike some of its counterparts in this list, it does not feature the latest anime, but it consists of almost all your favorite anime like hero academia, attack on titan, death note, Fullmetal alchemist, and similar top sword art online high school anime One of its most liked features is its perfectly aligned user interface, category placement for anime movies, anime series, anime index, and Manga is aligned in a simple manner. Also when we surfed through this website we were left really pleased with the random anime and manga streaming options this website provided.
Funimation.com
If safety is your main concern, then funimation.com is the ideal website to watch your favorite anime and manga series for free.
When we say the best animes this website consists of some of the most sought-after anime series like hero academia, attack on titan, Code Geass, Fullmetal alchemist brotherhood, death note, and many more that are really hard to find. Updates frequently with all the latest anime releases this is a website that would quickly become the first choice for anime fans.
However, for anime fans who wish to watch English subbed anime for free, you would have to look for another website from this list as funimation.com charges for its premium version which has all the latest anime series and popular anime movies subbed in most of the languages.
Goku.to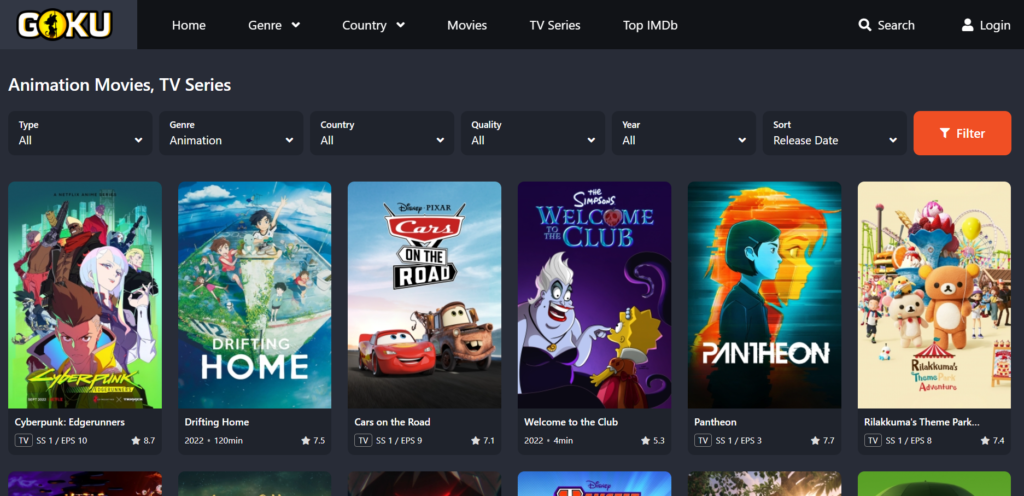 Goku.to is a streaming website that offers users to watch a number of different anime movies and tv shows, along with some other genres of movies and tv shows as well. So, you can very easily choose this website to watch all the latest anime tv shows online for free.
That being said, the website is not legal to use, and that is something which is true for all the websites that are mentioned in this list.
So, you need to be knowing what you are getting into. For example, you will be seeing a lot of ads, the stream quality might not be of the best resolution, etc.
So, as long as the website is working, you can enjoy watching free movies and tv shows on such sites, just make sure to use a VPN.
4Anime
4Anime is also another option that you can try out for watching anime movies and tv shows for free. While Goku.to also streams other genres of movies and tv shows, 4Anime is dedicated to streaming only anime content.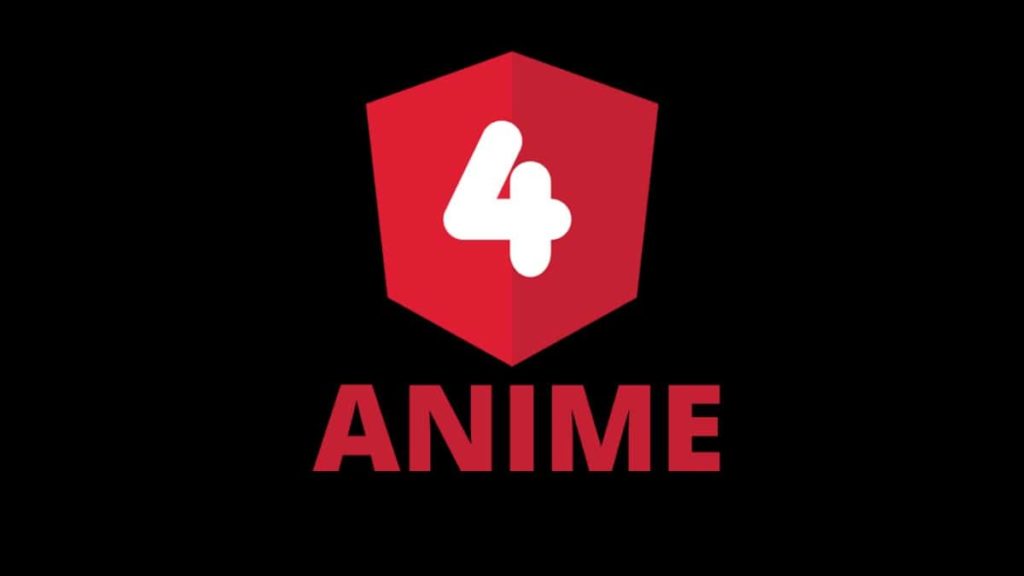 So, this can be a really good option for a lot of people who are looking for a website that just streams the latest anime tv shows and movies, and nothing else.
Along with that, 4Anime also does offer a decent UI which is a pretty rare thing on such websites, and it is a welcome addition, because it just makes the overall viewing experience better. 
The website was blocked by the authorities some years ago, and chances are that is can happen again, so you need to be on a lookout for that. Other than that, it is a good website to stream anime movies and tv shows.
Here is a list of the best anime streaming sites that are safe and legal in case you wish to choose more options. It can be difficult to find a legal platform to watch anime so this list is really helpful.
Frequently Asked Questions (FAQ)
How to watch anime for free?
A-There are many websites like gogoanime and others that feature some of the best anime of all time to watch for free, I have listed some of the best websites to watch popular anime for free in this article.
Is 9anime safe?
A- Streaming content illegally is an offense, but generally, the site will be banned or the content will be taken down from the site, I would strongly recommend using a VPN to mask your IP address before browsing for free anime sites.
How to watch all episodes of Dragon Ball Super for free?
A- I have listed down the best websites which feature popular anime in this article if, like most anime fans you are wondering how to watch Dragon Ball super for free check the article, you will also find sites which have all list of Dragon Ball Z episode 1 to the latest episode for free.
How to watch the latest episodes of One Piece with English subtitles?
A- 9anime uploads the latest episodes of One Piece weekly as it releases, the latest episodes of One Piece and other popular anime are available with English subtitles as well on 9anime.
Where can I watch the upcoming Dragon Ball Super: Broly 2 movie for free?
A- Some countries will not be airing the latest Dragon Ball Super: Broly 2 movie, however, sites like 9anime and gogoanime will feat