Dragon Ball Super: Broly 2 is arguably one of the most anticipated Anime movies of all times, just when anime seemed to be a dying trend with a limited fan base, Toei Animations released the epic Dragon Ball Super series.
Originally, Popular Animes release movies just an add on and is completely off track from the ongoing anime TV series. However, when Dragon Ball Battle of Gods was released back in 2013 it marked the start of a trend. The entire Dragon Ball Super series went on to receive major praises from all over the world.
The last anime movie released by the Dragon Ball franchise was Dragon Ball Super and for the 90's kids it was such a warm and welcoming experience, the popular anime movie has a classic feel to it just like the Dragon Ball Z series. Toei Animations did a brilliant job to make sure to give the Anime movie the vibe of feeling a connection with your childhood hero Goku.
Personally speaking, the Dragon Ball Super: Broly movie reminded me of the epic fight between Goku and Piccolo as well as the Dragon Ball GT series, the detailing on Goku's classic orange uniform to his hair to his facial features totally had me fanboying over my childhood anime hero. I might as well have shed a tear, I'm sure all popular anime fans will relate.
All the above-mentioned factors have led to one conclusion, the hype for the much-awaited Dragon Ball Super: Broly 2 is something that no other popular anime has been able to match. It is almost like Toei Animations has become a victim of its own success, but knowing the talents of Toei Animations one thing can be said for certain they do not let down their fans
Dragon Ball Super: Broly took inspiration from the 1993 movie the legendary super Saiyan. The anime movie featured original characters like Freiza and Bulma with Beerus Sama being the notable inclusion from Dragon Ball Super. The anime movie showed Goku and Vegeta take on Broly in a fight for the ages and before I forget to mention Dragon Ball Super: Broly also features the popular character amongst anime fans Gogeta, who anime fans have demanded to see more off. Okay, I won't give any more spoilers about the anime movie if you wish to watch Dragon Ball Super: Broly for free I have listed an entire article about the best free sites to watch anime for free in 2020. 
When is Dragon Ball Super: Broly 2 releasing?
So without further adieu, let's get to the point, an official announcement involving the releasing date of Dragon Ball Super: Broly 2 has yet not been given, however, anime fans can expect the action-packed anime movie to be released in the third quarter of 2020. Let's look at why we can expect the anime movie to be released this year. Firstly there was a two-year gap between Dragon Ball Super: Battle of the Gods and Dragon Ball Super: Ressurection F after which anime fans had to wait for four long years for the movie featuring Gogeta and Broly.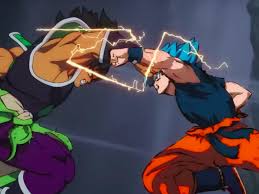 But let us break it down more, this move was strategically planned by Toei Animations the first Dragon Ball Super movie was released for the introduction of the new characters, especially Lord Beerus and Whis Sama then with Ressurection F in 2015, Freiza was reintroduced to fans and finally in 2019 Dragon Ball Super: Broly reintroduced us to the fusion character Gogeta and Legendary Super Saiyan Broly, but in between this four-year gap the epic Dragon Ball series where Goku and Vegeta clashed with some of the strongest contestants from multiple universes was released during which anime fans were treated with many surprises like knowing that Vegeta had a brother from another Universe, the introduction of the legendary assassin Hit and a mortal Jiren who is argued to be more powerful than the gods as well and much more. You can watch all episodes for in HD quality along with English subtitles here.
When Dragon Ball Super: Broly was finally released, anime fans were well aware of the limits of power achieved by both Goku and Vegeta plus it was a welcoming feeling to see the Saiyans fight against an old foe Broly who Anime fans were kept in the dark about. And now that Anime fans have had a taste of it, the stage is all set for Toei Animations to grow the Dragon Ball franchise even bigger, also they are currently fully focussed on the Dragon Ball Super: Broly 2 movie all signs indicating that the popular anime movie is set to be released sometime soon in 2020.
Also, it should not come as a surprise that Dragon Ball Super: Broly 2 is set to become the largest released anime yet. But hey if it is not releasing in theatres near you don't worry I got you covered, you can watch the popular anime movie for free with English subtitles here.
What should we expect from Dragon Ball Super: Broly 2?
No official trailer or official comment has been given by Toei Animations yet, but we can expect the introduction of a new villain the planet eater Moro into the Dragon Ball Super anime if Akiyo Iyoku decides to take inspiration for the movie plot from the Dragon Ball Super Manga.
If you are hoping for another epic clash between Broly and Kakarot then you may well be disappointed as in one interview Iyoku confirmed that the latest Dragon Ball Super: Broly 2 will have a completely different storyline in comparison on Dragon Ball Super: Broly. A bit ironic considering that the anime movie itself is called Broly 2.
Known for his habit to listen to his fans, considering the huge applause the return of the legendary Saiyan received, expect Iyoku to fit in the character in the latest Dragon Ball Super movie to some extent. The ending scene of Dragon Ball Super also gave an easter egg as we saw Goku say that he will be back to train with Broly or even perhaps go another round with the legendary super Saiyan. To which anime fans created the famous meme, in which Vegeta responds: Am I a joke to you.