What is Fancode?
Fancode is a sports engagement application and site which lets its users get to know about different sports. It is an Indian Origin company and mostly focuses on Cricket as a sport.
It also has a handful of other sports, such as Kabaddi, Football, Basketball, and Baseball, that it broadcasts news and updates about, but mostly the app focuses on Cricket.
Recently Fan Code bought the rights to stream the West Indies tour till 2025, and it does this by streaming DD Sports on its channel, for which it would charge about Rs 99/month ($1.26/month).
Reason to look for sites like Fancode
Reason 1 – It is mostly a Cricket focussed site
If you are a sports fan and you are into more than one sport, that is Cricket; then I feel you should be looking for Alternatives to Fancode.
And Cricket is also a fairly popular sport in India, per se. I mean, sure, it has teams from all over the world, but with the cricket buzz, you'll mostly find it in India and nowhere else.
So chances are, maybe you just might not be interested in Cricket.
Reason 2 – Paid subscription to watch Live Streams
It has recently added a live streaming option for cricket matches, but it is not free as the rest of the site. You have to pay an amount of Rs 99/ month ($1.26/month) to watch the live streams.
There are a lot of sites on the internet that would stream live matches for free, and that too is a very good quality when compared to what they are asking for it in return – nothing.
Reason 3 – Live streams for only Cricket matches
As I mentioned above, Fancode is mostly a cricket streaming site that gives basic level stats for other sports, which you can easily just find on Google as well.
They take it to the next level by limiting the live streams to only cricket matches. If you are paying an amount of $1.26/month for streaming matches, you might as well get to watch other sports as well.
That could be a bummer for a few people, which is also a good reason for people to look for an alternative.
Best Fancode alternatives
ESPN Cric Info 
ESPN Cric Info is a bought purchase from the Wisden Group in 2007, and since then, they have been running the website and application.
On this site, you would be finding everything that you would be needing to know about the world of cricket. You will find live scores, live news, fantasy points, and many more related topics of Cricket.
Granted, this is a fairly cricket focused website and application, but if you are someone who was using Fancode for everything Cricket, then you would feel right at home with this application as well.
What we liked about ESPN Cric Info
Since the application is from ESPN, you can expect some quality content from them. The cricket scores, the application, everything is fairly well built and very easy to handle and manage as well.
You have great options of pinning the live score on your phone while you scroll through your phone to check other applications. You can easily find any stat on the website of any cricketer on the app.
It also provides you with post-match analysis videos on its website and YouTube channel that you can easily watch and understand. It's a well-rounded, well-built application designed to fulfil people's needs.
What we didn't like about ESPN Cric Info
ESPN Cric Info doesn't live stream cricket matches on its website and application. You can watch highlights of matches, but you can access or watch the matches live instantly.
The app also features a lot of bugs, as reported by many users. The app sometimes doesn't refresh live scores automatically, and you sometimes have to manually refresh the app to check the live scores.
You also are welcomed by a dozen of ads on its platform, as the application is free to use, and these ads can be very annoying after multiple times. It also has some other bugs and issues that other customers faced.
Why did we choose ESPN Cric Info as a Fancode substitute?
This app is specifically for those people who are into watching the statistics of cricket and are die-hard fans of the sport. You would be welcomed with all the stats, analysis, and other information regarding the sport.
It won't even hassle you with any payment structure as the application is free to use and access. Everything available on it costs you about $0 Dollars to watch and avail.
That is a great offer for the price of what you are paying. And since it is an application from the great ESPN, the holy grail of sports, you can expect nothing but good, quality content and nothing more.
Review and rating of ESPN Cric Info
ESPN Cric Info is an application that will deliver you the best of the sports that is Cricket. You will not be bothered with any unnecessary details that won't be with your time.
There are some definite glitches on the app and the website, and I am not denying them at all.
It is something that ESPN Cric Info has been neglecting and ignoring and has to work upon them if it really wants to be dominant in the world of Cricket information.
For those above reasons that I mentioned, I would be rating ESPN Cric. Info 3/5 stars. It is a fairly well-built app, but it needs to take care of the glitches.
CricBuzz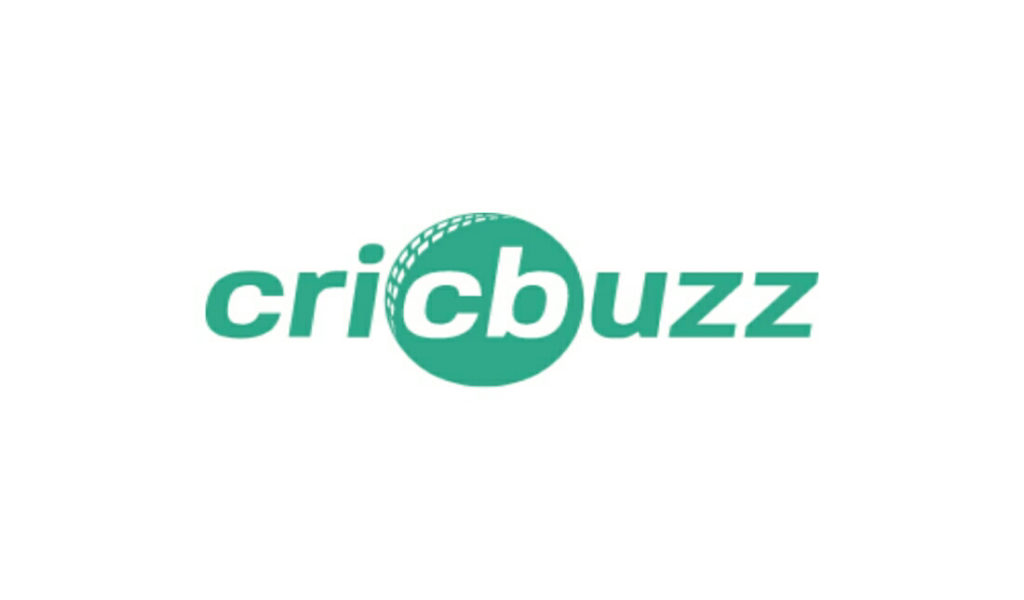 CricBuzz is an Indian-made application from the Times network. It is also a site that will provide you with details regarding cricket and everything else about Cricket as well.
They have built themselves to be a great and reliable application to get your cricket information over the years. They even have named celebrities of Indian Cricket such as Harsha Bhogle and Parthiv Patel to feature in their videos.
CricBuzz also offers something called 'CricBuzz Plus' about, which we will talk about in a short while. But first, let's discuss the things that I like about CricBuzz.
What we liked about CricBuzz
I, personally, liked the design aesthetics of the website; the green and white combination are a good combination. The website looks easy to use and handle, and nothing feels too difficult to use.
It also features with you some of the better cricket information with you for free on its site and application.
The information it provides seems to be coming from people who are genuinely interested in Cricket.
And, of course, if you have people like Harsha Bhogle and Parthiv Patel, a renowned cricket journalist and a player who has played for India.
You definitely have people who are interested in Cricket working for you, even if just for passive income.
What we didn't like about CricBuzz
I mentioned above that CricBuzz has something known as 'CricBuzz Plus', and in it, you get some exclusive CricBuzz articles, interviews, post-match presentations, and many more other things.
Now that all sounds great, but it comes with a price tag as well. The subscription for CricBuzz Plus is Rs 375 per six months ($4 Dollars per six months).
It just feels like everything great that CricBuzz has to offer is in this 'Plus' pack, and they don't even stream live games like Fan Code does, so it feels like a bit of a cash-grab from their side.
Why did we choose CricBuzz as a Fancode competitor?
I chose CrizBuzz for this article because it does do the job that Fan Code does. It will offer you with multiple sports knowledge related to Cricket that you would be getting for free.
Also, this will act as an alternate site to Fancode, as both of them do provide similar knowledge about Cricket for free. This just happens to look a bit more premium looking, with an easy and intuitive UI.
And CricBuzz does include a handful of features that you definitely would love if you are a follower of Cricket and love to know much about the game and more.
Review and rating of CricBuzz
CricBuzz is a fairly simple application that informs you about the world of cricket. It is an application that you should choose if you are mostly into knowing the stats and analysis of Cricket.
It doesn't live stream any Cricket matches, but it does include highlights of all the live matches, and it also has Harsha Bhogle and Parthiv Patel creating special programs and talking about post-match analysis.
It has a better user rating compared to ESPN Cric Info, and for that reason, I would also be rating CrucBuzz 3.5/5 stars.
Cricfree
Cricfree, on the other hand, is a free, live sports streaming website. On this website, you would be able to watch the cricket matches live for free.
And not only that, but you would also be getting to watch other sports like football, basketball, boxing, tennis, and many more. It is a video hosting site where it collects links.
The links will redirect you to the channels that would be streaming the games for free on the internet. This is a useful site for those who are not interested in live scores but want to watch the live games for free.
What we liked about Cricfree
Obviously, the biggest plus point of Cricfree is that it is free to use. You get the advantage of watching all the cricket matches that are happening across the world for free without signing up for anything.
There are only a few websites that allow their users to watch live games for free. Although it must be noted that doing this is illegal because these sites don't own the rights to stream such matches.
Now we will discuss about the things that I personally didn't like about this website.
What we didn't like about Cricfree
Since it is an illegally run website, you will have to accept the fact that some of their streaming qualities would differ. You wouldn't exactly get picture-perfect resolution all the time.
So there would be times when the resolution would be super clean, but also times when the website will stream the games in 144p.
Since the site is illegal to use, it would also be turned down by the authorities many times, and this would lead to many cloned websites.
Now, these cloned websites will not offer the same quality that you would have come to expect on the original website since it is a decoy of the first one.
You shouldn't also expect any features that you would usually get in a paid or a legal platform like Fancode. For example, you won't be able to check any stats, post-match reports, and presentations, and more.
They also don't have a separate application of their own to run on smartphones and tablets. Are you not happy with cricfree? We have got you covered with the best crickfree alternatives too
Why did we choose Cricfree as a Fancode alternative?
The reason why I chose Cricfree to be in this article is that it does have one major feature that its alternate doesn't have. It allows you to stream live matches and games for free.
Even in Fancode, it doesn't let you stream live matches of other sports about which it shares stats. Yeah, you get to watch live cricket matches, but that's about it. And even for that, you have to pay.
In Cricfree, you not only get access to more sports, but you also get access to their live presentation as they are going so that you don't miss any updates.
Review and rating of Cricfree
Cricfree has some upsides and some downsides as well. You do get to watch the matches for free, but you are compromising on the fact that you will not be receiving any other information that is already being shown on the live match.
If you are a major sports fan and watch sports other than Cricket live, then I think you should give this website a try. It is not harming anyone, but just know what the things you are signing up for are.
For those reasons, I would be rating Cricfee 3/5 stars. It has some advantages but the disadvantages outways the advantages.
Stream East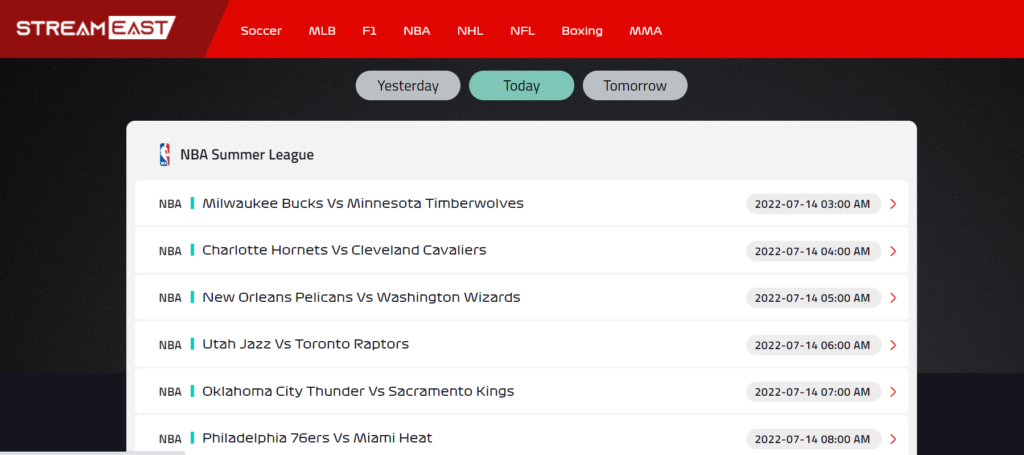 Stream East is also an all-sport-streaming website that allows its viewers to watch live matches and games of different sports forms. On this website, you will be able to watch Cricket, F1, Tennis, and many more different sports.
Their official website is 'StreamEast.io'; over here, you will be able to access their best offerings in terms of service. Their streaming links are also reliable and safe to use.
The overall website is pretty secure, and it has been confirmed by the Chrome browser that using this website is safe and secure to use.
What we liked about Stream East
I am a big fan of the sports it has to offer on its website. This website is also a streaming hosting website like Cricfree; it also collects links that stream the actual games.
But the links on this website are 9/10 times very reliable and easy to use. The website itself is pretty easy to use if you use their actual website and not a cloned website.
Stream East also offers you a live score option where you will get only the live score written in bold letters and nothing else. Something like you would be getting in apps like Crucbuzz.
What we didn't like about Stream East
In terms of context, Stream East only just showcases live matches of the games. The max it can do is share some live scores as well, but that's about it where the comparison between Fancode and it stops.
It doesn't have any special Originals, no news information, no stats, no positions, nothing for that matter for any of the sports it has to offer to show. It's a plain and simple site that streams live sports.
You also have to sign on to the website to watch the streams; you are not allowed to watch any of the links if you don't have an account on Stream East because it won't let you watch any of the matches.
Why did we choose Stream East as a Fancode alternatives?
I chose Stream East for this article because it is a site that not a lot of people are aware of. You do have access to the sports that you want to watch, and too for free.
The website experience is also pretty nice because it is a well-made website that respects its viewers and wants them to return back over and over again to watch the games on it.
It also has great streaming links that allow people to watch the matches without a lot of interruptions. And for a website that is free, it has very few pop-up ads, which you can't say about Fancode.
Review and rating of Stream East
Stream East is a website that I have personally reviewed many times on this website, and there's a reason why I constantly bring it up on the majority of the websites. It is a great website.
But, I always compare and review the website in terms of context. And the context of the 'topic' in this article is a Fancode alternatives. I can't say it is a Fancode alternatives just because it streams free live games.
That is a big reason, but Fancode also does offer a lot more information that this site completely ignores. For those reasons, I would rate Stream East 3.5/5 stars.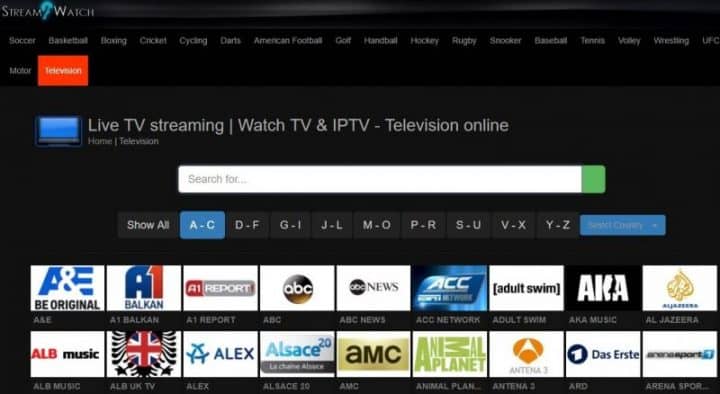 Last on this list; we have Stream2Watch. One of the most popular websites when it comes to streaming sports for free. Stream2Watch has been around for a long time, and it is not stopping anytime soon.
Over on Stream2Watch, you will find a lot of games varying from different sports that you would be able to watch for free and without having the hassle of signing in on anything. It is fairly simple to use as well.
You get to watch different types of sports such as Tennis, Cricket, MMA, Baseball, and many more different games. It sorts all the matches based on the time zones and then assembles it all in front of you.
What we liked about Stream2Watch
I have mentioned a lot of the good things about Stream2Watch in its opening paragraph only. It has a dark-themed website that you can access through your phone as well, which is a major plus point.
With this, you also get to save a little bit of your laptop and phone's battery life as Dark themes usually consume less power. Stream2Watch also offers to show live TV shows on its website.
You get access to many sports channels, Live TV channels, and so much more. To name a few of the channels that you get to see on the website are CNN, ShowTime, TLC, ESPN, NBA TV, etc.
What we didn't like about Stream2Watch
I will admit that I was not a big fan of the website's UI, but now I have started to appreciate it a bit more. I am not saying that it is perfect by any means; it is still a bit confusing and feels a bit clumsy.
But it all boils down to the context to which I am comparing this website. The context is FanCode. Yeah, you will be able to watch live cricket matches, and for many people, that would be better.
But I know that many people prefer to know and understand the post-match analysis, which this site clearly doesn't have as well.
Why did we choose Stream2Watch as a Fancode competitor?
I personally chose Stream2Watch for this article because it is still one of the more reputable websites when it comes to streaming sports for free. You not only get access to different sports.
But at the same time, you also get the option to stream Live Tv channels if you wish to. And that is very clearly something that even Fancode can't pull off.
Review and rating of Stream2Watch
Stream2Watch has also been reviewed many times on this website.
I have mentioned it in a couple of articles, but there are obviously many more articles that you will find that have the name 'Stream2Watch' on them.
That is true because of the fact that it is a site worth recommending to people as it has proven to be one of the more reliable sites available on the internet that allow you to stream games and matches for free.
For those reasons, I would be rating Stream2Watch 3.5/5 stars.
Sony Liv
Sony Liv is also a streaming service that in run under Sony Enternatiment and it features everything that Sony has to offer in India, including Sony Sports Network, as well.
Since Sony Sports Network has a number of sports channels that do discuss about everything related to cricket and also show live sporting events of other sports, as well, this also makes it a really good website to try out.
What we liked about Sony Liv
Sony Liv is a streaming service through and through and it does act like one, as well. It is available to download on various devices, so you can easily access it wherever you are.
There are tons of different shows and movies available on it, along with all the live sports coverage that it also does, making it a complete package for a lot of people, in terms of their entertainment.
What we didn't like about Sony Liv
Sony Liv is currently available in only select few countries, so if you are staying in those countries then you would have to use a VPN to access everything available on its platform.
Along with this, the overall content that is available on it is also a bit of a hit and miss, and it might not work for everyone to get a subscription service for a streaming platform that they only watch when their favourite sporting event is live.
Why did we choose Sony Liv as a Fancode competitor?
Sony Liv does compete well with Fancode because over here you have channels from Sony sports network, so you are able to get access to all the shows that do analysis of various sporting events.
And you are also able to watch many of the popular sporting events to which Sony Sports Network has the rights to broadcast.
Review and rating of Sony Liv
Sony Liv is definitely a good alternative to Fancode, and if you are someone who is staying in the countries in which the service is available, then you should definitely try it out.
I will rate Sony Liv 3.5/5 stars.
Our recommendations on the best Fancode alternatives?
Fancode is a website that even I got to know about because of this article only, and I was pretty impressed with the amount of data they were offering that too for free (excluding the live matches).
Even the cost of a subscription to watch the live matches is alright, it is not super cheap, but at the same time, you also don't get to see live cricket matches for that price amount.
So if you ask me, which of these five websites/applications I would use as an alternative to Fancode, my answer would be None of them.
Why did we choose None of them as the best Fancode alternatives?
The main reason, and this is something I brought to notice in all of the reviews, is the fact that not a single application or website offers what Fancode has to offer.
You get part of the features in all of these websites, but you don't get them combined on any one website. For example, take the case of CricBuzz and ESPN Cric info.
They provide you with the application experience and also with a number of statistics for cricket that Fancode has to offer, but when it comes to live streaming of the games, that's not the case.
Same is the case with the rest of the websites, such as Stream East, Cric Free, and Stream2Watch; they offer you live streaming of the games and matches for free on their website.
But when it comes to providing stats, information, and facts, they lack in that department majorly. That's why I decided that none of them feels like the perfect Alternative to FanCode.
You can choose any of these five and see if they fit well with your requirements; if they do, great! If they don't, then there's your answer.
But this was my pick. Which is your favourite Fancode alternatives application among these five? Do you know any other application that perfectly fits the bill of Fancode? Do let us know in the comments down below!