Google news has become one of the best platforms to keep yourself updated with news and information customized to your preference over the course of the years. So why the need for Google news alternatives?
A couple of years back Google rolled out a new update for its news dashboard which brought brilliant features like improvised UI redesign, dark mode, local language support, offline reading, and more for its newsstand. However, with that being said it has come to our notice that many authentic websites and fake news are frequently being featured in Google's newsstand that has led to many news readers being disappointed.
The top search engine from around the world has promised to look into this matter and has already begun working on it by rolling out its latest News aggregator. But while we keenly await improved news app here are some of the best Google news alternatives to feed you with authentic latest news and information on daily affairs.
Note: All the Google news alternatives here have a certain level of human curation to check the news source and authenticity. Additionally, these alternatives to Google news also comes loaded with features like dark mode and offline.
List of the best Google News alternatives
Microsoft News
Microsoft News i.e MSN is one of the earliest news portals on the internet. MSN was established in 1995 while Google News started in 2002. Being a curator for so long, Microsoft News is without a doubt one of the best free Google New alternatives. Like Google News, MSN also lets you modify your news sources and also find your favorite sections. The news on the home page is updated in real-time and also gives you the whole coverage of the news. You can also find plenty of news sources in your local dialect as it supports local languages. Apart from these features, it also has a dark mode, the app is available for both Android and iOs and it also allows you to save articles for later. The major features of Microsoft News are similar to that of most of the best alternative news apps making it easy for you to use MNS as an alternative for Google News.
Install: Can be installed on your Web, Android, and iOS devices for free.
Apple News
Google News has an independent web portal that can be used from any device, whereas Apple News can only be used on iOS and macOS devices. So if you are an Apple user, Apple News is the perfect alternative to Google News. It has almost all the features of the Google app which are well incorporated with your Apple ID which lets you subscribe to journals, newspapers, magazines, etc. While the news on Google News is curated by AI, Apple News has human editors that curate the articles for you, making it highly unlikely for you to get any unauthentic information or fake news on your feed. These are the features available on Apple, in addition to unlimited downloads, offline reading, and dark mode. In other words, if you own an iPad, iPhone, or a MacBook, Apple News is one of the best alternatives to Google News to keep up with the latest events from all over the world.
Install: It is pre-installed on Apple devices for free, but Apple News+ starts at $9.99/month.
Yahoo News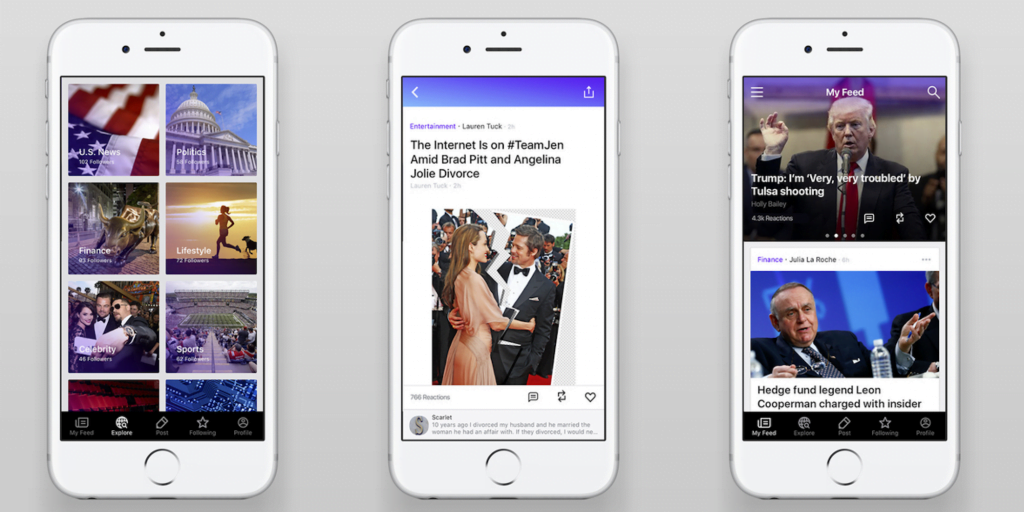 Yahoo News is still a preferred choice for many old school users despite the decreasing Yahoo usage. Yahoo News is one of the best Google News alternatives as it has similar features, for instance, the web portal has world and local news, a section-wise coverage and you can find real-time weather information on the home page. There is no way to customize your feed on the web but the new sources are impressive. Although on the app, the sources can be personalized. You can try Yahoo News if you've been a Yahoo used before as it is comparable to Google News regarding the new coverage and selection.
Install: Can be installed on the Android, iOS, and the Web for free.
Inshorts
If you want to stay updated with the latest news without spending much time on it, Inshorts is the best alternative Google apps for you. Although it does not provide as many features as Google News. it does offer short and concise summaries of news articles in under 60 words. In this technology-dominated world, we are all somehow short on time, here's where Inshorts comes in handy. Although, the app is available only for Indian users. It gets rid of the unnecessary content and gives you only the important information which is available in English and Hindi. As you read, the app recommends a short snippet of the news based on your past article choices. Inshorts might be a bit different from Google News in many ways, but the common aim of delivering news is achieved, however in slightly different methods.
Install: can be installed on Android and iOS for free (Only for Indian users)
Bundle
Bundle is a great Google News alternative for you if you're looking for an app that delivers good quality news along with a good design. You could say Bundle is the perfect Google News alternative as it contends almost every feature of Google News and also excels at a few. Bundle has a personalized news feed taken from news sources, magazines, blogs, and a lot more. The app also notifies you for breaking news, local happenings, and live scores. Bundle also offers some great accessibility features just like reader mode, offline mode, and dark theme which is also offered by Google News. Another great feature of Bundle is that it has a low data mode that reduces the overall size of the articles. These features make Bundle a strong Google News alternative.
Install: Can be installed on Android and iOS for free but has in-app purchases.
Feedly
Feedly is a modern alternative to an RSS reader but a great app that aggregates news. If Google News is your preferred news app for the choices of your news source and topic then you will want to install Feedly as well. Feedly allows you to choose the blogs, news outlets, Google keywords, Twitter handles YouTube channels, and makes a personalized feed for you categorizing the news as per your want and needs.
To summarize it, Feedly lets you create a news feed that caters to your and your interests specifically. Apart from that the reader mode cuts through the unnecessary information, organizes, and saves articles for you to read later. All these features together make an excellent Google News alternative.
Install: Can be installed on iOS and Android for free but has in-app purchases
Associated Press
Associated Press is one of the oldest media agencies in the world. It isn't exactly a news aggregator platform but is collects local information and reports from across the globe with the help of their on-ground correspondents. It offers verified information and facts, unaffected by any biases or opinions. Associated Press is well known for its documented videos, confidential reports, local reportage, photo stories, and a lot more. So if you want trending and popular news without any clutter or biases, Associated Press is a great Google News alternative for you. AP also has apps and web portals for iOS and Android.
Install: Can be used on Android, iOS, and Web for free.
Inside
Inside is a distinctive newsletter service for its an organization of informative articles and news. Inside does not have an autonomous news portal, it isn't exactly a Google News alternative. Inside is like a service that sends the morning newspaper to your email which is highly cut to your tastes as it sends insightful articles and news from different topics and fields into your email box. You can subscribe to topics like politics, lifestyle, technology, security, or even specific topics like a sportsperson or a place, etc. Being given curated news for your liked topic is a brilliant way to go through the news and Inside is perfect for it.
Install: Can be used only on the Web as it emails you the curated news.
Flipboard
Flipboard uses your interests in topics and makes a personalized newsfeed, unlike other news sources. It uses user preference and AI to create a newsfeed with a curated list of articles and news which you're likely to read. Like Google News, Flipboard will display relevant articles for you based on the topics and sections you've followed. Basically, Flipboard focuses on personalized reading that Google news has aced. In short, Flipboard makes a great Google News alternative that offers an equally good recommendation of not better than Google News.
Install: Can be installed on Android, iOS, and Web for free.
You may also like: 10 of the best Google Adsense alternatives to have multiple incomes source
Pocket
Now Pocket is not exactly a Google News alternative but it sure can act like one. As you keep using the app, saving articles to read later, it learns your behavior and preference to recommend news and articles that other users are consuming. It has a section called the "best of the web" where the articles are chosen by human curators. It also has a dark mode. What's unique about Pocket is it's "listen to article" feature which isn't available on Google News. With the features of Pocket, you can use the app as a Google New Alternative.
Install: Can be installed on Android, iOS and the Web for free but has in-app purchases
Final Words
That's it for our compilation of the best google alternatives in 2020. If you are looking for a good Google news replacement every single app on this list is well equipped to do so.