Houseparty app is a video chatting app in which you can play games with your friends while video chatting with them. Now, how cool is that!
Houseparty is not a new app it has been on the PlayStore and App Store since 2016 but the free video chatting app has become immensely popular four years later in 2020 thanks to the precautionary measures taken against COVID-19 for people to stay at home.
With nothing to do at home, Houseparty offers a unique solution to socialize as you can video chat with multiple people simultaneously and play games like a pop quiz quick draw, general knowledge, and much more.
However, after a while the games on Houseparty get repetitive and you are asked to pay for buying new games which make the app lose its appeal.
Below in this article, I have listed some of the best Houseparty alternatives which let you enjoy video chatting for free.
Why has Houseparty app become so popular
Houseparty offers you much more than your regular video chatting app can do. You can socialize and play entertaining games on the free video chatting app.
Houseparty app also lets you meet new people as you can join a chat room of any friend and pass your time playing fun games online.
Is HouseParty Safe?
The developers of the app claim that the app is safe to use, but amidst thousands of users complaining of identity theft and security breach by Houseparty, this article will clear all your doubts and teach you a few tricks and tips on how to use the HouseParty app safely.
Features of Houseparty
Live Video Chatting
One of the main features of Houseparty is live video calling. You can video call with up to 5 of your friends at the same time.
Socialize while at home
You don't need to leave the comfort of your home to socialize with the help of Houseparty. You can stay in touch with your friends, even with those across the world on a daily basis even.
Play online games with multiple people
Not only can you video chat with your friends but also play games while on call. Houseparty has the option of 4 games to play while video chatting with your friends.
Video Chat with new people
Houseparty lets you video chat with your friends who can invite their other group of friends which lets you interact with new people.
Are there apps like Houseparty
Yes, there are several free video chatting apps like Houseparty that let you play interesting games with multiple people. I have listed some of the best Houseparty alternatives here.
Can I use the Houseparty app on Android or Windows PC
Yes, you can use the Houseparty app on a Windows PC or Chromebook. It is available as an in-browser app on Chrome. Search for Chrome Extensions on Chrome browser from your PC
Then search for HouseParty App. Click install Houseparty, log in using your email ID, and enjoy video chatting on Houseparty.
Best Houseparty alternatives
Whereby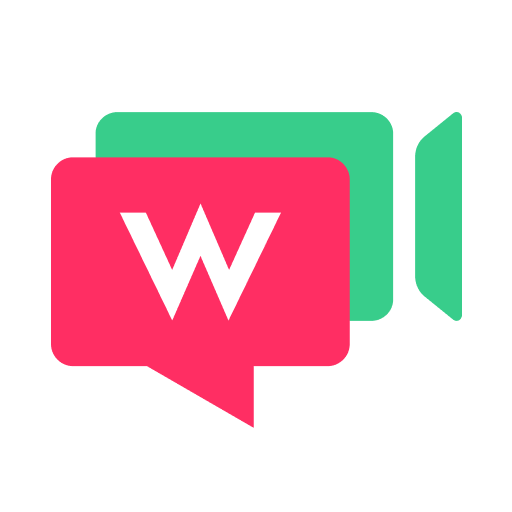 Whereby allows you to have video conversations with up to 8 people at a time through your browser with no logins required.
Review: Preferable for business calls or meetings as you don't need to log in or download for a one time use. However, a strong internet connection is required.
Airtime
Airtime allows you to have video calls with up to 10 friends and family while watching videos or movies and listening to music.
Review: Useful to socialize and keep in touch with your friends. Plus point for allowing you to listen to music and watching videos or movies. But for these options, you would a good internet connection.
JusTalk
JusTalk is an easy to use video and voice calling app you can use to keep in touch with your friends and family. With JusTalk you can have clear video calls, chats, and group chats.
Review: It definitely has a really good video calling quality, clear voice quality as well.
Booyah
Booyah is an app that has made video calling extremely easy that needs no logins or friend requests as it uses your WhatsApp contact list.
Review: A very helpful and easy to use, with the good video quality. But since WhatsApp has its own video calling option, this might not be of much use.
GoTalk
A video chatting app where you only need to create an URL and share it with your friends, family, or colleagues. GoTalk allows up to 4 people to have a video call.
Review: Very convenient, requires no login, useful for business calls and meetings.
Snapchat
Snapchat is a social network that is immensely popular amongst teenagers, it can easily be called as the first social media app to make applying filters on photos popular. Snapchat is also amongst one of the top 10 most downloaded apps in 2019. 
You can also play games with your friends on Snapchat, and in comparison to Houseparty, it would be safe to say that Snapchat is a better alternative for playing online games with friends. 
ringID
ringID is the one app that will provide you with all the features that you need from a top social media app right from Free video call, group chats to Live Broadcasting you will find everything here. 
ringID is more than your average social media as you can connect with the whole world using its live streaming feature plus enjoy doing so with music and media management. 
This android app eliminates the need for you to chat or video call with our usual friends after which you will usually end up browsing through an ad infused boring newsfeed, which ends up draining your phone battery. RingID is the perfect platform where you can broadcast your hidden talents to millions of viewers and become popular which also makes it one of the very effective alternatives to Tiktok. 
ringID – Live Broadcasting, Free Video Call, and Chat app also comes with loads of other additional features like secret chat, send stickers, group video chat, voice calls, multimedia sharing, and virtual gifts.
 LiveMe
This popular Group Video Chat is developed and published by Live.Me Broadcast. LiveMe has one of the largest broadcasting community from all across the world as it supports multiple languages and is available in more than 85 countries. 
On LiveMe you can make new friends, enjoy group Video Chat and also make money in real-time by broadcasting your channel to millions of users. 
The app is already established as a huge social network where you can meet and video chat with new people and also stream for trending shows/videos. The reason why LiveMe is one of the top alternatives to Houseparty is that it is like a premium version of Houseparty's feature of meeting and enjoying a group video chat with new people. 
LiveMe also offers you a platform to send and receive virtual gifts and earn over $30k in a week by becoming an influencer with zero investment. 
Welike: Share and Discover Moments is a very popular social media app that lets you explore, watch, and share short funny videos. The one feature that sets WeLike apart from apps like Houseparty is its well-categorized library of short and funny videos. For eg: If you are looking for a short movie clip you simply need to go to the movie clip category instead of watching videos of trending news, sports, etc, This helps you to save data as well as the battery life of your iOS and Android devices.
Some of the key features of the WeLike app are Easy Signup, interactive real-time video chat, multiple categories, trendings videos, filters, video editing tools, and daily horoscope.
Instagram
Thanks to the ongoing battle between Snapchat vs Instagram, users of both apps have massively benefitted by the new features that are constantly added in both social media platforms. Originally Instagram was launched as a simple app for sharing photos, however, drawing inspiration from apps like Houseparty, the Facebook-owned app now offers you features like real-time live videos, filters, interactive games like flappy birds, chance to become an influencer and so much more. With the introduction of its latest Reel feature, Instagram is arguably the safest short video app available on the internet today. Instagram is a free app that is available on Android and iOS devices, you can sign up using your Facebook login details or make a new ID.   
VMate 2019
Developed and published by VMate App Team, VMate 2019- Video Downloader & Best Video Tube Mate is an app that is available on Android and iOS devices. On this app, you can easily capture and share some of your best moments in the form of short videos. When you look for a top video downloader and video editor app VMate is a direct competitor to Houseparty. 
Similar to Vigo Video App, VMate is an interactive social media app where you can use creative filters and stickers to make short videos and share them with the world. You can also watch videos in real-time from millions of users and video chat with people and make new friends for free.
Vigo Video
If you love to watch some of the best short videos shared by people from all over the world then Vigo Video – Funny Short Video is the perfect free social communication app for you. Developed and published by Bytemod Pte.Ltd. Vigo Video can be downloaded on Android and iOS phones. 
Just like a top social media platform like Houseparty, Vigo Video offers you a platform where you can make new friends and meet new people by sharing your videos online. This social media platform also comes with interesting effects, interactive filters, and stickers as per special events and holidays. 
Vigo Video – Funny Short Video is a complete social media application that is easy to use and can be enjoyed by all age groups. You can share your videos in real-time with some of the top artists and also conduct poles, comment, vote and grow your popularity.
Conclusion
I have used the Houseparty app and it worked just fine for four people but when more people tried to join the free video chatting app began to lag and the video quality was also bad. The app is screaming out to be updated by its developers and with the recent rumors of Houseparty being hacked you could check out some of the free video chatting apps best alternatives on this list.