First things first, Video editing and graphic designing are two very different occupations, and there are not a lot of things that are common between them.
So the entire debate of putting both of them against one another seems rather too unnecessary, and I have seen a lot of debates online where they are comparing both fields. 
Both of them are quite different fields, and both of them are quite creative in their own manner. One is designed more for compiling different clips into making one desired-looking video.
While the other is about creating artwork from scratch and creating different types of images.
In this article, I will discuss the differences between the two, and then you can decide which one suits you better.
Let's first understand what video editing is all about. Video editing has its various different definitions floating around the internet, but almost all of them have more or less the same thing to say.
Video editing, at its core, is basically a mode of creating one desired video by compiling different clips, audio files, and everything else.
You can find many different video editing softwares these days that allow you to create the types of videos you desire to make, and I have written many articles regarding it as well.
It is taxing, yet a really fun occupation if you are able to understand the various functions that are available nowadays in the editing softwares.
What is Graphic Designing?
After explaining what video editing is, let's discuss the basic definition of graphic designing as well. Graphic designing also has many different types of definitions floating around the internet.
However, just like video editing, the main core idea of graphic designing is basically to create different forms of images and artwork from scratch.
Graphic designing is used for many different purposes. Graphic designers are hired to create logos, fonts, images, artworks, etc., and for many other purposes as well.
It is quite an essential occupation and is required in many different fields of work.
Skills required for Video editing
There are many different skills that a video editor is required to have if they want to learn video editing, but I think the main skill that each video editor should master is the skill of patience.
I know it is not exactly an objective skill, but it is a really important skill. All the other skills one can easily learn from practicing and joining video editing courses. 
However, the skill of patience is something that you should already possess; I am saying this because video editing is not an easy job.
You have to do a lot of different things, and there are many different files to handle at the same time; anyone can be overwhelmed by editing a video.
It takes a lot of time and effort to edit even a two-minute video, and things can go sideways very quickly, so you must have the skill of patience to take one thing at a time; otherwise, you are more or less doomed.
Skills required for Graphic Designing
Graphic designing is also not very different from video editing, in terms of the skills required. You can easily learn various different skills that are required to work properly run a software.
However, the main skill that a graphic designer should possess is the skill of imagination. I know it sounds like a very artsy thing for me to say, but it is actually really important.
In graphic designing, you are basically something from scratch. Not everyone can create something from scratch; it takes some time to imagine what exactly you want.
If you don't have a sense of imagination, then chances are you are going to basically do what others are doing, and people genuinely expect something new every time from a graphic designer.
Let's discuss some of the advantages that you will have if you choose up video editing as your career.
Work opportunity – Video editors are in high demand right now because of the overabundance of content creation. Everyone is looking to hire video editors for either their YouTube channel or some other social media work.
So, it is fairly easy to get started in this field, and you can easily grow a lot in this field by getting in contact with people.
Loads of resources – Nowadays, there are plenty of resources available if you want to start learning video editing.
You have many different video editing softwares, and all those softwares have different tutorials available online for you to easily learn it and use its various features, so anybody can become a video editor these days.
Also read: Video editing tips
Disadvantages of Video editing
Video editing has certain disadvantages as well; here are some of them.
Money – While video editors are in high demand, the overall income of video editors is moderate for the amount of work they are doing.
You will come across many editors who are working for more than two Youtubers and editing their videos simultaneously because the overall money you earn from each video isn't that much.
In fact, I have written a whole article where I discuss how much video editors get paid in different countries; you can read that as well.
Taxing – The overall workload of a video editor, in my opinion, is a bit too much. It can be pretty taxing; no matter how passionate you are about this field, you will definitely find some projects that are just too much to handle.
Some people handle the pressure pretty well; this is why I said that the most important skill you should master as a video editor is the skill of being patience.
Advantages of Graphic Designing
Graphic designing also has some advantages.
Opportunity – Graphic designers are always high in demand. You will find many companies and individuals looking to hire graphic designers for various projects.
Businesses run on the concept of brand identity, and graphic designers are an important set of people who help form the brand identity of the business.
Resources – Just like video editing, graphic designing also has so many different resources available online. You have certain types of softwares and various tutorials available online for free.
You can easily learn how to be a good graphic designer, and that is an important advantage as well.
Disadvantages of Graphic Designing
Expensive softwares – While you have many different resources available for learning graphic designing and various softwares as well, the average cost of those softwares are quite expensive overall.
I have written different articles where I discuss various softwares that are used by graphic designers and how much they cost.
Work is subjective – All artform is subjective, and this can be said for video editing as well, but graphic designing is something where your ideas might not match with what your client wants.
There is no exact boundary that you have when you are designing something from scratch, so chances are that you will be stuck with one project for quite some time and keep on changing it till the client finds it okay.
I have written many articles where I discuss various softwares that you can download for video editing; these are just some of them.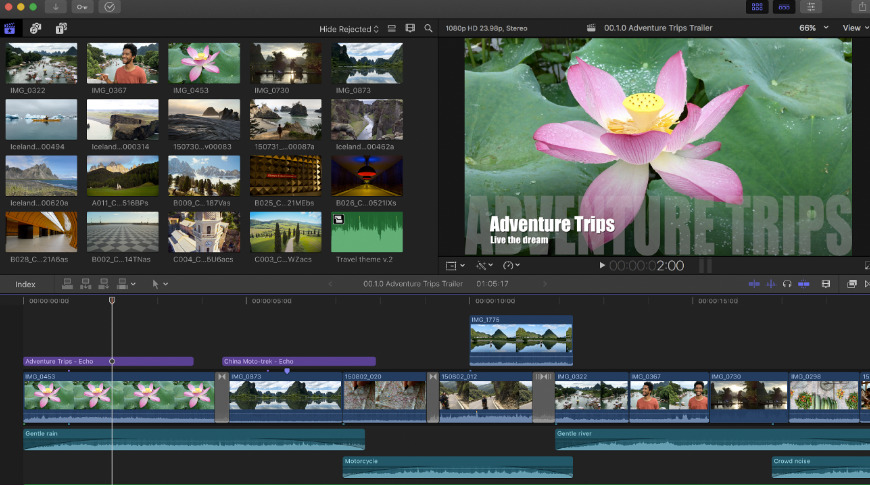 Final Cut Pro is Apple's most decorated video editing software. It is loaded with a lot of features, and the overall outcome of the videos is also pretty good.
However, it is pretty expensive and is only available to macOS users.
Price – Final Cut Pro comes with a one-time payment of $299 Dollars.
Best for – Final Cut Pro is quite suitable for all sorts of different video content. You can make content for YouTube or even edit movies and series on it.
Features
Unlimited Video Tracks
Support for VR Content
Powerful software
Pros
Cons
✅Great performance 
✅Simple UI
✅Magnetic timeline 
❌Only available for Mac devices
❌Not a great customer care service
❌Expensive
PowerDirector 365 is also a really good option you can choose if you want to select a video editing software.
The pricing of the software is fairly moderate, but you can expect a great list of features on this software.
Price – It has two types of pricing models.
PowerDirector 365 Subscription-based model: PowerDirector 365 – $4.33/month and Director Suite 365 – $8.08/month
PowerDirector 365 One time pay model – PowerDirector Ultra – $99.99, PowerDirector Ultimate – $139.99 and PowerDirector Ultimate & PhotoDirector Ultra – $169.99
Features
Cost friendly plans
Great list of tools
Easy UI
Pros
Cons
✅Easy to use
✅Simple UI
✅Tons of different features
❌Pricing plans can be confusing 
Also read: Types of video editing software
Best video Graphic Designing software
Here are some of the softwares that you can download for graphic designing.
Photoshop is one of the most used software for graphic designing. Over here, you will find tons of different tools that will enable you to create different types of artwork.
It is a pretty powerful software, and the list of features on it is endless.
Price – Photoshop is available in the Adobe Creative Cloud Plan, but if you want to purchase it alone, then you have to pay $20.99/month!
Features
Numerous tools
Many different editing features
Powerful software
Pros
Cons
✅Too many editing tools
✅Many drawing tools
✅Clean UI 
❌Expensive plan 
❌Can be very overwhelming 
Corel Draw
Corel Draw is also a popular option for graphic designers. It is somewhat of a rival to Adobe Photoshop. The overall list of features that you can expect on Corel Draw is also endless.
Price – Corel Draw costs $79.99/year, but through some deals on Amazon, you can get it for $49.99/year as well.
Features
Great set of features
Good tools for vector drawing
Great list of tutorials
Pros
Cons
✅Great editing tools
✅Moderate pricing 
✅Noise removal tools
❌Not available on macOS devices
❌Slow UI and software
Which is best suited for you?
So, it all boils down to this; which is best suited for you? Well, both of them clearly are targeted at different groups of people and are totally different sets of occupations.
If you are someone who is into video making and wants to learn more about it, you can definitely opt for video editing, as it is a skill that is not just restricted to video editors.
Anybody who is working in this field should have the basic knowledge of video editing.
Whereas, if you are someone who is more into designing art and creating works from scratch, then you should obviously opt for graphic designing. 
It is also genuinely creative, and you are able to learn a lot of things from it as well.
FAQs
Let's discuss some of the frequent questions asked regarding this topic.
Is video editing and graphic design the same?
Definitely not. Video editing revolves entirely around creating videos by compiling short clips of varying duration. It is required in all the productions and videos that you see.
Graphic designing, on the other hand, revolves around creating logos, images, artwork, etc. Any brand logo that you see for a company has been designed by a group of graphic designers.
These two are really two different sets of occupations, and they both have their set of advantages and disadvantages.
Is graphic design harder than video editing?
That's hard to say because both of them are quite taxing occupations. You are expected to work constantly until you or your client are satisfied with the end product.
Graphic designing has its own set of disadvantages that video editors might not face. Yet, at the same time, video editing also has a certain set of disadvantages that graphic designers don't have to face.
As I mentioned above, both of them are quite different from one another. It is not simple to basically say which one is more difficult than the other.
Is graphic design better than animation?
This is also a subjective question, and it revolves around a different art form. Animation has been around for quite some time now, and it is one of the most labour-intensive works in the creative field.
A single frame in animation can sometimes take months to render, as you have to manually adjust every single thing that is happening on the screen.
Graphic designing is an occupation that deals with creating different forms of artwork. It is not simple as well, but when comparing the two, I would say animation is a bit tougher than graphic designing.
None is better than the other.
Is being a video editor a good job?
You have your certain sets of perks if you are a video editor, but as I mentioned above, it is a pretty taxing job, and you are asked to do a lot while you are working as one.
However, if you are someone who is genuinely fascinated with the world of filmmaking, then you can surely learn how to edit videos, and the pay for a video editor is also fairly moderate.
I have written other articles regarding video editing and video editors; you can read more about them and learn about other areas of video editing.
Conclusion
Well, thee you have it. An article discussing about the various aspects of video editing and graphic designing, not exactly a versus between in the two.
I kept it like that on purpose because there is nothing to compare or compete against the two. They are both vastly different sets of occupations, and both of them have their own sets of pros and cons.
At the end of the day, you need to decide which one you find better, but as always, these have been my thoughts regarding this matter.
What about you? Do you agree with what I said? Whatever your thoughts are, do let us know about them in the comments down below!