Yuri or Girls' Love is a manga genre that deals with homosexual love and romance between two women. It is a quite popular genre that falls under the Shoujo demographic and the themes and stories usually deal with love and romance with coming-of-age and slice-of-life undertones. In this article, I will be giving you a shortlist of some of the best Yuri manga recommendations that all romance lovers and day-dreamers can check out today!
Japan is not a very liberal country when it comes to the LGBTQIA+ community or its laws and regulations. Homosexuality (between two men or two women) is still seen as something unnatural and gays and lesbians and other people of the sexual minority have been discriminated against for decades in this country.
Although facts suggest that homosexuality was prevalent in Japan during the Edo period, it all changed in the Meiji period. Even though some laws allow homosexual relationships between consenting adults, it is still a hush-hush topic in Japan.
However, this conservative mindset is curbed in the world of fiction. Manga authors and artists have found their channel of expression through creating mangas that depict gay and lesbian relationships between two people. Hence the genres Yaoi/BL and Yuri were born. These mangas tell the story of two people falling in love irrespective of their sex and gender.
My goal in this article is to make you acquainted with some of these best mangas of all time, that you can read in your leisure time. These stories are fun, light-hearted and some of them will surely give you the feels. It doesn't matter what two people's genders are because love always wins!
You can also download these Yuri manga chapters to read them later on offline. For this, all you have to do is install a manga downloader software and you are good to go! You can also check out our article on where to download manga if you need some help with downloading your preferred Yuri manga.
Top 8 Yuri Manga Suggestions
Aoi Hana by Takako Shimura
Aoi Hana by Takako Shimura is a story of teen love, coming out and the daily lives of Japanese high-school girls. Akira Okudaira is a high school freshman who becomes reacquainted with her long-lost childhood friend, Fumi Manjome who is attending a different high school. The two quickly become close again and after a series of twists and turns, Fumi ends up confessing to her childhood love.
Aoi Hana or Sweet Blue Flowers is a very heart-warming tale between two high school girls and all the obstacles they face in the way of getting back to each other.
The story has a great plotline and equally interesting characters through whom you can live out the life of a Japanese high school student. The art style is also quite visually appealing and I will 100% give this Yuri manga recommendation to anyone looking to get into this genre.
Bloom Into You by Nio Nakatani
Bloom Into You is a trending slice-of-life Yuri manga that will surely make you go "aww!". The manga narrates the story of Yuu Koito, who rejects a junior's confession because she felt nothing about it, much to her surprise.
Eventually, she meets Touko Nanami, the student council president, who has also rejected someone. Yuu feels a connection between them and starts to get closer to her. Will she be able to come to terms with her feelings?
Bloom Into You is a wholesome manga that will surely win your heart. Although, since this manga is a little explicit, it doesn't do away with the unconditionality of teenage love. I will definitely recommend this manga to everyone who wants to read something offbeat yet relatable.
Adachi and Shimamura by Hitoma Iruma
This visually pleasing manga series is a must-read for every slice-of-life fan. Adachi and Shimamura is a noteworthy mention in my Yuri novel in my manga recommendations list.
It is also a coming-out story and narrates the tale of two first-year high school teenagers coming to terms with their feelings. Sakura Adachi is a high school student who meets Hougetsu Shimamura and befriends her. The rest is history.
This light novel series also falls under the genre Iyashikei, which refers to those mangas that portray the characters living a serene life. The is intended to have a soothing effect on the audience.
I will recommend you to read this manga because you will not regret it.
Doughnuts Under a Crescent Moon by Shio Usui
This manga is a little different than your usual Yuri rom-com, fluffy romance. 'Doughnuts Under a Crescent Moon' deals with mature characters, complex emotions, and other adult themes. This manga is intended for a mature audience and takes up fourth place in my Yuri manga recommendations listicle.
Uno Hinako is trying to fake it till she makes it through life. However, deep down she knows this is not what she wants. Enter, Asahi Sato a no-nonsense rational woman who joins her company. Hinako instantly feels a reverence towards her from day 1. But is there something else?
Doughnuts Under a Crescent Moon is definitely worth the read for the way it deals with human emotions and complexities while keeping the romance alive. You should go ahead and read it!
My Lesbian Experience with Loneliness
This is manga is different from all the rest. It is the only non-fiction manga in my Yuri manga recommendations article. But the sheer vulnerability and honesty of this text are enough to keep you hooked on it.
The manga deals with the author's personal experiences with coming out of the closet, mental health, and our only friend through it all – loneliness. The author shares her own experiences of struggle and achievements throughout her life and it can hit a nerve.
This manga is a heart-wrenching story of a woman coming to terms with her sexuality and eventually coming out in a country still condemning homosexuality. This story about discovering one's identity is definitely worth the read, and as it can feel quite close to home for many in the 21st century.
I Married My Best Friend to Shut My Parents Up by Naoko Naoko
The title is a big giveaway for this one. This light-hearted rom-com stars the character of Morimoto is constantly being pestered by her parents to get married even though she doesn't want to. Her friend Hana suggests that they get married to each other or at least get something equivalent to that, to help Morimoto's pitiful situation.
Even though Morimoto is skeptical at first having known about Hana's feelings towards her and her identity as an out and proud lesbian, she agrees to the proposal. But fate has their back. 
This short Yuri manga tells the tale of finding love and acceptance in one's life. The manga also deals with the topics of consent and controlling parents. However, the only complaint you'll have is that it is too short as you will be left hooked on to the story till the very last page.
How Do We Relationship? By Tamifull
I will end my Yuri manga recommendations list by mentioning this stupendous Yuri manga that has put a smile on my face. It tells the story of Miwa and Saeko who decide to date each other while in college. This is not a story about just coming into terms with your sexuality but rather an exploration of the entire concept of a relationship and all its colors.
It deals with the subjects of miscommunication, boundaries, and other issues, to college life as two young women, friends, partying, and other delights of young adulthood.
I found this story to be quite relatable and I'm sure a lot of college go-ers like me will definitely fall in love with this manga at some point in its course.
The art style is applaudable and I totally could not keep it down once I started reading it. I will recommend this wonderful Yuri manga to all those who want to get started with this genre.
Although recently there are a lot of debates about Yuri and Yaoi fetishizing the LGBTQIA+ community, it can be safe to say that there is indeed Yuri manga that tells a coming-of-age story, which each one of us can relate to. These mangas tell our own stories sometimes, as we can find bits and pieces of ourselves in the characters and their stories. You can read all these mangas on any manga reader app or manga reader site.
Citrus by Saburouta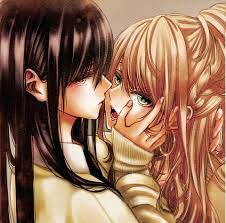 If you have ever heard about Yuri Manga, or have tried out reading some yuri mangas, then you must have surely heard and might already be familiar with the manga- Citrus.
Citrus is easily one of the most well-recognised, popular lesbian manga of all time, thanks to its brilliant storytelling and the world around which Citrus revolves.
Some people might be a little confused by the overall popularity of the Citrus manga and for them, it might come as a surprise.
This is because, considering the overall premise of Citrus, at first, seems very reminiscent of more smutty manga and harem manga. 
For those people who don't understand what a harem manga is, it is basically a manga where the male character is surrounded by female characters, including their partners.
The story of Citrus begins with our main protagonist who goes by the name of Yuzu. Yuzu is obsessed with fashion and everything around it. She is more of a happy-go-lucky high school girl who is suddenly transferred to a strict girls' school, due to her mother's remarriage.
When Yuzy joins this school, she is quick in making new enemies for herself. The most important and prominent of these enemies is one who goes by the name of Mei.
Mei is the school's student body president, she is super cold, distant, and far too intimidating for someone of her age.
The reason for this new offence between the two is because later in the manga it is conveyed that Mei also turns out to be Yuzu's new stepsister.
Soon, as you can figure out by the overall concept of a Yuri manga, if you have been reading this article thoroughly, is that both Yuzu and Mei start to develop a relationship among the two.
At first, the idea of a budding relationship that is filled with troubled and smoky romance between two step-sisters might immediately raise red flags with some readers, and you wouldn't be the only person who thought of something like this.
This is because, on paper, this concept is a little niche, and some people might also refer to it as incest, but put your trust in Saburouta, and soon you will understand the overall story of what it truly is about.
Citrus is not considered as one of the most popular Yuri manga for a simple reason.
It is because of the very implausible plot, the sheer melodrama that is at play, and the larger-than-life personalities that are opposing. Still, our love-struck characters make Citrus such a popular yuri manga in the world of yuri manga.
The journey of both Mei and Yuzu who start from enemies then move to being a family and finally to lovers is one that you sure want to read.
The art of this Manga also pops, with excellent use of different shades of grey and big, expressive faces that are very reminiscent of someone who has read nineties shoujo manga.
It is definitely worth your time, and if you haven't read it yet, then you should!
If you are new to the world of manga and anime and want to start with this genre, I hope this listicle will come of use. There are several other Yuri manga other than these that are available for reading on the web.
You can also check out our guidelines on how to read manga panels to help you with reading manga. There are also several Yuri anime that are available. The difference between anime and manga is that with anime it's more entertaining as you can watch the characters play out their lives.
What do you think of this list? Do you have any recommendations? Let us know in the comments!