Disney Plus is a pretty good streaming service that has a roster of movies and tv shows available because of the various studios that it owns.
If you are someone who is a fan of Marvel Studios, Star Wars, Pixar, 20th Century Fox or even Disney Animations, then you will find it all on this one streaming platform.
Lately Disney Plus's Original content has been hit and miss, but its theatrical feature-length films and even some of its old library that are recently uploaded on the platform do make it a great streaming service to have a subscription for. 
So, in this article, I will be discussing some of the best new movies that are currently available to stream on Disney Plus!
26 best free movie streaming sites to stream movies online legally
17 legal and safe movie streaming apps & sites
15 best free movies apps and websites to download
Guardians Of The Galaxy Vol. 3 (2023)
Run Time – 2h 29m
Director – James Gunn
Genre – Action/Sci-fi
Cast – Zoe Saldana, Chris Pratt, Dave Bautista, Bradley Cooper
Guardians Of The Galaxy Vol. 3 is supposed to be the final Guardians film with this group of Guardians. There are enough plotlines and characters available to continue on the stories of the individual guardians, and this is a pretty good film. 
In terms of all the three Guardians films, this one felt the most personal, and the overall resolution of the series is also done in a way that won't piss off any Marvel fans, and a lot of them loved this film.
So, if you are a fan of Marvel or just the Guardians, then this is a good Marvel film that you can catch it on Disney Plus!
Disenchanted (2022)
Run Time – 1h 59m
Director – Adam Shankman
Genre – Musical/Adventure ‧
Cast – Patrick Dempsey, James Marsden, Amy Adams
A direct sequel to the 2007 film Enchanted, Disenchanted takes place years after Giselle and Robert get tired of staying in Manhattan, and they decide to move to the small town of  Monroeville. 
However, they soon find out that the overall tale of living happily ever after was not as that was told to them, and one day, King Edward and Queen Nancy from Andalasia come to visit Giselle and present her a wish-granting wand.
Giselle uses the wand to make her life like a fairy tale; however, things turn out to be a little more sinister than everyone thought it would be.
Avatar: The Way Of Water (2022)
Run Time – 3h 12m
Director – James Cameron
Genre – Sci-fi/Action
Cast – Zoe Saldana, Sam Worthington, Sigourney Weaver
Years after the first Avatar, Jake Sully and Neytiri now have a family of their own, and when the Earth people once again come back to the Planet Pandora for extracting its rich minerals and convert it into a place where Humans can live, Jake And Neytiri have to fight for their family. 
Avatar: The Way Of Water is a film that deserves to be seen on the giant screen because it is actually pretty beautiful and awe-inspiring to look at.
However, I found the first one to be better than this one, plainly because the first one, I felt, had a much better story. Still, it is a great film to watch, and you can catch it streaming on Disney Plus.
The Little Mermaid (2023)
Run Time – 2h 15m
Director – Rob Marshall
Genre – Musical/Romance
Cast – Halle Bailey, Javier Bardem, Melissa McCarthy
The Little Mermaid is the live-action adaption of the classic Disney fairytale of the same name. The film tells the story of the youngest daughter of King Triton, Ariel.
Arial has always been an adventurer who has loved to know about the world outside of the sea. One day, Arial does go to the world of land, where she ends up falling for Prince Eric. The evil witch, Ursula, notices this, and she makes a deal with Arial that allows her to live the life of the land. 
With some modern twists to the story, The Little Mermaid is a charming little film that did go through a ton of controversy, only for people to end up liking the film!
Raiders Of The Lost Ark (1981)
Run Time – 1h 55m
Director – Steven Speilberg
Genre – Adventure/Action
Cast – Harrison Ford, Karen Allen, Paul Freeman
The first of many Indiana Jones movies, Raiders of the Lost Ark, is often considered by many to be the best out of all the five Indiana Jones films that have released as it introduces another iconic character played by Harrison Ford, under the name of Indiana Jones. 
Raiders of the Lost Ark is an adventure film from start to finish, and it is about Indy trying to find out the Ark of the Covenant before the Nazis get a hand on it.
This film is a cult classic, and while it may not be new, it got recently uploaded on Disney Plus for everyone to enjoy!
Strange World (2022)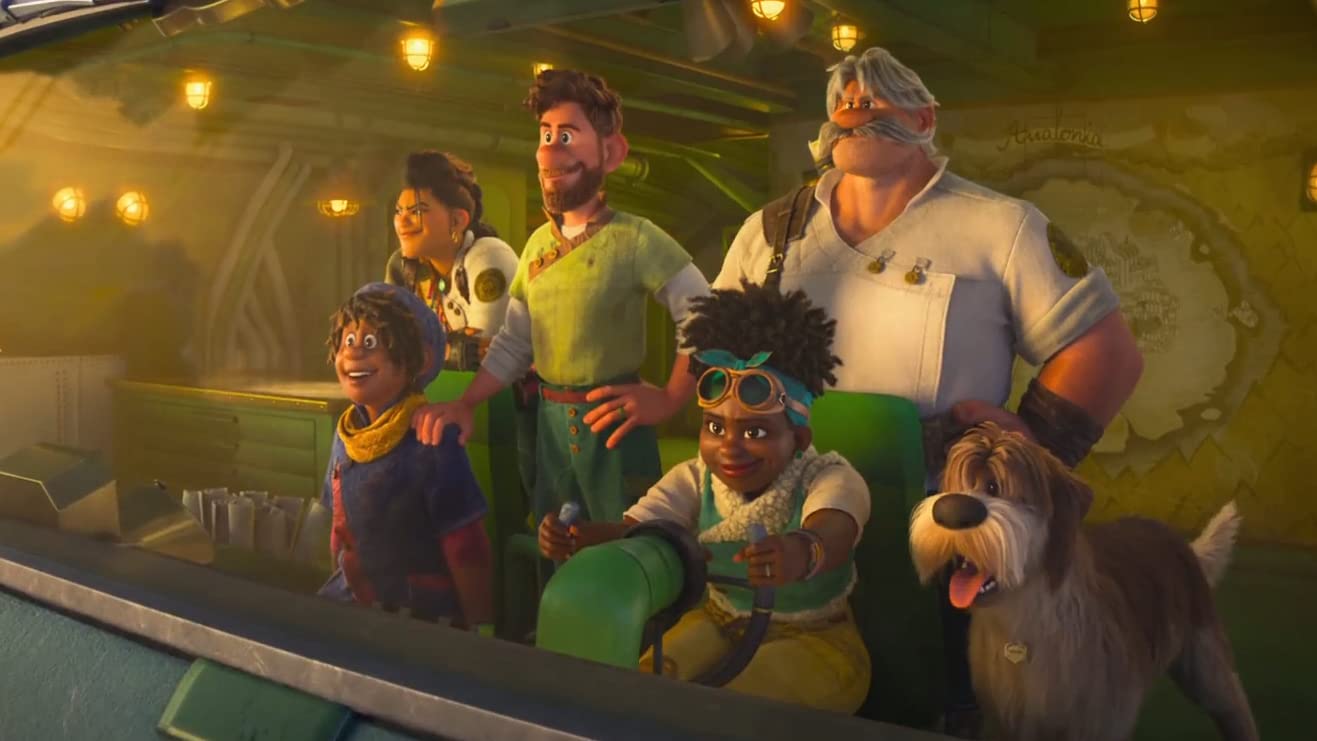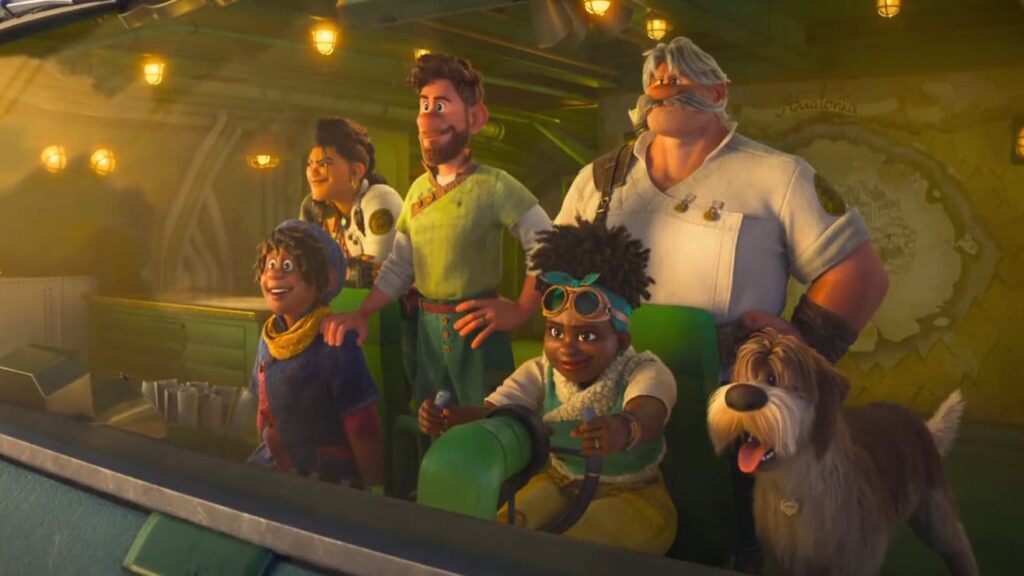 Run Time – 1h 42m
Director – Don Hall
Genre – Adventure/Comedy
Cast – Jaboukie Young-White, Jake Gyllenhaal, Francesca Reale
Strange Worlds is a new Disney Animated film, and it tells the story of a family of explorers who are considered legends in their world of exploring. They all find themselves trapped in a land that is filled with strange creatures. If they all have to survive, then they have to work together to do so. 
Strange World is a fun Disney Animated film that really didn't perform well at the Box Office. However, since its release on Disney Plus, the movie has found its audience, and you can easily enjoy this film with your family!
Night At The Museum: Kahmunrah Rises Again (2022)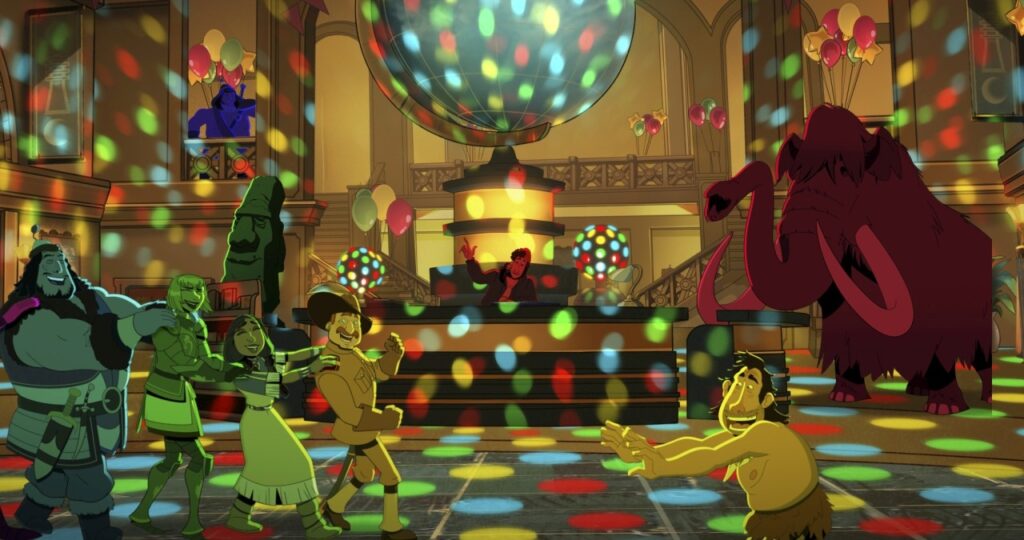 Run Time – 1hr 17 mins
Director – Matt Danner
Genre – Animation, Adventure
Cast – Jonathan Roumie, Joshua Bassett, Zachary Levi
Night at the Museum is a popular live-action series that was about a Museum that used to come to life at the night. 
This is an animated spinoff movie that deals with a similar story, only this time around, it is Larry Daley's son who is in charge of the actual museum, and things go haywire when Kahmunrah wakes up again from getting trapped.
Kahmunrah Rises Again is a Disney Plus Original film, and it is a fun film to watch for the kids, without simple animation.
Hocus Pocus 2 (2022)
Run Time – 1h 43m
Director – Anne Fletcher
Genre – Adventure
Cast – Sarah Jessica Parker, Hannah Waddingham, Bette Midler
Hocus Pocus 2, just like Disenchanted, is a direct sequel to an old Disney Original film that was released in 1993 with the same title. This time around, the Sanderson Sisters are back after they are accidentally released by two girls.
Now, they have to stop the Sanderson Sisters and bring back the world as it were. Hocus Pocus 2 is also a Disney Plus original film that does have some charm to it, and audiences also appreciated seeing the return of the sisters after 30 years!
You can watch Hocus Pocus 2 on Disney Plus!
Lightyear (2022)
Run Time – 1h 45m
Director – Angus MacLane
Genre – Action Adventure
Cast – Chris Evans, Taika Waititi, Peter Sohn
Lightyear is a Pixar film that is based in the world of Toy Story. This was the film that Andy from the original Toy Story saw that inspired him to buy Buzz Lightyear action figure in the first Toy Story film.
Lightyear is a space adventure film that is about Buzz Lightyear who is stranded on an unknown planet as he tries to get himself and the rest of the crew back to their own planet. 
The film was a bit of a financial disappointment at the box office last year in the theatres, and this was partly because audiences never truly understood what this film was about, and the film also didn't fully live up to its expectations after the end of the first act.
Still, it is a good film to catch on Disney Plus!
The Amazing Spider-Man (2012)
Run Time – 2hr 16min
Director – Marc Webb
Genre – Action, Sci-Fi
Cast – Andrew Garfield, Emma Stone, Rhys Ifans
The Amazing Spider-Man was the introduction of the new Spiderman played by Andrew Garfield, after Sam Raimi's Spiderman trilogy ended with Toby Maguire.
This film was a new origin story to Peter Parker's life, and it introduced the villain of the Lizard for the first time on the big screen.
The Amazing Spider-Man was actually a really good film that did show Andrew Garfield as a very comic-accurate Spider-Man, and it was a box office success, as well.
With the re-introduction of him in Spiderman: No Way Home, all of Sony's Spider-Man films are now available to watch on Disney's, as well!
Also read: Best Disney Plus Alternatives for movie streaming
Conclusion
Well, there you have it. An article discussing some of the best new movies that are currently streaming on Disney Plus right now.
Disney Plus, as I mentioned above, is a really good streaming service that actually has a great library of everything classic that Disney and its other companies have produced. So, in that manner, it is a vault full of classic films.
However, when it comes to the fact that some of its original content, then it is a bit here and there, and they are not at the level as something that its other classics are.
So, that may make some buyers a bit reluctant to purchase its subscription fee. However, Disney Plus does have a bundle pack that involves Disney Plus, Hulu and ESPN, all under the price of $14/month.
So, Disney is trying to offer what it can to its customers in order to have them stay within the service.
As always, these have been my thoughts regarding this topic. What about you? Do you agree with my list of the best new movies on Disney Plus? Or do you think that I missed out on a few of them? Also, how many films that I mentioned above have you watched?
Whatever your thoughts are, do let us know about them in the comments down below!