Recently, Apple TV has been making some really great movies and TV shows and releasing it on its platform. It has turned into one of the streaming service that many people are looking into and subscribing.
It also helps with the fact that currently Apple TV has the least expensive subscription, compared to all the other alternatives present in the world of streaming. 
And while Apple TV doesn't focus on the overall quantity of the films and tv shows released on its platform, something like Netflix does, it still boasts a really great library of original content that you should look into.
So, with all that said, here are some of the best new movies on Apple TV. 
26 best free movie streaming sites to stream movies online legally
17 legal and safe movie streaming apps & sites
15 best free movie apps and websites to download
Still: A Michael J. Fox Movie (2023)
Run Time – 1 hr 35 min
Director: Davis Guggenheim
Genre – Genre: Documentary, Biography
Cast: Michael J. Fox, Tracy Pollan, Aquinnah Fox
Still is a documentary about Michael J. Fox as he is rising in popularity in Hollywood, and what happens after he finds out that he has Parkinson's disease.
The documentary isn't like what you would expect; it is actually very entertaining, and it is actually about how Michael J. Fox embraced his disease and it is quite uplifting in that manner.
It is a great documentary that you can check out on Apple TV.
Ghosted (2023)
Run Time – 1 hr 56 min 
Director: Dexter Fletcher
Genre – Romance Comedy Action
Cast: Chris Evans, Ana de Armas, Adrien Brody, Mike Moh
Ghosted stars Chris Evans as Cole, who falls for Ana de Armas's character Sadie, before he realises that she is actually a secret agent; what follows is an adventure where Cole and Sadie try to save the world and also maybe fall for each other. 
Ghosted is a simple rom-com action film that has some good action sequences and some cameos from a lot of people, as well.
The film is charming enough, and it is a good time watch.
Sharper (2023)
Run Time: 1 hr 56 min 
Genre: Mystery Psychological Thriller 
Director: Benjamin Caron
Cast: Justice Smith, Briana Middleton, Sebastian Stan, Julianne Moore, John Lithgow
Sharper is a psychological thriller that will leave you on the edge of your seat (or bed).
The story of Sharper starts off when a con artist starts to target all the Billionaires of Manhattan, and what follows is a cat-and-mouse game with enough twists in between to keep the audience engaged throughout.
If you are someone who is into neo-noir, Detective thriller films, then you should definitely check this one out!
Emancipation (2022)
Run Time – 2 hrs 12 min 
Genre: Historical Drama  
Director: Antoine Fuqua
Cast: Will Smith, Ben Foster, Charmaine Bingwa, Gilbert Owuor, Aaron Moten
Emancipation is based on a true story that is set in the 1860s. Will Smith plays a slave who is on the run against the person planation owner who is set bound to kill Smith's character. 
Emancipation is a period drama and is filled with gorgeous cinematography. The film is a bit difficult to watch as it does portray the situation in which slaves were treated back then.
This film is not for everyone, but you should give it a try.
Selena Gomez: My Mind and Me (2022)
Run Time – 1 hr 35 min 
Genre: Documentary 
Director: Alek Keshishian
Cast: Selena Gomez, Raquelle Stevens, Liana Blackburn, Brent L. Boxberger
My Mind and Me is a documentary about Selena Gomez, and it shows how she fought her way out of depression and some other medical conditions she had while also being a famous pop star.
The documentary is filled with a lot of actual footage from Selena Gomez's childhood, and she uses this movie as a platform to help out herself and her fans if they are also facing similar issues.
It is a really beautiful documentary that you can check out on Apple TV.
Luck (2022)
Run Time – 1 hr 45 min 
Genre: Animated Fantasy Comedy 
Director: Peggy Holmes
Cast: Eva Noblezada, Simon Pegg, Jane Fonda, Whoopi Goldberg
Luck is the first Original animated film from Apple TV, and it is produced by John Lasseter, who was the head of Pixar till 2019 and he knows how to make great original animated films. 
Luck follows the story of Sam Greenfield, who is the most unluckiest girl in the planet as she is known to face a number of different and difficult instances until one day, she finds a lucky penny and she loses it.
She finds a Black cat, who accidentally leads her to a world where good luck and bad luck are decided, and what follows is an adventure between Sam and the Black Cat.
Coda (2021)
Run Time – 1 hr 51 min 
Genre: Coming-of-Age Comedy Drama 
Director: Sian Heder
Cast: Emilia Jones, Troy Kotsur, Daniel Durant, Marlee Matlin, Eugenio Derbez, Ferdia Walsh-Peelo, Amy Forsyth, Kevin Chapman
Winner of Best Picture at the Academy Awards last year, Coda is one of the best films that is streaming currently on Apple TV. The film broke many records, and it is also a film that has deaf people as its leading actors.
Coda is about Ruby Rossi, who is a child of a deaf couple, and she also has a deaf brother, as well. The story of Coda is fairly simple, but it is presented in a manner that is quite beautiful, and it does tug on your heart strings.
Memento (2000)
Run Time – 1h 53m
Director – Christopher Nolan 
Genre – Mystery/ Thriller
Cast – Guy Pearce, Carrie-Anne Moss
The film that made everyone notice Christoper Nolan as a director, Memento, is still considered to be one of the best films he has made. 
Memento follows the story of Leonard Shelby, who suffers from amnesia, and he tries to find out the killer of his wife through a number of notes and tattoos that he has.
The film is filled with a number of thrills, and it also introduces to a lot of people Nolan's non-linear form of storytelling, which can be a bit confusing at first but quite impressive once you actually get to the end of the film.
The film is a classic, and you can watch it on Apple TV.
The Beanie Bubble
Run Time – 1 hr 50 min 
Director: Kristin Gore, Damian Kulash
Cast: Zach Galifianakis, Elizabeth Banks, Sarah Snook, Geraldine Viswanathan
Genre: Drama 
The Beanie Bubble is also a drama film that is available to watch on Apple TV right now. It is loosely based on true stories, and it talks about the American Dream of being a self-made millionaire and what all it takes after achieving the success. 
It stars Elizabeth Banks and Zach Galifianakis, and if you are into a drama film like The Big Short or The Wolf Of Wall Street, then you should definitely check this one out.
Beastie Boys Story
Run Time – 2 hr 
Genre: Documentary 
Director: Spike Jonze
Cast: Michael Diamond, Adam Horovitz
Another documentary on this list, and while there are some feature-length fiction films also present in Apple TV's library, it does have a great collection of documentaries, as well.
This one, as you can already tell by its name, is about the Beastie Boys, and the documentary mostly focuses on three main live shows, and interweaves various behind-the-scenes footage into a sort of fun, emotional documentary.
The documentary is about the two boys coming together and apologising for their behaviour, that was shown at the beginning of the documentary during one of the shows.
Swan Song (2021)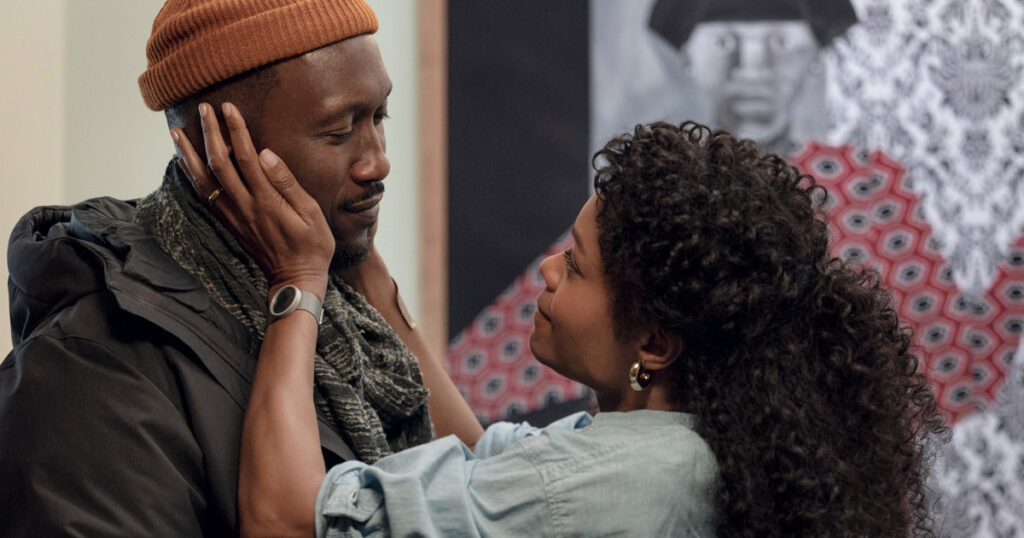 Run Time – 1 hr 56 min  
Genre: Sci-Fi Romantic Drama 
Director: Benjamin Cleary
Cast: Mahershela Ali, Awkwafina, Glenn Close, Naomie Harris
Swan Song is set in an almost identical future, where the world has figured out cloning. Our main character, Cameron Turner, finds out that he has a terminal illness and has only a few months left to live.
He faces with a moral dilemma of whether to create a clone of his to continue his family's happiness or to accept death as it is.
The film is actually fairly simple, but it doesn't come out as pretentious, and it has a really sweet ending, as well.
Tetris
Run Time – 1h 58m
Director – Jon S. Baird
Genre – Real-life Adventure Drama
Cast – Taron Egerton, Sofya Lebedeva, Roger Allam
Tetris is based on a true story that follows the events of Henk Rogers, who created the famous game of Tetris, and he goes all the way to the Soviet Union to Alexey Pajitnov, where they intend to sell the game to the masses. 
What follows is an adventure that actually deals with a lot of politics that went behind in making this game such popular phenomenon.
Tetris is a really fun movie that is shot pretty well, and the overall acting in this film is also quite good. You can watch it on Apple TV right now!
Causeway (2022)
Run Time – 1 hr 32 min 
Genre: Drama 
Director: Lila Neugebauer
Cast: Jennifer Lawrence, Brian Tyree Henry, Linda Emond
Causeway deals with the PTSD that many armed forces personnel face after suffering from a traumatic event, and in this film, Jennifer Lawrence's character comes back after fighting in Afghanistan.
Things become even more complicated when she suffers from a brain injury that makes it even more difficult for her to adapt to normality as she waits for her redeployment.
The film is thought-provoking and is filled with great supporting actors, such as Brian Tyree Henry, who even got nominated for Best Supporting Actor at this year's Academy Awards.
Cha Cha Real Smooth 
Run Time – 1 hr 47 min 
Genre: Comedy Drama 
Director: Cooper Raiff
Cast: Dakota Johnson, Cooper Raiff, Raúl Castillo
Cha Cha Real Smooth is a film that discusses about that stage after college is over and the students try to figure out what's next that they want to do as they get into Adulthood.
It tells the story of Andrew, who is hired to be a babysit for Lola, who is autistic, and Andrew and Lola's mother, Domino, start to build a friendship that tips the lines between friendship and romance.
The film has some funny moments to it, but at the heart of it is a drama, and it is a good movie to watch on Apple TV. 
Best Apple TV+ alternatives and apps like Apple TV plus
Conclusion 
Well, there you have it, some of the best films that are currently streaming on Apple TV Plus, at the moment. From this list, it does seem like most of the content on it is a little high-art that most people won't prefer watching.
However, that's not really the case, and it has some great, fun movies and series, as well, Ted Lasso being one of the standouts.
There's a lot to watch on Apple TV Plus right now, and it does have the cheapest subscription rates, as well.
As always, these have been my thoughts regarding this topic. What about you? Do you agree with my list? Or do you think that I missed out on some of them?
Whatever your thoughts are, do let us know about them in the comments down below!