Anime has its fans all across the world now and you can very easily find a number of great anime shows and movies to watch.
In fact, we have also written various articles related to various anime shows and movies, and you can read those articles, as well.
However, in this article, we will be discussing some of the anime movies that made it to the theatres for people to enjoy. 
Best Anime to Watch on Netflix
Best Anime To Watch For Beginners
Best Rom-Com Anime Series and Movies
Sites to download anime (Free & Legal)
Best samurai anime of all time
#1 Crayon Shin-Chan: Jungle that invites Storm 
Shin Chan is a relatively popular anime character and it's anime series has been quite beloved in countries like India and Japan.
So it was an obvious thing to go ahead and make a feature-length film about it, as well.
And so they did. This Shin-Chan adventure is about Shin-Chan's family getting abducted on a cruise by various monkeys and they are taken to an island as a slave.
So it comes to Shinchan and his friends to save his family
Release date: 1 April 2011
Director – Keiichi Hara
Available to watch on – GoGoAnime
#2 Doraemon: Nobita and the New steel Troops – Winged Angels 
Doraemon and Nobita are also quite beloved anime characters and they have be so for many decades now.
Doraemon and Nobita have had various adventures of their own and they have spanned from various series to even feature length films.
New steel troops is amongst many films that were made around these characters, and this one was released in theatres as well.
The synopsis of this particular film is about Doraemon and Nobita building a new toy robot, which turns out to be a little more than what they had presumed it to be.
Release date – 5 March 2011 
Director–  Yukiyo Teramoto
Available to watch on – GoGoAnime
Even if you are not a fan of Anime series and movies, you must have heard the name of Dragon Ball Z.
Dragon Ball Z is a very well-known IP in the world of anime and there have been countless series and movies produced under this one banner.
Dragon Ball Super: Broly is also a recent outing of many favourite characters. This story follows
a new Saiyan Warrior, known as Broly, and he soon becomes one of the major threats faced by Goku and Vegeta.
Release date – 14 December 2018 
Director – Tatsuya Nagamine
Available to watch on – GoGoAnime 
#4 Weathering with You
Weathering with You is not a well-known IP like something Dragon Ball Z, but it is a fairly recent outing in the world of anime movies that made it to the big screen.
The film is a combination of Romance and Sci-Fi and it is set in a period where there is too much rain and it is about a boy who's name is Hodaka Morishima and he lives in a farm.
After he decides to run away from his farm, he arrives in Tokyo, where he finds an orphan girl who has the powers to control weather.
Release date– 11 October 2019
Director– Makoto Shinkai 
Available to watch on – GoGoAnime
#5 My Hero Academia: Two Heroes
My Hero Academia is a popular anime series that has many feature length films released in theatres and on various other platforms, as well.
In fact, in this very list, you will find a number of mentions about My Hero Academia.
Each part is a bit different from the other and in this movie Deku is seen going to I-Expo, which is actually the best hero item exhibition show
However, what others don't know is that there is a nefarious plan setup when the villian of the film decides to hack the security system of the expo.
Release date – 3 August 2018
Director– Kenji Nagasaki 
Available to watch on – GoGoAnime
#6 My Hero Academia: Heroes Rising 
Another adventure set in the world of Deku and the Hero Academia, as I mentioned above.
This time around Deku finds himself, along with all the other heroes from the popular Class 1-A to go and save a bunch of islanders.
The islanders are trapped by a villian who is quite smart, and things for the group aren't as simple as they would have had hoped for!
Release date – 20 December 2019 
Directors – Kohei Horikoshi, Kenji Nagasaki 
Available to watch on – GoGoAnime 
#7 Demon Slayer: Mugen Train
Demon Slayer is also a very well-known name in the world of Anime and the characters in it have seen their fair share of troubles.
The story of this film and series is that it follows a kid who was born and brought by boars and he also wears a head of a boar.
He gets on the Infinity Train for a new mission that he seeks, he is joined on this mission by
Flame Pillar and one another person.
Their mission is to stop a demon who has been tormenting humans and killing all demon slayers who come near it.
Release date – 16 October 2020 
Director – Haruo Sotozaki 
Available to watch on – GoGoAnime 
#8 Fate/Grand Order – Final Singularity Grand Temple Of Time
Fate/Grand Order: Final Singularity-Grand Temple of Time: Solomon, might be the longest title ever that you will see across this list, but across various anime movies, as well.
As far as the release date is considered, this film is the fairly newer of the bunch that got the green light to be released in the big screens.
The film falls under the genre of fantasy/sci-fi films and it is actually based on the popular game Fate/Grand Order.
The story of the movie follows The Chaldea Organization who are taked to deal with the very powerful Grand Temple of Solomon.
The temple is temple is considered as super powerful powers and the organisation has to be protect it against the King of Magic, who has come to destroy the world as well know it.
Initial release – 30 July 2021
Director – Toshifumi Akai 
Available to watch on – GoGoAnime 
#9 My Hero Academia: World Heroes Mission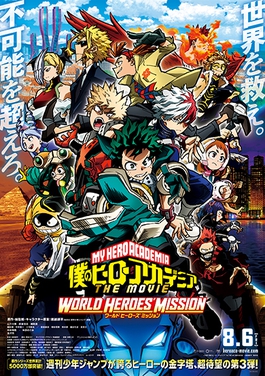 Another adventure of our Hero Academia team that was also released in the theatres.
This is one of their recent outings and it is also one that was acclaimed by a lot of people, as well, for its great adventure
This time around, we see Dekh and the greatest heroes that Japan has ever produced to work together as a team.
They all have only one mission, and that is to track down an individual who is responsible for an extremely deadly chemical attack.
Release date – 6 August 2021 
Director – Kenji Nagasaki 
Available to watch on – GoGoAnime
Conclusion
Well, there you have it. An article discussing 10 of the best anime movies that saw the light to be shared on the big screen.
Showcasing a film in theatres for the audiences is what most directors, despite working on different genres, hope for.
This is because at cinemas, you are able to enjoy the event at the biggest scale that you can watch on with the best sound system, as well.
It is also very tricky to put movies in theatres, as well. So for the fact that these 10 films were able to do so and get great reviews, is an amazing achievement on its own.
As always, these have been my thoughts regarding this topic. What about you? Do you agree with my list? And have you see any of these 10 films that were released in theatres?
Whatever your thoughts are, do let us know about them in the comments down below!