Everyone likes a little romance once in a while. A good romance story with a happy ending can improve your mood and turn you into mush.
Is there anything more satisfying than watching the protagonists experience the butterflies and pangs of new love? You just cannot wait for them to confess and get together while you silently wipe that tear from your eye.
Romance can be worthwhile in any medium including anime. While you may usually associate anime and manga with adventure stories, it has its fair share of wholesome romantic series and movies.
Are you in the mood for a good romance anime? A romance anime that has a happy ending? Then you are in the right place. This list will introduce you to the best romance anime series with happy endings. Not only that, but we have also compiled a recommendation of romance anime movies where they end up together.
Best websites to watch anime for free
Top 9 best Japanese anime of all time
6 Best Romance Anime Movies with Happy Endings
Your Name
Japanese Title: Kimi no Na wa
Studio: CoMix Wave Films
IMDb Rating: 8.4/10
Your Name Review
Of course, we will begin our list with Makoto Shinkai's Your Name. It is one of the most beloved romance anime movies and for good reason.
Your Name narrates the story of two teenagers living in different parts of the country. Mitsuha Miyamizu is a high schooler who lives in rural Japan but yearns to experience Tokyo life. Taki Tachibana is a Tokyo boy working part-time in an Italian restaurant. But what happens when these two teenagers who have never met suddenly start switching bodies?
While the premise is fantastical, its execution is simple and largely realistic. Your Name starts out as a body swap comedy but evolves into a tale of two people finding meaning in life and trying to bridge the obstacles of time and place for their love.
The movie uses elements of Japanese folklore to deliver a poignant tale of love torn apart by time and distance. Your Name does not have a grand happy ending that is all hearts and rainbows but it is a happy ending in the context of the movie as the viewer is left with the knowledge that Mitsuha and Taki will end up together.
A Silent Voice
Japanese Title: Koe no Katachi
Studio: Kyoto Animation
IMDb Rating: 8.1/10
A Silent Voice Review
A former bully wants to express his remorse to the deaf girl he bullied before he ends his life. Shoya Ishida used to be a bully in elementary school but is now an outcast in high school. He tries to reconnect with Shoko Nishimiya who had to change schools due to his actions. The two eventually start developing feelings for each other after spending time together.
Naoko Yamada's A Silent Voice, thus, covers several heavy themes such as bullying, disability, mental health, suicide and forgiveness. Even keeping aside the romance, it is immensely watchable simply for Shoya's personal growth.
Just try to remember. How many anime movies or series have you watched where a bully truly repents his actions and strives to make amends? Very few and A Silent Voice is an important story for this reason.
The movie has its fair share of sad and bittersweet which is unavoidable in an anime dealing with such weighty topics. But considering everything, A Silent Voice does end on a happy note that will satisfy the viewers.
Whisper of the Heart
Japanese Title: Mimi o Sumaseba
Studio: Studio Ghibli
IMDb Rating: 7.8/10
Whisper of the Heart Review
The adage Old is Gold definitely stands true in the case of Whisper of the Heart. This 1995 anime film directed by Yoshifumi Kondo focuses on the internal struggles and self-discovery journey of a 14-year-old Shizuku Tsukishima.
She is a bookworm who is keen on creative writing. One day, while looking through the checkout card on her library books, she discovers that all of them had been previously checked out by one Seiji Amasawa. This leads her to seek out the trainee violin maker Seiji and the two quickly befriend each other.
As expected of a Hayao Miyazaki screenplay, Whisper of the Heart has grounded and richly detailed characters. The movie has an upbeat atmosphere throughout its runtime and Shizuku and Seiji's blossoming romance will have you smiling in no time.
Watch this film to experience that intoxicating feeling of first love that makes everything look a tad more beautiful. 
Also read
Best Football Anime of All Time
Top 10 Most Awaited Upcoming Anime
Best anime streaming sites to watch anime
Josee, the Tiger and the Fish
Japanese Title: Joze to Tora to Sakanatachi
Studio: Bones
IMDb Rating: 7.6/10
Josee, the Tiger and the Fish Review
Based on Seiko Tanabe's short story of the same name, Josee, the Tiger and the Fish follows university student Tsuneo Suzukawa who crosses paths with a paraplegic teenager Kumiko Yamamura. Kumiko prefers to be called "Josee" and rarely ventures outside because of her overprotective grandmother.
This changes when Tsuneo enters her life. The movie handles Tsuneo, Kumiko and her disability in a sensitive manner. It explores the themes of love and personal growth with a nuanced portrayal of the protagonists' struggles.
The director Kotaro Tamura ensures that the narrative never gets heavy-handed and maintains a reflective tone. The animation too is lively and gorgeous which makes this film a true visual experience.
So, does Josee have a happy ending? You bet it does.
Only Yesterday
Japanese Title: Omoide Poro Poro
Studio: Studio Ghibli
IMDb Rating: 7.6/10
Only Yesterday Review
In 1982, twenty-seven-year-old Taeko Okajima who decided to visit family in the rural countryside after getting tired of the hustle and bustle of Tokyo. As she begins living in Yamagat, she finds herself increasingly nostalgic over her childhood self while simultaneously dealing with adult issues related to love and career.
Taeko reconnects with her family and also forms a bond with a local farmer and her brother-in-law's cousin Toshio. Only Yesterday is mainly a slice-of-life drama and the romance here is subtle.
While we do not see Taeko and Toshio officially get together, there is definitely something between them. He is a major reason Taeko decides to stay back and it is a suitable happy ending in the context of the movie.
Words Bubble Up Like Soda Pop
Japanese Title: Cider no Yo ni Kotoba ga Wakiagaru
Studio: Sublimation, Signal. MD
IMDb Rating: 6.8/10
Words Bubble Up Like Soda Pop Review
Truly a movie of modern times, Words Bubble Up Like Soda Pop narrates the blooming love story of two awkward, introverted teenagers. Both the protagonists Cherry and Smile belong to the social media generation. Smile makes short online videos while Cherry expresses himself through the haikus he posts on social media.
These two online teenagers form a friendship via their smartphones. Both have their struggles and insecurities that are deftly explored in the movie.
Apart from that, Words Bubble Up Like Soda Pop examines the role and impact of social media in the life of the youth. It is a charming and straightforward story with quirky characters narrated with humor and optimism.
Top 12 Romance Anime Series with Happy Endings
Given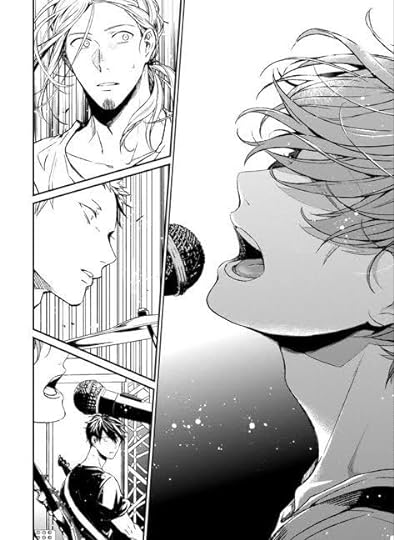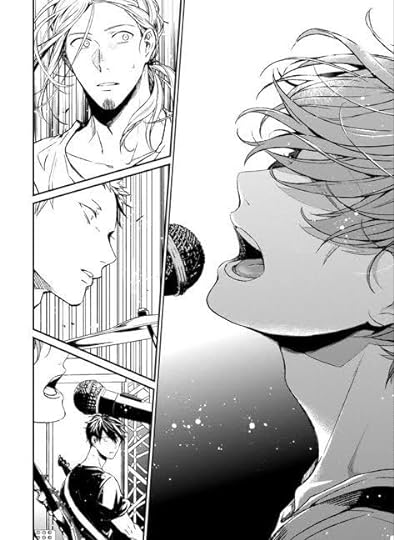 Japanese Title: Givun
Studio: Lerche
Number of Episodes: 11
IMDb Rating: 8.3/10
Given Review
Music lovers, rejoice! Because we believe Given is the right romance anime for you. It is the story of four students in an amateur rock band and the romantic relationships between electric guitarist Ritsuka Uenoyama and vocalist Mafuyu Sato on the one hand and between bassist Haruki Nakayama and drummer Akihiko Kaji on the other.
Exploring the themes of love, self-acceptance and of course music, Given presents a delightful romance between individuals with a mutual love for music. It is an honest journey of four boys as they affection and solace in each other's arms.
Though Given is categorized as a BL, it is refreshingly free from the fetishization of the BL series. It has complex characters on a heartfelt journey of self-acceptance and you end up experiencing a wide range of emotions as you root for the boys to get together.
Ouran High School Host Club
Japanese Title: Ouran Koukou Hosuto Kurabo
Studio: Bones
Number of Episodes: 26
IMDb Rating: 8.2/10
Ouran High School Host Club Review
In the mood for a romantic comedy? Then you should check out Ouran High School Host Club. Adapted from the manga of the same name, it follows a scholarship student Haruhi Fujioka at the elite Ouran Academy.
While looking for a place to study, she stumbles upon an otherwise abandoned room that is being used to run a host club by a group of six male students. Here, Haruhi ends up dropping a valuable vase and ends up working at the host club to pay off the debt.
Oh, did we mention she was also mistaken to be a boy due to her androgynous style? Cue shenanigans. Ouran High School Host Club offers all sorts of romance tropes from mistaken gender identity to flower boys to reverse harem. 
It is an entertaining anime that doesn't take itself too seriously. So, if you are in the mood for a light-hearted watch that doesn't require too much use of your brain, Ouran High School Host Club is the way to go.
Nodame Cantabile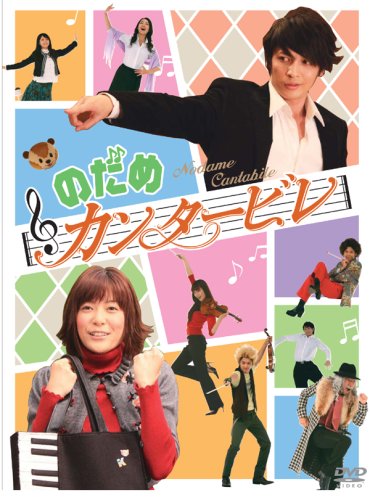 Japanese Title: Nodame Kantabire
Studio: J.C. Staff
Number of Episodes: 24
IMDb Rating: 8.1/10
Nodame Cantabile Review
Another music-related series! Set in the Momogaoka College of Music, Nodame Cantabile follows the relationship between two aspiring classical musicians, Megumi "Nodame" Noda and Shinichi Chiaki.
Shinichi is a gifted pianist who is forced to return to Japan from Europe after his parents' divorce. He longs to go back to Europe but his fear of flying prevents him from doing so.
His life turns upside down when he comes in contact with the carefree and laid-back pianist Megumi. They also meet some other quirky personalities at Momogaoka College and make lasting friendships.
Nodame Cantabile skillfully blends romance and comedy with more serious themes of trauma to create one of the best romance anime. It delivers a happy ending that fits perfectly with the overall theme of the series.
Horimiya
Japanese Title: Hori-san to Miyamura-kun
Studio: CloverWorks
Number of Episodes: 13
IMDb Rating: 8.1/10
Horimiya Review
Love the secret identity trope? Love happy endings? Then we have the perfect romance anime with a happy ending recommendation for you.
Kyoko Hori is a smart and popular high school student. But no one knows that her life outside of school is completely different. At her house, she is a homebody who has to look after her younger brother. Izumi Miyamura is Kyoko's seemingly gloomy and nerdy classmate. He too has a secret life as a tattooed and pierced teenager.
What happens when these two discover each other's secret identity? Why, of course, a friendship forms among them. As Kyoko and Izumi spend time together, they discover that they have more in common than they thought.
A genuine romance with charming characters, some humorous moments and a sweet happy ending make Horimiya a must-watch for romance anime fans.
Toradora!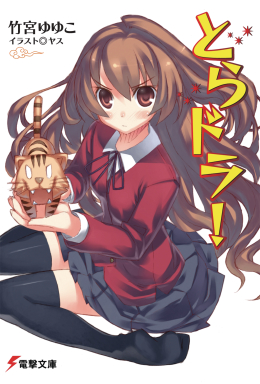 Japanese Title: Toradora!
Studio: J.C. Staff
Number of Episodes: 25
IMDb Rating: 8.0/10
Toradora! Review
Toradora! is one of the best romance anime series out there. It follows two high school students- Taiga Aisaka and Ryuji Takasu who are polar opposites of each other. The two, however, end up forming an unlikely alliance in order to win over their respective crushes.
But we know that things are not going to go the way our protagonists want. In trying to impress the people they like, will Taiga and Ryuji end up falling for each other? Watch Toradora! to find out.
A charmingly executed love story, Toradora! Is guaranteed to deliver that perfect happy ending.
Kimi Ni Todoke: From Me to You
Japanese Title: Kimi ni Todoke
Studio: Production I.G
Number of Episodes: 25
IMDb Rating: 7.8/10
Kimi ni Todoke: From Me to You Review
If you're a romance anime beginner, Kimi ni Todoke may be the best option not the least because it is easily available on Netflix. This cute and charming anime takes place in a high school in Hokkaido with 15-year-old Sawako Kuronuma as the protagonist. She is called Sadako by her classmates due to her resemblance to the character from the horror movie The Ring.
Behind her scary and ominous appearance, however, is a sweet and unassuming girl. Sawako's lonely life changes when the popular boy Shota Kazehaya begins talking to her. A heartwarming love story starts unfolding between them as Sawako comes out of her shell and starts making new friends.
Kimi ni Todoke is an endearing and lighthearted story about youth and young love that delivers a cute and heartwarming happy ending
Emma: A Victorian Romance
Japanese Title: Eikoku Koi Monogatari Emma
Studio: Pierrot
Number of Episodes: 24
IMDb Rating: 7.7/10
Emma: A Victorian Romance Review
Tired of school-based romance? Want something different? Then Emma: A Victorian Romance might be the series for you. Emma, which revolves around the housemaid Emma and the aristocrat William Jones, is basically a Victorian romance novel in an anime format.
Set in a period rarely visited in anime, Emma examines several themes such as class, wealth, power and restrictive societal structures.
The protagonists Emma and William go through incredible personal growth throughout 24 episodes. The romance between them is mature and polished which will certainly appeal to older watchers.
Snow White with the Red Hair
Japanese Title: Akagami no Shirayukihime
Studio: Bones
Number of Episodes: 24+ 1 OVA
IMDb Rating: 7.7/10
Snow White with the Red Hair Review
Adapted from a long-running manga of the same name, Snow White with the Red Hair is a fantasy romance anime centered around a young herbalist named Shirayuki.
A native of Tambarun, she has to flee the kingdom to avoid an unwanted arranged marriage with Prince Raji. After escaping, Shirayuki encounters Prince Zen who welcomes her in his court as a herbalist.
As fate would have it, the herbalist and the prince start falling for each other as they spend more time together.
Like its namesake, this fairytale anime features many nods to the original story of Snow White. The romance between Shirayuki and Prince Zen is mature and endearing.
But for the most important part, Snow White with the Red Hair has an enchanting happy ending that will leave you delighted.
Blue Period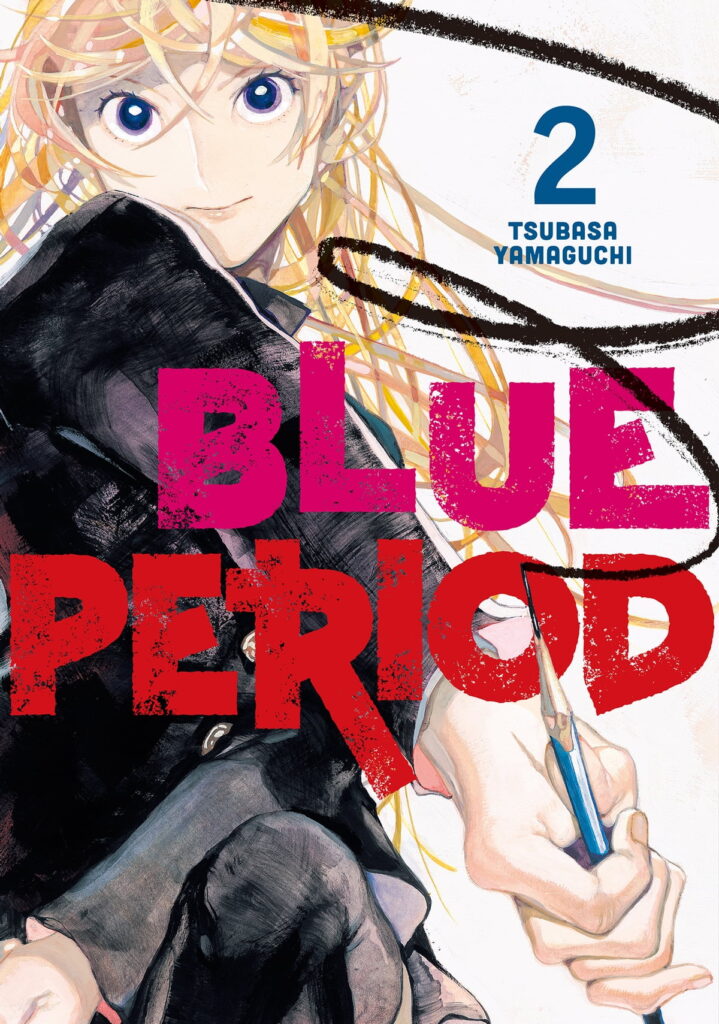 Japanese Title: Buruu Piriodo
Studio: Seven Arcs
Number of Episodes: 12
IMDb Rating: 7.7/10
Blue Period Review
Fine, romance is more of a subplot in Blue Period. But it is so well done that we had to include the anime here. 
Blue Period follows the journey of Yatora Yaguchi who is a fairly good student but struggles with the feeling of emptiness. His frustration gives way to passion when he discovers a love for art while visiting his high school's art club.
Yatora who did not have any particular dreams till now is inspired to attend the Tokyo University of the Arts. His life also becomes intertwined with the enigmatic artist Ryuji Ayukawa who struggles with their sexuality and gender identity.
Blue Period is an introspective anime with themes of self-acceptance, ambition, familial pressure and a largely satisfying romance subplot. Watch this one for the quiet storytelling and stunning visuals.
Also read
Top 9 Best Sports Anime Of All Time
Say I Love You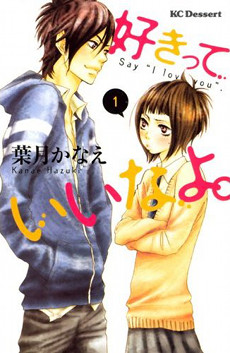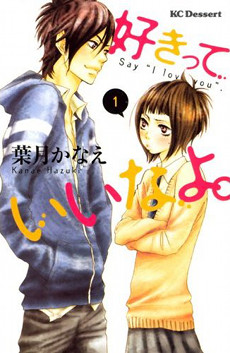 Japanese Title: Suki-tte li na yo
Studio: Zexcs
Number of Episodes: 13+1 OVA
IMDb Rating: 7.3/10
Say I Love You Review
Say I Love You is an underrated gem in the romance genre. It narrates the story of 16-year-old Mei Tachibana who is overly cautious around people due to a childhood incident. As a result, she has spent her high school years being single and friendless.
This changes when a popular boy Yamato Kurosawa starts taking an interest in her. One night, Yamato pretends to be Mei's boyfriend and kisses her to ward off a stalker. Thus begins this unexpected romance between the popular high school boy and the single lonely girl.
Say I Love You is a slow-paced series that takes its time to flesh out the characters. A tender love story unfolds as Yamato and Mei get to know each other better and the latter also begins to open up and make new friends.
Just Because!
Japanese Title: Just Because
Studio: Pine Jam
Number of Episodes: 12
IMDb Rating: 6.9/10
Just Because! Review
Eita Izumi moves back to his hometown after four years. There he reunites with his middle school friends including his crush Mio Natsume. Eita's return changes the lives of this group of high school students which includes Mio, Haruto Soma, Ena Komiya and Hazuki Morikawa.
Everyone was expecting a smooth graduation but their destinies take an unexpected turn as past memories and relationships are reignited. Just Because! has a leisurely pace that will make you nostalgic as you reminisce about your first love.
Amagami SS
Japanese Title: Amagami SS
Studio: AIC
Number of Episodes: 26+2 OVAs
IMDb Rating: 6.8/10
Amagami SS Review
Amagami SS which is based on a dating simulation game is full of happy endings. Junichi Tachibana is in his second year of high school and doesn't like celebrating Christmas due to past experience. This time, however, will be different as he encounters six girls who will help him open up his heart.
Thus, Amagami SS is divided into six four-episode story arcs with each arc focusing on one of the main female protagonists who will eventually become Junichi's love interest.
It is a unique storytelling style as each arc focuses on a particular heroine and even includes her ending theme. The stories are self-contained with a happy ending as they include each female protagonist's version of the story.
Closing Thoughts
Anime offers different types of stories in the romance genre- from realistic bittersweet romance to fluffy and wholesome romance. Sifting through all the options available to find quality anime movies and series can often be difficult. This is why we have compiled this list of the best romance anime with a happy ending. 
All the movies and series mentioned here are guaranteed to be worth your time. From bittersweet stories like Your Name and A Silent Voice to cheesy hilarious anime series like Ouran High School Host Club, there is something worthwhile for everyone.
We have also published a few articles on the best horror anime, samurai anime, masterpiece anime, action anime movies, sad anime movies, yuri anime, vampire anime, witch anime, vampire anime girl and Dragon Anime.