Who doesn't like a good mystery once in a while? We don't know about anyone else but anime fans definitely love a good detective story. This is evident from the variety of detective anime that has come out over the years. After all, there is nothing more fun than racking your brain for clues and coming up with theories about the identity of the culprit.
If you don't want to use too many of your little grey cells, there are light-hearted detective anime movies and series as well that you can binge to wind down. However, with all the choices available on Netflix and Crunchyroll, the average viewer can feel confused about what he should watch.
If you are such an anime watcher, then this best detective anime list is for you. Here we talk about some of the best detective anime of all time including the best detective anime on Netflix and the best detective anime on Crunchyroll.
10 Highest Ranking Anime Episodes on IMDB
10 Best Anime To Watch For Beginners
12 of the best websites to watch anime for free
List Best Detective Anime of All Time
Japanese Title: Desu Noto
Studio: Madhouse
Number of Episodes: 37
IMDb Rating: 8.9/10
Death Note Review
The first series on our detective anime list is Death Note. It is a hugely popular franchise and one of the best detective anime on Netflix. Like the manga, it follows a genius but also bored high school student Light Yagami who ends up in the possession of a mysterious notebook called "Death Note."
The notebook is said to end the life of people whose name is written in it given that the writer knows his target's true name and face. Light uses the opportunity to kill criminals around the world. Soon, the authorities take notice of the strange deaths and enlist mysterious Detective L to find the culprit.
Thus, L and Light find themselves in a cat-and-mouse where the former wants to catch the mastermind behind the killings while the latter wants to kill the man interfering with his plans. Death Note features some incredible mind games between this deranged detective and vigilante high school student duo.
It has a compelling plot and great twists that will keep you on the edge of your seat. Death Note is also quite beginner-friendly due to its easy availability and the active community around the franchise.
Monster
Japanese Title: Monsutaa
Studio: Madhouse
Number of Episodes: 74
IMDb Rating: 8.7/10
Monster Review
Naoki Urasawa's manga is a classic in the mystery and detective genre and so is its anime adaptation. Set in post-war Germany, the series follows neurosurgeon Kenzo Tenma who is one day forced to make a difficult choice- either save the life of a young boy Johan or the mayor of Dusseldorf.
Kenzo chooses the former but ends up losing his social standing due to his decision. Nine years later, a bunch of gruesome murders rock Germany. Our protagonist ends up getting involved in these cases whose culprit is suspected to be Johan Liebert- the boy whose life Kenzo saved that day.
A fast-paced series with great production values, Monster is certainly not for the faint-hearted. It pushes the boundaries of a person's moral code as Kenzo explores the psychological and philosophical aspects of humanity. A complex and masterful anime, Monster takes the viewers on an unforgettable journey to darkness.
Detective Conan/Case Closed
Japanese Title: Meitantei Konan
Studio: TMS Entertainment
Number of Episodes: 1,103(as of November 2023)
IMDb Rating: 8.5/10
Detective Conan Review
No detective anime list can be complete without the mention of Detective Conan, also known as Case Closed. Shinichi Kudo is a high school student who sometimes also works as a detective. While investigating a mysterious organization, he ends up shrinking to the size of an elementary-age kid.
Now, while Shinichi wants to go back to his original size but meanwhile, he can still help solve cases in his new avatar. Adopting the pseudonym Conan Edogawa, he starts living with his childhood friend Ran Mori and her father Kogoro Mori. The latter is a private detective and Shinichi often tags along in his cases.
The animation of the series may be a bit dated but it doesn't hinder the viewers' enjoyment. Detective Conan has some interesting and profound cases that would be especially loved by fans of locked room mysteries. Offering a great blend of mystery, humor and action, it is a charming anime that will take you on a crime-solving adventure.
Erased
Japanese Title: Boku dake ga Inai Machi
Studio: A-1 Pictures
Number of Episodes: 12
IMDb Rating: 8.5/10
Erased Review
The protagonist of Erased is 29-year-old Satoru Fujinuma who possesses the ability of "Revival." This means that his consciousness can go back in time to moments before a life-threatening accident and prevent it from happening again. The catch here is that the Revival happens on its own and Satoru cannot control this power.
When his mother is murdered by an unknown assailant, Satoru's Revival ability sends him 18 years into the past. In the body of his 11-year-old self with his adult consciousness, he now must save his mother's life and prevent the kidnapping of one of his classmates that directly affects his future situation.
Erased is a haunting story that maturely handles some very tough topics such as abuse. It prioritizes its characters over complicated twists and turns to deliver a heart-wrenching tale.
Erased's biggest strength is its atmosphere. The anime effortlessly draws you in and makes you care for the characters. Meanwhile, the feeling of quiet dread keeps building up as you constantly think that something isn't right. One of the best detective anime on Crunchyroll, watch Erased for its excellent characters, atmosphere and decent mystery with a satisfactory ending.
Ghost in the Shell: Stand Alone Complex
Japanese Title: Kokaku Kidotai Sutando Aron Konpurekkusu
Studio: Production I.G
Number of Episodes: 52
IMDb Rating: 8.5/10
Ghost in the Shell: Stand Alone Complex Review
It is the year 2030. A number of humans now live as cyborgs with prosthetic bodies. In this futuristic world, there exists an elite law enforcement unit made up of former military officers and police detectives who tackle cybercrime and terrorism cases.
Ghost in the Shell: Stand Alone Complex focuses on this special operations task force known as Public Security Section 9 as they go after elite hackers and terrorists like The Laughing Man. Led by Major Motoko Kusanagi and Chief Daisuke Aramaki, Section 9 will eliminate every threat to the people and crack down on government corruption.
Ghost in the Shell: Stand Alone Complex, thus, offers a high level of action mixed with mystery to the viewers.
Psycho-Pass
Japanese Title: Saiko Pasu
Studio: Production I.G
Number of Episodes: 22
IMDb Rating: 8.2/10
Psycho-Pass Review
Detective anime fans must check out Psycho-Pass– a series that asks some pertinent questions about the concept of good and evil. Set in a futuristic Japan, crime is all but eliminated thanks to the Sibyl System. This biomechatronic computer network performs a cymatic scan that reveals a citizen's criminality potential.
Psycho-Pass's story unfolds through the eyes of rookie Inspector Akane Tsunemori. She is joined by Enforcer Shinya Kogami who is a gentle and taciturn man. The anime explores the philosophical and moral aspects of justice in society as Akane and Shinya fight to uncover the Sybil System's truth.
If you like detective anime that also questions human morals and psyche, then Psycho-Pass is the perfect series for you.
Detective School Q
Japanese Title: Tantei Gakuen Kyuu
Studio: Pierrot
Number of Episodes: 45
IMDb Rating: 8.1/10
Detective School Q Review
Detective School Q is a story about, yup you guessed it, a group of high school detectives. Except these are no amateur detectives. In fact, they attend a special school for detectives.
Dan Detective School is a prestigious detective academy founded by the most famous detective in Japan, Morihiko Dan. The series focuses on a group of students from Class Q of this academy.
Led by Kyuu Renjou, this group of five young detectives solve many cases. As they gradually improve their investigation and deduction skills, the student detectives end up facing the mysterious organization Pluto that has been targeting Dan and his students.
Detective School Q is a clever mix of mystery, humor, adventure and coming-of-age that makes for a surprisingly entertaining and compelling watch.
Paranoia Agent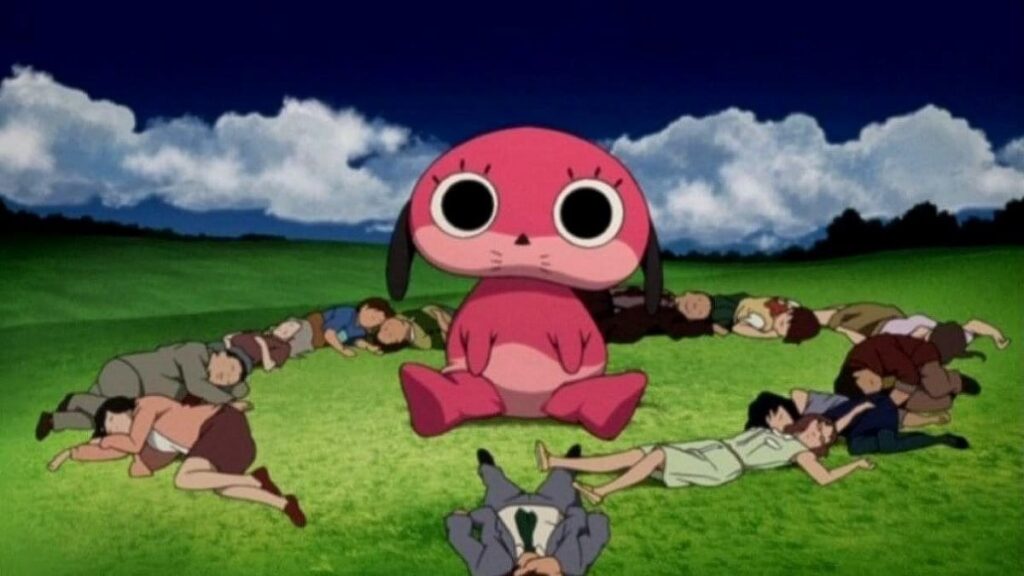 Japanese Title: Mousou Dairinin
Studio: Madhouse
Number of Episodes: 13
IMDb rating: 8.0/10
Paranoia Agent Review
A juvenile serial assailant dubbed Lil' Slugger is attacking people with a golden baseball bat in Musashino, Tokyo. Detective Keiichi Ikari and Mitsushito Maniwa are assigned the case of the serial assaults. Strangely, none of the victims can recall the perpetrator's face except three details: his golden inline skates and golden baseball bat plus a baseball cap.
There is a large cast of people affected by this phenomenon- both civilians and police officers. As the plot slowly unravels and the lives of each character come into focus, details about their secrets and the truth about Lil' Slugger are revealed.
Paranoia Agent is an atmospheric meditation on individual and societal anxiety caused by a shocking social phenomenon. It is disturbing but also a highly original story. If you like oddball stories with dark characters, Paranoia Agent is the perfect anime for you.
The Files of Young Kindaichi
Japanese Title: Kindaichi Shonen no Jikenbo
Studio: Toei Animation
Number of Episodes: 148+3 TV Specials
IMDb Rating: 8.0/10
The Files of Young Kindaichi Review
No detective anime list can be complete without a mention of The Files of Young Kindaichi. Originally a manga series, it has been adapted into anime series and films as well as live-action dramas and movies.
A delight for old-school detective anime fans, The Files of Young Kindaichi revolves around high school student Hajime Kindaichi. He is the grandson of the legendary private detective Kosuke Kindaichi and has inherited his grandfather's extraordinary deductive skills.
Hajime is generally lazy and complacent but lets his intelligence shine when it comes to solving befuddling mysteries. He is often accompanied by his childhood friend Miyuki Nanase who unlike him is a model student.
The Files of Young Kindaichi is unique in that it humanizes the perpetrators while taking care not to condone their crimes. The mysteries are fun, encourage viewers to speculate on the outcome and deliver well-thought-out resolutions.
Bungo Stray Dogs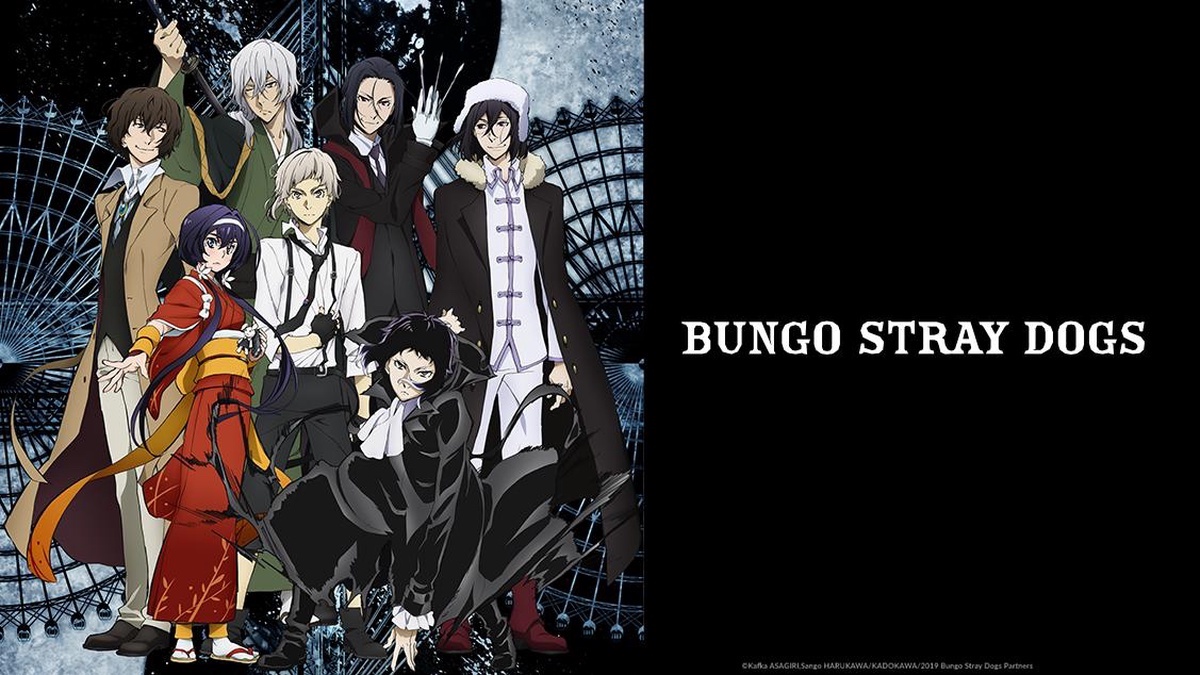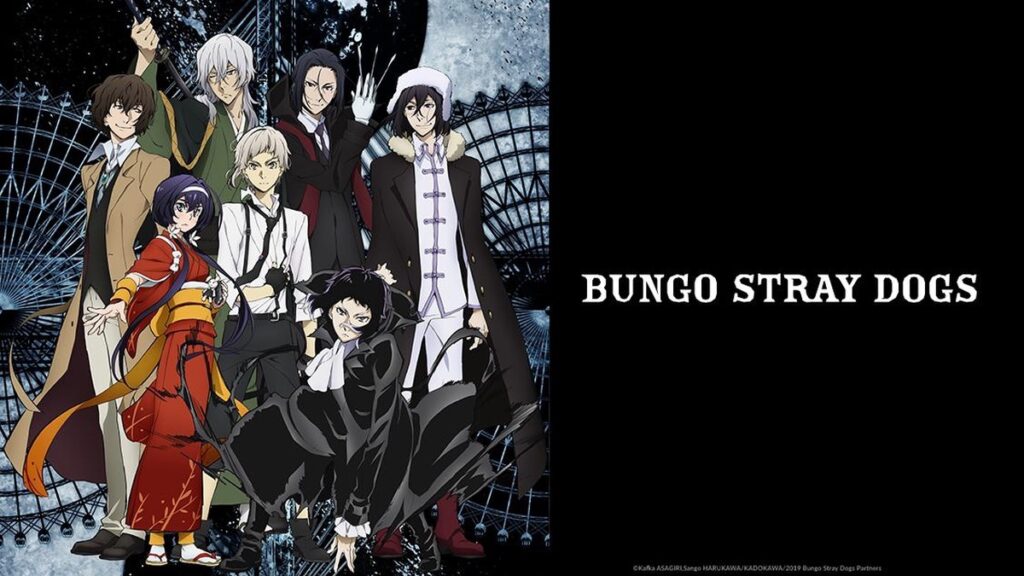 Japanese Title: Bungo Sutorei Doggusu
Studio: Bones
Number of Episodes: 61(as of September 2023)
IMDb Rating: 7.8/10
Bungo Stray Dogs Review
The Armed Detective Agency is an organization of individuals with supernatural abilities who tackle crime and mysteries in Yokohama. Through a series of events, Atsushi Nakajima discovers that he is a weretiger and ends up joining the Agency. As they work together to protect the city, Atsushi bonds with his colleagues and discovers his purpose.
Bungo Stray Dogs is quite a well-written anime that combines mystery, action and supernatural drama. The story is riveting and it has a stunning art style that is a visual feast for viewers.
Hyouka
Japanese Title: Hyouka
Studio: Kyoto Animation
Number of Episodes: 22+1 OVA
IMDb Rating: 7.8/10
Hyouka Review
Based on Honobu Yonezawa's Classic Literature Club series, Hyouka follows first-year high school student Houtarou Oreki who believes in "energy conservatism." But his sister interrupts his plans by forcing him to join the school's Classic Literature Club where he ends up meeting Eru Chitanda, Satoshi Fukube and Mayaka Ibara.
These people and Eru in particular throw Houtarou's energy conservatism in the bin by involving him in solving one mystery after another. An anime that combines the detective and slice-of-life genres, Hyouka is a great palate cleanser after some of the heavier recommendations in this list.
It mainly focuses on small-time mysteries such as the origins of the Classic Literature Club and always stays light. The characters are distinctive and each one of them serves an important function throughout the series.
Terror in Resonance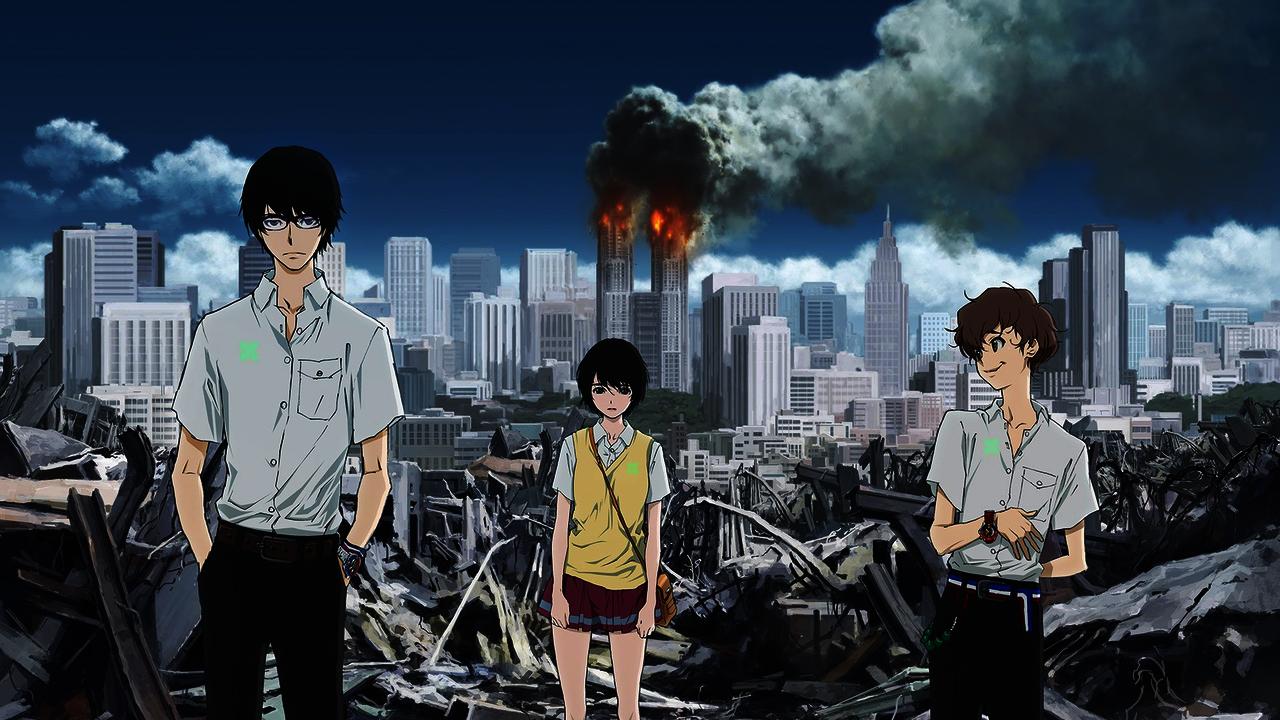 Japanese Title: Zankyou no Teroru
Studio: MAPPA
Number of Episodes: 11
IMDb Rating: 7.8/10
Terror in Resonance Review
Terror in Resonance is a unique detective anime set in an alternate version of the present-day world. Two young boys, who go by the names of Nine and Twelve, steal a prototype atomic bomb and commit terrorist activities in Tokyo.
What prompted these boys to threaten to destroy their own city? What is their motive? The viewers ponder over these questions as a cat-and-mouse chase ensues between Nine and Twelve on one side and police detective Shibazaki on the other. Terror in Resonance drops multiple clues throughout the series as you get one step closer to solving the mystery.
Detective anime fans should check it out for the unpredictable plot and the unique setting.
Black Butler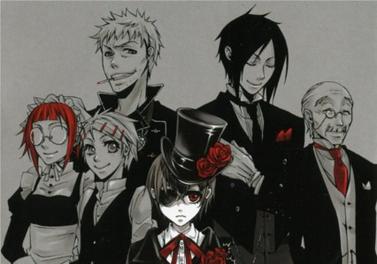 Japanese Title: Kuroshitsuji
Studio: A-1 Pictures
Number of Episodes: 36+7 OVA
IMDb Rating: 7.7/10
Black Butler Review
Black Butler is not exactly the anime that comes to mind when talking about the detective genre. It is mainly categorized as a fantasy and supernatural series but it has strong elements of the detective genre as well.
Set in Victorian-era London, Black Butler revolves around 12-year-old Ciel Pantomhive who enters into a contract with the demon Sebastian Michaelis to avenge his parents' death. In return for his services, Sebastian would be allowed to consume Ciel's soul.
Thus, disguised as his butler, the demon starts living with the young Earl of Pantomhive. Along with taking revenge for Ciel's parents' murder, this demon-human duo also end up solving mystery upon mystery in London.
A compelling and atmospheric tale blending elements of fantasy, mystery and historical fiction, Black Butler delivers a unique tale among the plethora of detective anime available on the internet.
Ghost Hunt
Japanese Title: Gousuto Hanto
Studio: J.C. Staff
Number of Episodes: 25
IMDb Rating: 7.4/10
Ghost Hunt Review
Based on Fuyumi Ono's light novel series, Ghost Hunt is about Shibuya Psychic Research(SPR) as it investigates mysterious occurrences across Japan. Mai Taniyama is a first-year high school student who is forced to join the SPR after she accidentally breaks a camera belonging to the club.
As Mai works with the club to solve mysteries inside and outside the school, she discovers that the other club members have supernatural abilities of their own. More of a mystery or horror anime, Ghost Hunt is often seen as an interpretation of Japanese cultural and religious psychic phenomenon.
The Millionaire Detective Balance: Unlimited
Japanese Title: Fugou Keiji Baransu Anrimiteddo
Studio: CloverWorks
Number of Episodes: 11
IMDb Rating: 7.3/10
The Millionaire Detective Balance: Unlimited Review
The Millionaire Detective Balance: Unlimited is a buddy cop anime featuring two detectives with starkly different personalities and perspectives. Detective Daisuke Kambe has lots of personal wealth that he uses as an excuse to do anything he wants. His partner is Haru Katou who does not like Daisuke's ways and would prefer solving problems without unabashedly spending money.
Even though their perspectives do not mesh at all, Daisuke and Haru are forced to work together as challenging mysteries come their way. The Millionaire Detective Balance: Unlimited does a great job of developing the protagonists' personalities and the way they team up to solve cases.
You're Under Arrest
Japanese Title: Taiho Shichauzo
Studio: Studio Deen
Number of Episodes: 51
IMDb Rating: 7.2/10
You're Under Arrest Review
An oldie but a goldie, You're Under Arrest is one of the most successful anime series of the '90s. A slice-of-life detective anime, it focuses on policewomen Natsumi Tsujimoto and Miyuki Kobayakawa as they tackle crime while working at the Bokuto Police Station in Sumida, Tokyo.
A detective anime with not one but two female leads, You're Under Arrest carefully balances the humor and the mystery aspect of the series. The officers might be chasing down a vigilante in one episode or be busy with their relationship shenanigans in the other.
It is, therefore, an excellent choice if you're looking for a detective anime with slice-of-life elements.
Psychic Detective Yakumo
Japanese Title: Shinrei Tantei Yakumo
Studio: Bee Train
Number of Episodes: 13
IMDb Rating: 6.6/10
Psychic Detective Yakumo Review
College student Yakumo Saitou has a red left eye that enables him to see ghosts and spirits. He can, thus, communicate with them and help them resolve any issues that they may have so that they can move on to the afterlife. Psychic Detective Yakumo is largely episodic in nature though there is an overarching story arc for the main characters.
The series may not have the best animation but it makes up for that with its excellent writing, characters and music. Fans of old-school detective anime would certainly like Psychic Detective Yakumo's vibe.
UN-GO
Japanese Title: Ango
Studio: Bones
Number of Episodes: 11
IMDb Rating: 6.5/10
UN-GO Review
Set in a future dystopian Japan, UN-GO is an anime with a supernatural detective. A buddy cop series, it revolves around Shinjuurou Yuki, an old-fashioned cynical detective and his supernatural partner Inga. With the former's deductive skills and the latter's special abilities, this unlikely duo solves various crimes in the country.
UN-GO is an anime that blends elements of mystery, science-fiction and supernatural genres. This is evident from the fact that while Inga possesses magical abilities, he and Shinjuurou also use futuristic technology to make deductions.
Along with the detective and investigative aspect of it, UN-GO also asks philosophical and ethical questions about the humanity of advanced artificial intelligence.
Also read
18 Best Romance Anime That Has Happy Ending
Best websites where you can watch Yuri Anime
Best sad anime movies of all time
Best Horror Anime recommendations
9 best vampire anime of all time
9 best witch anime of all time
9 inspirational depressed anime boy
9 best live-action anime movies of all time
9 inspirational depressed anime girl characters
Hottest vampire anime boy characters
Best Western Anime of all time
Closing Thoughts
Mystery and detective is a genre that anime excels in. Among the plethora of detective anime available in all sorts of permutations and combinations- science-fiction detective anime, supernatural detective anime, detective anime romance, there is bound to be something for everyone.
Watchers who like dark anime that ask difficult questions would enjoy series like Death Note, Monster and Psycho-Pass. Fans of atmospheric mysteries would like Erased and those who prefer a lighter slice-of-life vibe in their detective anime would like stuff like Hyouka and You're Under Arrest.
Anime watchers who like fantasy or supernatural elements in detective anime would appreciate Black Butler, Ghost Hunt and Bungo Stray Dogs.
Thus, the question of the best detective anime is subjective and depends on the taste of the viewer.